Halle Berry steps up to the ring for Netflix in this drama about a disgraced MMA fighter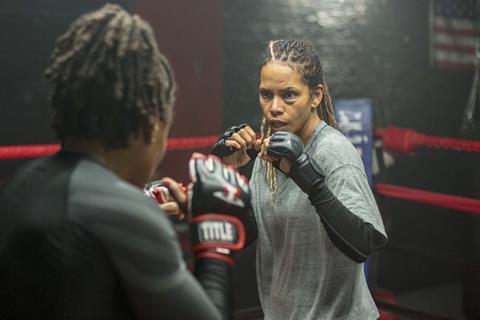 Dir: Halle Berry. US. 2021. 122 mins.
Halle Berry lands some punches in her directorial debut, a familiar sports drama about a disgraced MMA fighter looking for a shot at redemption. Bruised follows the Rocky template — everything leads up to the big title bout — but the film works best when it tries to carve out some emotional terrain of its own, something that proves difficult as the story succumbs to many genre cliches. Still, Berry gives an impressively physical performance — especially when she enters the octagon for the pummelling finale — and shares a warm rapport with Sheila Atim, who plays a trainer who connects with the fighter on a spiritual level.
As Jackie, Berry draws on the same gritty urgency that she brought to her Oscar-winning turn in Monster's Ball, but as a filmmaker she bludgeons the audience with the story's melodramatic elements
Premiering at AFI Fest, Bruised releases theatrically in the US on November 17, streaming globally on Netflix beginning November 24. Berry's star power will help raise awareness, as will the popularity of MMA fighting. But even those who don't watch mixed martial arts will recognise Bruised's well-worn narrative arc and may respond to the crowd-pleasing, tearjerking approach.
New Jersey native Jackie Justice (Berry) was a promising UFC fighter before she lost in an embarrassing fashion, walking away from the sport and shacking up with her manager boyfriend Desi (Adan Canto). Four years later, Jackie is working as a housecleaner and battling alcoholism when her estranged six-year-old son Manny (Danny Boyd, Jr.) is dropped on her doorstep after the death of hte boy's father. Jackie has no choice but to try to be a mother to Manny, but at the same time she has received an offer to fight for a title belt — a comeback opportunity that will force her to get back into shape.
Michelle Rosenfarb's screenplay doesn't offer many surprises, although it does tackle plenty of topics, including addiction, trauma, poverty, sexual abuse and motherhood. As Jackie, Berry draws on the same gritty urgency that she brought to her Oscar-winning turn in Monster's Ball, but as a filmmaker she bludgeons the audience with the story's melodramatic elements. To be sure, Bruised is attuned to the economic and sociopolitical factors that send people into dangerous downward spirals, but Jackie's personal obstacles often feel more like narrative devices than thoughtfully explored issues.
This is never more apparent than with the introduction of Manny, who is so shaken by seeing his father die — presumably violently by a gun, either through murder or suicide — that he's no longer capable of speaking. Boyd's big, vulnerable eyes communicate the boy's fragile state, but the character is frequently carted out to elicit emotional reactions from the viewer or to provoke Jackie to become a better person. Manny proves to be more of a prop than a person.
As expected, Jackie will need not only to train her body but also go through some important internal transformations to be ready to win her title fight. Bruised's montages are competently handled, and Berry conveys her character's steely determination as the big bout looms on the horizon. But the picture is more interesting once Jackie starts spending time with Buddhakan (Atim), a no-nonsense trainer whose tough-love style is mitigated by a soulful, reflective side that encourages Jackie to think about boxing as something more than a visceral, physical task. Atim is beautifully composed, in contrast to Berry's flustered, desperate Jackie, and the growing bond between the two characters suggests a shared, unspoken understanding of the challenges facing Black women in this sport.
Unfortunately, those quiet insights are overshadowed by Bruised's predictable plot and manipulative story beats. Side characters who were initially dependable become heels without warning — and, likewise, figures in Jackie's life who have caused her great pain inexplicably turn over a new leaf. For a film that aspires to be a frank look at a middle-aged fighter's hard road back to glory, Bruised too easily indulges in sports-film fantasy, undercutting the story's inherent bleakness.
That said, Berry, working with fight choreographer Eric Brown, crafts a fairly stirring final bout, opposite real-life UFC fighter Valentina Shevchenko playing a fictional character. The blows and kicks, all delivered at close range, are exchanged back and forth with brutal efficiency, and Berry is believably savage. There's a rawness — and a realness — to this final sequence that's often missing elsewhere.
Production companies: Entertainment360, Thunder Road, Game1 Films, Romulus Entertainment, Linda Gottlieb Films
Worldwide distribution: Netflix
Producers: Basil Iwanyk, Brad Feinstein, Guymon Casady, Linda Gottlieb, Halle Berry, Gillian G. Hormel, Erica Lee, Paris Kassidokosta-Latsis, Terry Douglas
Screenplay: Michelle Rosenfarb
Production design: Elizabeth Jones
Editing: Jacob Craycroft, Terilyn Shropshire
Cinematography: Frank G. DeMarco
Music: Aska Matsumiya
Main cast: Halle Berry, Adan Canto, Sheila Atim, Adriane Lenox, Valentina Shevchenko, Nikolai Nikolaef, Danny Boyd Jr., Shamier Anderson, Stephen McKinley Henderson