Dir: Petr Lom. 2017, Neth/Nor, 81 mins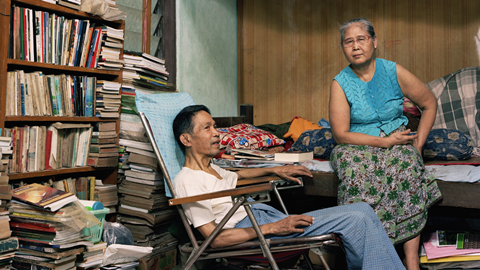 Not so much the narrative its title promises, more a poem in images - as befits its topic - Burma Storybook offers a panorama of life in Myanmar today. The documentary duo of Czech-born director Petr Lom and Dutch producer Corinne van Egeraat - who previously collaborated on Ana Ana (2013) - take as their starting point the premise, stated upfront in the opening titles, that most citizens of Myanmar, or Burma, either write poetry or are able to recite it by heart.
Throughout, the film conveys a sense of rapidly changing society
Their film highlights the work of several Burmese poets, notably 70-year-old dissident Maung Aung Pwint, whose own travails provide a narrative focus. Lom and van Egeraat's film - part of a larger Myanmar project also comprising a book and exhibition by photographer Dana Lixenberg - will have limited theatrical prospects, but outlets with literary and human rights focuses will see this as an important dispatch on a country that five decades of military rule had, until recently, left under-documented.
Structurally loose in a way that doesn't always serve its central topic, the film comprises a set of snapshots of contemporary Burmese life, interspersed with brief portraits of various poets. Their poems, generally spoken on camera or heard in voice-over, cover a range of topics and moods, ranging from a lyrical address to a dying grandfather, through a monk's brief gnomic verse to the film's complex pièce de résistance, Maung Aung Pwint's striking symbolic portrait of Burma as a country buried under ice.
The standout representative of the new generation of poets is 26-year-old feminist Mae Yway, whose punchy declaration contains the lines, "Hot pants or miniskirts but don't show your ass… I always keep a poem in my hot pants." She is also seen getting a tattoo - something very much frowned on for women in Burma, we learn - that translates as 'Change'.
Fragmentary glimpses of Burmese life make up an impressionistic jigsaw, although some images suffer from a lack of contextual information. They include images of young men drag racing in Yangon (aka Rangoon) at night, amateur photographers walking on a lakeside strewn with dead fish, and the launching of huge candle-covered celebratory balloons.
Some images speak for themselves, however, notably a lorry driving through the country broadcasting songs in support of the long-imprisoned political figurehead Aung San Suu Kyi, leader sof the National League for Democracy and now Burma's official State Councillor. Others verge on the touristic - like an early shot of a balloon floating across an orange sky - but, even when they are, Lom's own photography is often strikingly beautiful.
Throughout, the film conveys a sense of rapidly changing society - a group of women talk about their recent discovery of the internet - and of the vicissitudes of life under a military regime. The sequences featuring Aung Pwint and his wife cut to the quick, as he talks about his experiences behind bars where isolation led to his regarding ants as his friends. Towards the end of the film, the couple are reunited after 20 years with their son, a former student activist exiled in Finland - an extended section that gives Burma Storybook a focus which it earlier lacks.
One might, however, also have liked to see more of some of the other poets featured; notably a man who sits in a café reciting a litany-like poem about forgetting, then turns to the camera with a cool stare to read the payoff: "Have I got democracy now?"
Production companies: Zindocumentaire B.V., IKONdocs, Jabfilms
International sales: Cinema Delicatessen info@cinemadelicatessen.nl
Producer: Corinne van Egeraat
Cinematography: Petr Lom
Editors: Petr Lom, Dorith Vinken, Stefan Kamp
Music: Biosphere (Geir Jenssen)