Three estranged siblings take a road trip home in this bittersweet Turkish drama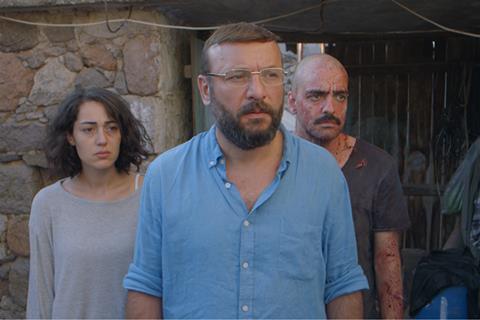 Dir/Scr: Tolga Karaçelik. Turkey. 2017. 117mins
Tolstoy's assertion that "each unhappy family is unhappy in its own way", is largely borne out by by Tolga Karaçelik's bittersweet road movie Butterflies. The story of three siblings reunited by a call from their long estranged father is told with an unpredictable blend of rueful regrets, home truths and bursts of absurdist comedy. Overlong and most effective as a straightforward drama, it should readily attract interest from other festivals following its world premiere at Sundance.
At its most beguiling when it simply focuses on the ties that bind the central trio
Karaçelik establishes the film's comic credentials from the outset as we are introduced to three family members who might as well be strangers to each other. Eldest brother Cemal (Tolga Tekin) is an astronaut on strike over the endless humiliations from a German government that funds an astronaut programme but provides no budget to actually send anyone into space. Kenan (Bartu Küçükçağlayan) is a struggling actor who now works as a voice-over artist, while harassed teacher Suzan (Tuğçe Altuğ) is desperately trying to leave a husband who is too busy talking about his business woes to pay any attention to a word that she says.
Cemal is the one who receives a call from their father asking them all to return to the small Turkish village of their youth. It is the first direct contact from the man in the 30 years since their mother committed suicide and they were sent away to be raised by relatives. The film's title is a reference to the fairytale their mother once read to them as a bedtime treat.
Cemal's powers of persuasion eventually triumph and the wary trio set off on a road trip that initially has the promise of something that could combine the dysfunctional family dynamics of Toni Erdmann with the madcap slapstick of Men & Chickens.
Sadly, Butterflies doesn't quite display that level of originality and becomes relatively conventional as the road trip progresses. Karaçelik has a fondness for deadpan comedy but is often side-tracked by eccentricity; from the trio's encounters with exploding chickens in their home village of Hasanlar to a local imam whose crisis of faith bubbles to the surface at the most inappropriate times.
Such moments lend a slightly discursive feel to a film that is at its most beguiling when it simply focuses on the ties that bind the central trio as they desperately clutch at a sense of family they have never previously known. Sharply written, dialogue-driven scenes in which they just sit around and talk, tease, accuse and argue are among the best in the film.
The lack of contact with the father over 30 years is taken at face value but why the siblings became strangers is never convincingly explored. Kenan's girlfriend of five years is shocked to discover that he even has a brother and a sister.
Every time it starts to feel as if the story is running out of steam, Karaçelik finds an extra twist or revelation to kick things up a gear. He also achieves some lyrical scenes, not least the one in which the childhood tale of dying butterflies flocking to Hasanlar is brought to life. Butterflies doesn't always work but there are enough touching moments along the way to make it both engaging and endearing.
Production company: Karma Films
International sales: Karma Films diloy@karma-films.com
Producers: Tolga Karaçelik, Diloy Gülün, Metin Anter, Nedim Anter
Cinematography: Andaç Sahan
Editor: Evren Lus
Production design: Arzu Kadak
Music: Ahmet Kenan Bilgic
Main Cast: Tolga Tekin, Bartu Küçükçağlayan, Tuğçe Altuğ