Screen mentee and Unifrance Critics Lab participant Alexandria Slater journeys through this year's short films from Cannes.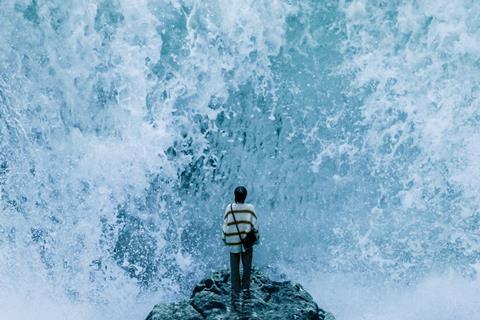 Like the rest of Cannes, short films were back in full force this year. Delayed to October in 2020, the year of the Cannes label, and playing to smaller audiences in 2021, a typically-eclectic and far-flung selection of short films screened May 21-28 across Official Selection, Quinzaine and Critics Week, not to mention Cinefondation.
This year's Short Palm and Cinefondation jury was headed by Egypt's Yousry Nasrallah, comprising actor and directors Monia Chokri and Félix Moati, writer and director Laura Wandel and journalist Jean-Claude Raspiengeas. The five chose to recognise an array of filmmaking from the eight titles competing for the Palme, 16 for Cinefondation, and seemed to focus on crediting films with a running theme of social commentary on war and natural disasters – a fitting spotlight to recent years of universal hardships and a tribute to the power of filmmaking.
Over in Directors' Fortnight, ten shorts competed for the top Illy prize, chosen by the Europa Cinemas Label jury, and the same number played in Critics Week, whose jury was presided over by Kaouther Ben Hania.
IN COMPETITION
The Water Murmurs (China, 15 mins) - SHORT FILM PALME D'OR
Dir: Jianying Chen
Inspired by French poet Charles Baudelaire's 'The Jewels', The Water Murmurs explores the raw human emotion that emerges when the locals of a small riverside town are forced to flee their homes after an unexpected asteroid hits the earth. Shooting on 35mm and digital to capture both the grainy textures of the sea-salted and rocky atmosphere as well as the crisp landscape and horizon, DoP Xi Bing captures the sombreness of a faded future with blues and greens that give this short a distinctly Tarkovskian feel. Contact: rong_zhangxin@foxmail.com / shorts@neweuropefilmsales.com
Lori (Nepal, 14 mins) - SPECIAL DISTINCTION
Dir: Abinash Bikram Shah
Lori director Abinash Bikram Shah has won awards at home in Nepal for his writing, and is an alumnus of the Locarno Filmmakers Academy, Berlinale Talents and Asian Film Academy. In his latest short, he shines a light on the sinister underbelly of child trafficking, straying away from sensationalism and presenting the harrowing reality of young victims in Nepal with a similar authenticity as the Dardenne brothers' social commentaries. Opening with a mother singing lullabies to her 12-year-old daughter, the story strips Simri (Ankita Yadav) away from this warm maternal comfort and forces the viewer to witness the tragic trajectory of poverty for girls around the world. Contact: anoopmimosa@gmail.com / lungkwokyiucareer@gmail.com
Same Old (US, 15 mins) - SCREEN'S PICK
Dir: Lloyd Lee-choi
Rather than shutting the door on the delivery worker once our demand for service has been fulfilled, director Lloyd invites us to follow the journey of an undocumented worker, Lu (Limin Wang) in this neo-realist depiction of the gig-economy. Lu is a delivery driver with both a wife and mother to provide for whose bike (his livelihood, in a nod to De Sica) has been stolen from him. The nocturnal quest along New York's damp streets, barely illuminated by the flickers of the eclectic humming streetlamps, lets us into the unforgiving world of the forgotten people who pass us by daily. The film is led by a gripping performance from Wang. Contact: prokop@divisionseven.com / festival@salaudmorisset.com
CINÉFONDATION
A Conspiracy Man (It, 19 mins) - FIRST PRIZE
Dir: Valerio Ferrara
"BillGatesIsReptillia" is Antonio's (Lucio Patanè) password for every account. He's a barber who bothers his clients with biblical preaching and obsesses over the streetlamps flickering an average number of seven times, ascribing coincidence as a sinister government ploy, for who knows to what end. A scene with the protagonist locked up in a cell with four random strangers is a crafty portrayal of how easily a wildfire of misinformation can spread within echo chambers online but, after the first few jokes, the film loses its comedic momentum with its repetition of on-the-nose satirical dialogue. Nonetheless, Ferrara's timely and unique take on a working class man's search for autonomy in conspiracy theories is deserving of the €15,000 grant. Contact: g.gulino@cscproduction.it
Somewhere (China, 23 mins) - SECOND PRIZE
Dir: Li Jiahe
Set on a factory farm that was once a thriving economic hub, thanks to its paper mill, Jiahe's prize-winning drama follows the livelihoods of two men who suppress their grieving as they seek the right location for the burial of their friend. Elements of narrative spirituality are combined with Jiahe's striking cinematography of framed windowpanes, abandoned buildings, and the sky's blood-red horizon. The story progresses as contrasting block colours blur into the natural hues of the earth. With little dialogue, Somewhere is a quietly powerful tale of loss, masculinity and broken dreams captured with impressively meticulous direction and camerawork. Contact: wang121ming@hebust.edu.cn
Glorious Revolution (UK-Ukr-Ger, 20 mins) and Humans Are Dumber When Crammed Up Together (France, 4 mins) - THIRD PRIZE
Dirs: Masha Novikova & Laurène Fernandez
Yousry Nasrallah's jury awarded two films to share the third prize of €7,500. Novikova's Glorious Revolution circles a mother's fight to properly bury her son after his death during the 2014 Ukrainian revolution. It has spectacular mis-en-scène that meticulously positions objects, walls and clothes together to reflect the Ukrainian flag colours in every frame. Fernandez's Humans Are Dumber When Crammed Up Together is a hilarious and brutal stop motion animation of residents in an apartment complex told using interview clips from real-life neighbours. Contact (Glorious Revolution): g.harrold@lfs.org.uk
The Pass (US, 15 mins) - SCREEN'S PICK
Dir: Pepi Ginsberg
Ginsberg's short film is a tense and cold confrontation between the protagonist Ben (Angus O'Brien) and a charming man named Sam after he declines Sam's invitation to a private beach. Trapped in an open body of murky water and a misty dark fog captured with eerieness by DoP Melanie Akoka, the film accelerates into a threatening scenario when Ben meets another man named Christopher. The Pass is a chilling watch that offers an odd sense of comfort within its dangerous atmosphere for anyone who has ever dealt with harassment. Contact: aaron@ground-work.co
DIRECTORS' FORTNIGHT
Happy New Year, Jim (It, 9 mins) - ILLY PRIZE
Dir: Andrea Gatopoulos
Andrea Gatopoulos, also the artistic director of Il Varco International Short Film Festival, delivers an ambitious experimental merging of virtual reality with eerie elements of the horror genre. As indicated by the title, Happy New Year, Jim, which is shot entirely within video games, circles the back and forth dialogue between two pro-gamers Jim and Morten on the last night of the year As their conversation delves deeper into uncomfortable territory, the audience is pulled further into the simulation, confronting unnerving truths about technology, philosophy and reality that Gatopoulos' latest short refuses to shy away from. Contact: administration@gargantuafilm.it
Beben (Ger, 16 mins) - SCREEN'S PICK
Dir: Rudolf Fitzgerald-Leonard
Beben follows Leon (Luis Brandt), a teenager who has cerebral palsy, and explores his relationship with physiotherapist Mina (Lilian Mazbouh) in a short film inspired by the director's own personal experience. During a therapy session in a swimming pool with Mina, an incident occurs which results in a viral video making fun of Leon. Platforming the cruelties of technology and social media weaponised against disabled people, Beben utilises digital visual effects, instant message features and mobile phone screens to create an immersive story that positions the viewer head-on to everyday battles experienced by not only Leon, but disabled people dealing with ablism globally. With delicacy, Fitzgerald-Leonard has crafted a successfully representative story with thoughtful casting and drawing connections to his own past after he suffered a serious accident at the age of 14. Contact: office@problemkindfilm.com
CRITICS' WEEK
Ice Merchants (Port-UK-Fr, 14 mins) - LEITZ CINE DISCOVERY PRIZE
Dir: João Gonzalez
Gonzalez's silent animation follows the daily working life of a father and his son as they journey from their house on a cliff to the village below to sell ice to locals. The film is an insight into Gonzalez's exploration of his daydreams, with a scratchy graphite texture similar to that of Japanese Edo art but with a lucid saturated colour palette doubling as a code red warning against climate change. Ice Merchants is a moving depiction of the nature of family connection. Contact: cola.audiovisual@gmail.com / agencia@curtas.pt
On Xerxes' Throne (Greece, 15 mins) - CANAL + AWARD FOR SHORT FILM
Dir: Evi Kalogiropoulou
The dystopian world of work at the Perama shipyard is introduced to the audience with one simple command, "There are no rules, except one: we do not touch each other." Ancient Greek mythology and the patriarchal structures that have become ingrained unto the present day are explored through Kalogiropoulou's imagining of an isolated world with a teasing forbidden eroticism, which will likely cross over into her debut feature Cora, which is currently in development. Evan Maragkoudakis' ambitious drone camerawork positions the viewer as if seated on Xerxes' throne, observing the workers beneath from a position of power that blurs into voyeurism. Contact: shorts@neweuropefilmsales.com
Swan In The Centre (Fr, 25 min) - SCREEN'S PICK
Dir: Iris Chassaigne
Swan (Asja Nadjar) is a field surveyor for a shopping centre whose only human connection is with the shoppers she interviews for her job. The abundance of space, marked by empty mattress shops and changing rooms, is as much of a character as Swan. The intersection between a mall being the breeding ground for commercialism and the lack of freedom that Swan feels trapped in with a dead-end job and still living at home with her mother is encapsulated in a shot of Swan gazing at a holiday billboard of a woman stood with her arms stretched out on the beach. Chassaigne then utilises the state of limbo of the mall after closing time for Swan to act out her desires and longing for connection via intimate sex scenes with a woman who also works at the shopping centre and feels just as lost in life. Anyone who has ever felt choked or isolated by capitalism's boundaries will undoubtedly find some reassurance from this film. Contact: francoisolivier@lunaprod.fr