Martin Freeman stars in Netflix's thoughtful, impactful Australian-set zombie thriller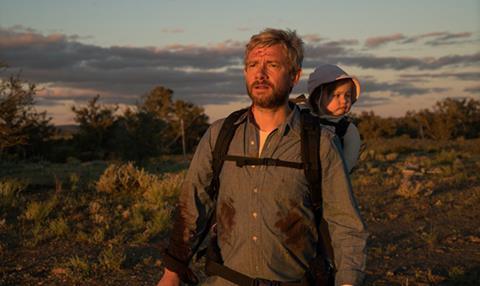 Dirs. Ben Howling, Yolanda Ramke. Australia. 2017. 105 mins
Pitting Martin Freeman against the undead in the Australian outback, Cargo may take a bite out of a teeming genre, but it does so with heart, smarts and some weighty matters on its mind. As the film's star once again tramples across a vast expanse of land — albeit in rather different circumstances to The Hobbit trilogy — first-time feature director duo Ben Howling and Yolanda Ramke turn a zombie pandemic into a musing on parental love, environmental destruction and the nation's cultural disharmonies.
A bleak dystopian realm that echoes fellow Australian-directed effort The Road, but with markedly local touches
That makes for an involving and thematically distinctive full-length adaptation of their 2013 short of the same name, even though Ramke's script can't always avoid the genre's more obvious elements. Accordingly, audiences hungering for a thriller that's both different and recognisable will be rewarded as Cargo shuffles from its Adelaide Film Festival premiere to a Netflix release worldwide in 2018 (it will get a theatrical release at home in Australia aroudn the same time).
Husband and father Andy (Freeman) motors down the river, rushes briskly through bushland and moves forward however he can in his quest to avoid the virals (as the feature's credits call them) roaming the countryside. And, he's doing so for good reasons that span beyond the typical flee-or-start-eating-flesh scenario. First, alongside wife Kay (Susie Porter, an early standout), he's trying to protect their infant daughter Rosie from the pervasive outbreak, with a plan to sticking to the water. Alas, soon he's infected himself, back on land, and battling a 48-hour deadline until he starts seeing his baby as a juicy meal.
Refreshingly, Howling and Ramke don't waste the movie's time explaining the deadly contagion, delivering background details through slivers of conversation and glimpses of containment supply kit warning cards instead. As a result, there's ample room for Cargo's other point of focus, Indigenous youngster Thoomi (Simone Landers). Adhering to traditional Aboriginal ways, the pre-teen is trying to save her already-zombified dad Willie (Bruce R Carter). Guided by their spiritual leader or Cleverman (David Gulpilil), the rest of her community has ceremonial methods of dealing with the sickness, which they consider linked to the exploitation of natural resources.
Taking its time to bring Andy and Rosie together with Thoomi, the film also introduces others coping in their own fashion: ex-school teacher Etta (Kris McQuade) is holed up in what passes for a makeshift hospital, while fracking worker Vic (Anthony Hayes) is planning for the future, with the shell-shocked Lorraine (Caren Pistorius) by his side. Some kindly, some sinister, they assist in fleshing out a bleak dystopian realm that echoes fellow Australian-directed effort The Road, but with markedly local touches.
If Howling and Ramke remain restrained with the feature's ecological message, their use of folklore and Indigenous culture is not only prominent but pivotal; it dictates the course of the narrative, and offers easy-to-glean parallels between the country's dismissive treatment of its first inhabitants and its now-infected state. Geoffrey Simpson's sumptuous lensing, capturing the green-and-rust hued South Australian landscape in soaring overhead shots as well as on-the-ground, also helps make the correlation plain, filled as it is with scenic sights corrupted by voracious interlopers.
Still, Cargo is undoubtedly a zombie movie — and that means convincingly gruesome attackers, well-deployed jump-inducing altercations and desperate protagonists caught in the middle. With his character spending the bulk of the feature knowing his unfortunate fate but soldiering on to keep his daughter alive, Freeman's usual everyman persona is given a significant showcase, proving the key to the film's emotional impact. Landers impresses in her screen debut, and the duo's initially tentative, eventually warm rapport also makes a fitting cultural statement. If human resilience remains paramount in zombie films, Cargo goes a step further; here, recognising and redressing the divisive mistakes of the past is more important than merely surviving.
Production company: Causeway Films
International distribution: Netflix
Producers: Samantha Jennings, Kristina Ceyton, Russell Ackerman, John Schoenfelder, Mark Patterson
Executive producers: Ian Kirk, Jeff Harrison, Fergus Grady, Craig Deeker, Phil Hunt, Compton Ross
Screenplay: Yolanda Ramke
Cinematographer: Geoffrey Simpson
Editor: Dany Cooper, Sean Lahiff
Production designer: Jo Ford
Costume designer: Heather Wallace
Cast: Martin Freeman, Anthony Hayes, Susie Porter, Caren Pistorius, Kris McQuade, Bruce R Carter, Natasha Wanganeen, Simone Landers, David Gulpilil