Gael Garcia Bernal triumphs in the ring in this biopic of the cross-dressing Mexican luchador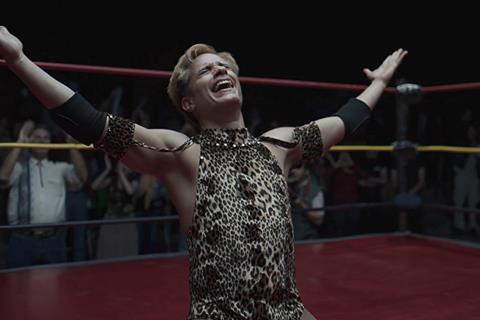 Dir: Roger Ross Williams. US. 2023. 109 mins.
Gael Garcia Bernal shows us how to grapple with emotion, twist it into submission and let it all hang out in this biopic of Mexican wrestling star Saul Armendariz - aka Cassandro. This heartfelt if, at times, slightly uneven drama marks the debut fiction feature from documentarian Roger Ross Williams and is a warm and celebratory film which should have no trouble finding a wide audience when it streams on Amazon Prime later this year
Bernal brings heat to all of Cassandro's relationships
The cross-dressing Cassandro, leading light of The Exoticos, is no stranger to publicity. Aside from his long career in the ring, he's been the subject of two documentaries already - Marie Losier's Cassandro The Exotico!, which played widely on the festival circuit in 2018 including Cannes' ACID sidebar, and Williams's own short for documentary The Man Without A Mask, for 'The New Yorker' (the director has previously won an Oscar for his short doc Music By Prudence and been nominated for factual feature Life, Animated). Here, the focus is on the portion of the wrestler's career when he became fed up with getting thrown around with "no poetry" as his perma-losing lucha libre character El Topo (The Mole).
After hooking up with a new trainer, Sabrina (Roberta Colindrez) - aka Lady Anarquia - she convinces him that he should become one of lucha libre's Exoticos, wrestlers who drag up and drop their masks. The Exoticos, who Williams shows being subject to a torrent of homophobic abuse from the crowd during bouts, are always destined to lose to their more masculine opponent, but Armendariz has other ideas. Adopting the name Cassandro in tribute to the soap he loves to watch with his mum Yocasta (Perla de la Rosa), he proves a handful for opponents, with his playfully risque moves and flamboyance soon beginning to win fans over to his corner (captured with a raw energy by DoP Matias Penachino). As Cassandro's career begins to blossom, so does the wrestler's confidence outside of the ring, although this is a subtle shift that carefully avoids cliche.
Bernal brings heat to all of Cassandro's relationships. Chief among them is the comfortable intimacy of shared cigarette breaks and fashion critiques with his mum. De la Rosa matches Bernal beat for beat, injecting Yocasta with a vibrant joie de vivre but also a sense of melancholy for the loss of her long-term clandestine relationship with Cassandro's dad (Roberto Salas), who called it quits after their son came out as gay.
There's also a pleasing depth to Cassandro's own secret affair with closeted boxer Gerardo - aka El Comandante (Raul Castillo). Williams shows the tenderness and the tension that flows through their relationship in a frankly handled sex scene, in which Saul pixieishly tells his lover that he thinks Cassandro "might be a top", and later as he tries to encourage him to step out of the closet and his marriage.
Williams and co-writer David Teague avoid leaning too heavily into the career progression of Cassandro, although Bernal has plenty of fun chucking himself about the ring as the stadia and opponents become bigger and include the legendary Son of Santo (who, along with several other luchadors, plays himself). Instead the writing favours the more subdued but significant shifts in the everyday fabric of Cassandro's life, although the handful of dewy flashbacks to his childhood are rather surplus to requirements.
As you might expect from a documentarian turning to fiction, there's a strong attention to detail here, with the night time scenes, in particular, having such a welcoming glow in comparison to the daytime that it's easy to see why the crowds are drawn to the escapism that wrestling provides. The music also gives a strong sense of place, with Marcelo Zavros offering up a resonant and mournful brass refrain that wouldn't be out of place in a spaghetti western, while Cassandro's walk-on tunes include assertive disco tracks such as a Spanish-language version of 'I Will Survive' and Baccara's 'Yes Sir, I Can Boogie'.
Although there's the suggestion, particularly from Yocasta, that being openly gay could pose a threat to Cassandro, this is thankfully not a film that feels the need to beat up its gay characters, instead showing how important fights can happen in many different ways. While Williams strays towards packaging towards the end as he tries to tie up every plot strand a little too neatly, it speaks to the generosity that he feels towards Cassandro and his achievements both in the world of wrestling and as a role model beyond it.
Production companies: Amazon Studios
Worldwide distribution: Amazon Prime
Producers: Gerardo Gatica, Todd Black, David Bloomfield, Ted Hope, Julie Goldman
Screenplay: David Teague, Roger Ross Williams
Cinematography: Matias Penachino
Production design: JC Molina
Editing: Affonso Goncalves, Sabine Hoffman, Yibrán Asuad
Music: Marcelo Zarvos
Main cast: Gael García Bernal, Roberta Colindrez, Perla de la Rosa, Joaquín Cosío, and Raúl Castillo