A wedding-day zinger from the directors of 'Intouchables', headed by the wonderful Jean-Pierre Bacri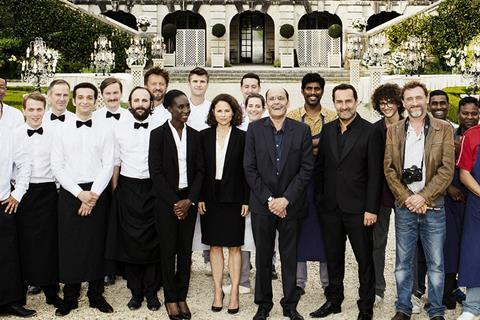 Dirs/scr. Eric Toledano, Olivier Nakache. France, 2017. 117 mins.
Co-directors and screenwriters Eric Toledano and Olivier Nakache (Intouchables) pull another magical trick out of the hat with a ruthlessly-plotted breeze of ensemble good humour, C'est La Vie! (Le sens de la fete). Disregarding a hopelessly anodyne English title, this story of a day in the life of a Paris-based wedding caterer at the end of his Basil Fawlty-like tether is a broad delight, destined for wide international play after it closes the Toronto Film Festival and competes in San Sebastian (French opening is set for October 4).
A classically-constructed ensemble comedy which follows proudly in the footsteps of the greats
Leading the Comedie Francaise troupe of performers is a wonderful, rich Jean-Pierre Bacri as the ageing Max Angeli, who runs a catering company which specialises in weddings. Early indications would suggest Max doesn't quite have the advanced soothing skills this job requires, but in the hands of the veteran Bacri, the character glides through a 24-hour timeframe and a large, over-planned wedding in a 17th Century chateau with bad electrics, a temperamental singer and a bout of food poisoning without ever once tipping over the edge into caricature.
Once again Toledano and Nakache demonstrate their seemingly effortless ability to give old-fashioned yet sophisticated comedy a wide multi-generational, multi-ethnic appeal: watching C'est La Vie! is akin to being part of their own joyous celebration as multiple characters waft in and out, from groomzilla Pierre (Benjamin Lavernhe), to creaky luddite photographer Guy (Jean-Paul Rouve), feisty manager Adele (Eye Haidara), and lovelorn former teacher and language pedant Julien (Vincent Macaigne).
A special mention must go to singer James of the 'James 5 Star Band plus 4', replacing DJ Fab at the last minute: Gilles Lellouche has more fun here than seems decent, whether it be singing in faux Italian/Portuguese, fighting Adele, or just simply rolling his eyes at the right minute.
Uptight groom Pierre is determined that his wedding to Helena (Judith Chemla) be "sober, chic and elegant": the more this motto is stressed, the more it seems certain that will end up being anything but. Watching how Toledano and Nakache fulfil their side of the bargain with viewers is a lesson for anyone with a mind to broad comedy, a genre which looks like the easiest to pull off, but is by far and away the hardest. The directors give the piece a rushing sense of movement which increases as the clock moves forward through the day: static shots are replaced by over-the-shoulder handheld tracking of Max as he, literally, puts out fires and deals with egos.
Some of the more piquant exchanges take place between the service staff, all off-the-books at Euros 100 cash-in-hand for the night, and extra Euros 47 if they wear the wig that goes with their period frogged costumes. If they don't want to, there's always the door. Max's motto may be 'we adapt' (on s'adapte), but some things just aren't negotiable. Apart from lovelorn Julien, who flirts with the bride, there's a subplot with Max's own complicated romantic life with Josiane (Suzanne Clement), who also works on the team and flirts with an off-duty policeman played by Kevin Azais (A Taste Of Ink). Two Sri Lankan dishwashers are in hand with a flute and a sardonic comment on French mores, and a Form 9 stagiaire, played by Gabriel Nccache, plays a pivital role.
Like Intouchables, C'est La Vie! rattles out a singalong score, capped by Can't Take My Eyes Off You. A multi-ethnic cast gives a fresh spin on what is, ultimately, classically-constructed ensemble comedy which follows proudly in the footsteps of the greats.
Production companies: Quad, Ten & Ten Films
International sales: Gaumont
Producers: Yann Zenou Laurent Zeitoun Nicolas Duval Adassovsky
Screenplay: Eric Toledano, Olivier Nakache.
Production design: Nicolas de Boiscuille
Editor: David Chizallet
Music: Avishai Cohen
Main cast: Jean-Pierre Bacri, Jean-Paul Rouve, Gilles Lellouche, Vincent Macaigne, Eye Haïdara, Suzanne Clément