This modern musical updating of the classic fairy tale fails to hit the highest notes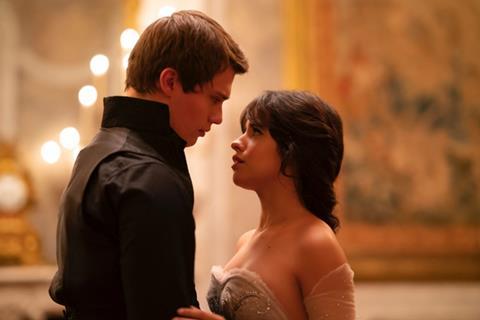 Dir/scr: Kay Cannon. US. 2021. 113mins
Writer-director Kay Cannon's likeable musical remake of Cinderella gives the old fairy tale a modern twist, injecting both feminism and an irreverent hipness into the classic story of a kindhearted young commoner who falls in love with a prince. When the film thoughtfully dissects the fable's patriarchal attitude, this Cinderella can be touching and light on its feet. But too often, whether because of the subpar songs or the hit-or-miss comedy, Cannon's rethink struggles to consistently dazzle — it's a glass slipper that doesn't quite fit.
This remake contains some magic, but it fades away long before the strike of midnight
Amazon will be distributing the picture on its streaming platform across most of the globe on September 3, with Sony handling China. Produced by James Corden, who has a small role as one of our hero's loyal mice, Cinderella doesn't lack for stars in the supporting cast, which includes Idina Menzel, Minnie Driver, Billy Porter and Pierce Brosnan. It's led by pop singer Camila Cabello, who's making her feature acting debut. Combining memorable Top 40 hits with original compositions, this musical will be aiming for family audiences – who will no doubt appreciate that Cannon was the writer on the popular Pitch Perfect series.
In a faraway time, Cinderella (Cabello) lives with her stepsisters and evil stepmother Vivian (Menzel), who discourages her dreams of being a dressmaker. But she catches the eye of handsome Prince Robert (Nicholas Galitzine), who resists his father King Rowan's (Brosnan) insistence that he must marry someone of royal breeding — he wants to choose his own destiny. Cinderella plans to go to the ball to see Robert, but Vivian forbids her. Fortunately for her, though, she has a fairy godmother (Porter) who will ensure she attends.
Early on, this Cinderella signals its intention to shake the cobwebs off this musty fable. (For instance, several of the characters refer to Cinderella by her nickname Ella.) And the juxtaposition of the fairy-tale setting and familiar pop staples, such as "Material Girl" and "Somebody To Love," further suggests a contemporary approach to material that has an outdated view of women. Tellingly, Cabello's Cinderella doesn't need a dashing, well-connected man to rescue her — she wants to start her own business and plot her own future.
Cannon, whose directorial debut was 2018's Blockers, enjoys poking fun at the tale's stodgiest conventions, but the smart-aleck tone isn't particularly witty. Likewise, some of the supporting performances tend toward the broad, which only underlines the slightness of Cinderella's satire. Disappointingly, the film exudes a noticeable self-satisfaction for calling out what's sexist about this oft-told fable — what Cannon's remake lacks is a consistent ability to upend those conventions and find fresh ways to tell this story.
Much like Moulin Rouge! and Pitch Perfect, Cinderella incorporates familiar hits, giving them new musical settings, although Ashley Wallen's choreography doesn't offer many show-stopping moments. But the larger problem is that the jukebox selections are often fairly on-the-nose — for instance, a salute to Robert is scored to Salt-N-Pepa's "Whatta Man" — while the original compositions (including tracks written by Cabello and Cannon) never rise about a bland catchiness. There's a lot of energy in the musical numbers but not a lot of ingenuity, although seasoned singers such as Menzel deliver the tunes forcefully.
When Cinderella tamps down its irreverent tone, the film can be quite winning. Cabello and Galitzine have a sweet chemistry, and Cannon deftly draws parallels between their characters' shared need not to conform to society's expectations — even if it puts their potential relationship at risk. (Robert wants to whisk her away, but if it means that Cinderella can't realise her career goals, she's not interested.)
And although Brosnan is a bit too silly as the stuffy, dogmatic king, Driver is quietly moving as Queen Beatrice, who has supported her husband at the expense of her own happiness and romantic fulfilment. Cinderella is at its best when it examines how a rigid society holds back individuals who don't fit into constricting predetermined roles — be it a queen, a prince or Cinderella. This remake contains some magic, but it fades away long before the strike of midnight.
Production company: Fulwell 73
Worldwide distribution: Amazon
Producers: Leo Pearlman, James Corden, Jonathan Kadin, Shannon McIntosh
Production design: Paul Kirby
Editing: Stacey Schroeder
Cinematography: Henry Braham
Music: Mychael Danna, Jessica Rose Weiss
Main cast: Camila Cabello, Idina Menzel, Minnie Driver, Nicholas Galitzine, Billy Porter, Pierce Brosnan