Alex Gibney takes a deep dive into the relationship between Russia's oligarchs and Vladamir Putin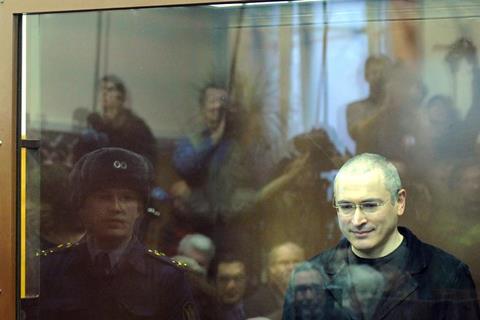 Dir. Alex Gibney. UK-USA. 2019. 126 mins.
The prolific documentarian Alex Gibney tackles another taboo in Citizen K, a primer on Russia's oligarchs and their relationship with Vladamir Putin via the story of Mikhail Khodorkovsky ('K'), one of the few surviving original Russian robber barons of the nineties. An enigmatic, steely soul, Khodorkovsky speaks at length to Gibney and his team from his home of London – a place which has proven fatal for other opponents of Putin's regime, yet from whence he continues to agitate safely for the "return of democracy" to his motherland.
Gibney's story is clearly told and wholly engrossing
A lengthy, knotty, yet lively film, Citizen K boasts a slick package of impressively-shot modern-day footage of Russia – notably the Siberin oil fields – with gripping archival material, all wrapped up in a rousing score which roams from Russian military anthems to Hitchcockian overtures. It will play to a self-selecting audience after Venice and Toronto bows; its bone-dry thoroughness bears comparisons to work by Ken Burns, yet there's enough of Gibney in here to liven up the proceedings and entertain. Certainly, the unpicking of Putin's media manipulation is fascinating. Questions remain, however, along with a slight sense of frustration that Gibney hasn't quite gotten the measure of his subject this time around.
After drone footage takes the viewer to Western Siberia where Mikhail Khodorkovsky's former oil factories belch out smoke and flames, Gibney's camera retreats to London where the oligarch, who spent 10 years in a labour camp after he refused to flee Putin's new regime, now resides. Gibney tracks back to relate how the rise of Khodorkovsky – a smart, poor boy – coincided with the breaking up of the Soviet Union. Khodorkovsky acknowledges his own greed, and a large part in the "gangster capitalism" of Russia when mass state privatisations of 1992 ushered in seven years of "wild west Capitalism". Khodorkovsky emerged, after much bloodshed, to become one of Yeltsin's seven most powerful oligarchs, there to prop up Russia when the economy went bust and the ailing Russian premiere couldn't even walk. They went on to help Yeltsin put Putin in power: a big mistake.
Gibney's story is clearly told and wholly engrossing. The esteemed and provocative American documentarian (Enron: The Smartest Guys In The Room, Going Clear, Wikileaks: We Steal Secrets) pulls the curtains back on that murky time in Russia to name the names, not all of whom have survived. The fact it's all so recent lends an added frisson. Gibney also details Putin's mastery of the media, and the dirty tricks that have enabled him to stay in power until today – and to exert a malign influence globally (in the case of the US election, for example). Many have learned from his example. There's also amusing footage of a vain Putin preening around the Kremlin, playing Blueberry Hill (in English!) to an audience of dignitaries.
But Khodorkovsky is no saint to Putin's sinner, and when he casually mentions how he has $500 million in the UK, some big, unanswered questions quickly become the elephant in the shot. What is the true nature of the relationship between Khodorkovsky and Putin, and why did he wait to be arrested in Russia when everyone else fled? How does a man who had all his assets confiscated and spent 10 years in a Siberian prison amass that kind of cash since going into exile? Why is he safe, when dissidents have been poisoned in sushi restaurants, shot in their homes, or doused with Novichok – all in the UK (and, also, why the UK in particular?).
A very senior roster of Russian commenters and the BBC's Martin Sixsmith are on hand to provide some crisp commentary, which, you feel, even after 128 minutes, only dips its toe in some very murky waters indeed.
Production company: Passion Pictures, Jigsaw Productions, Storyteller Productions
International sales: Kew Media
Producers: John Battsek, Alex Gibney, PJ van Sandwijk, George Chignell, Erin Edeiken
Cinematography: Mark Garrett, Denis Sinyakov
Editing: Michael J Palmer
Music: Robert Logan, Ivor Guest
Featuring: Mikhail Khodorkovsky, Anton Drel, Maria Logan, Alexei Navalny, Tatyana Lysova, Leonard Nevzlin, Igor Malashenko, Derek Sauer