Zhang Yimou masters yet another genre with this 1930s-set spy potboiler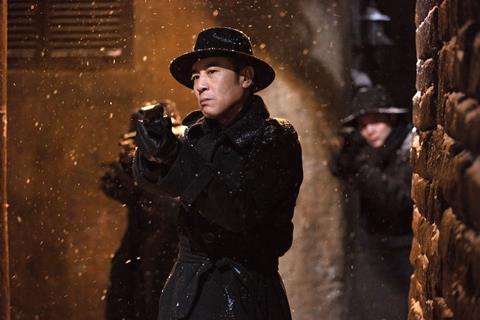 Dir: Zhang Yimou. China. 2021. 120mins.
Zhang Yimou aces his first attempt at the spy genre with the 1930s-set Cliff Walkers, which focuses on four Communist Party special agents on a top-secret mission in the Japanese puppet state of Manchukuo. Having famously mastered wuxia tropes with Hero (2002) and House Of Flying Daggers (2004), the venerable Fifth Generation director proves just as adept when it comes to the espionage thriller, somehow marshaling almost every conceivable stock element into a reassuringly familiar whole. Immaculately shot amid an abundance of snow, which literally adds a further layer to the convoluted machinations, Cliff Walkers ranks alongside Chen Kuo-fu and Gao Qunshu's The Message (2009), Choi Dong-hoon's Assassination (2015) and Kim Jee-woon's The Age Of Shadows (2016) as a superior East Asian historical potboiler.
Zhang certainly knows how to deliver a ripping yarn with the requisite panache
Opening domestically and overseas on April 30, Cliff Walkers is unlikely to become one of Zhang's biggest box-office successes, despite his consummate handling of an enduring genre. Domestically, it will be competing in a jam-packed Labour Day frame that sees a dozen local titles vying for ticket sales. Of these, Han Tian's romantic-comedy My Love and Leste Chen's suspense piece Home Sweet Home have the edge in terms of online buzz, leaving Cliff Walkers to cater to mature cinemagoers. Internationally, modest theatrical business from longtime Zhang admirers should be followed by healthy streaming revenues.
Eschewing upfront exposition, the film opens with the intrepid agents parachuting into a forest in northeast China. The team comprises commander Zhang Xianchen (Zhang Yi) and his wife Wang Yu (Qin Hailu), plus younger couple Chu Liang (Zhu Yawen) and Xiao Lan (Liu Haocun). Following training in the USSR, their mission is to extract a witness to a Japanese massacre who is hiding in Harbin. Since the region is crawling with secret police, Zhang determines they should split into pairs for the journey to the city. It's a sound decision since they have already been double-crossed by a local contact, resulting in several close shaves en route.
On arrival, the threat of sabotage comes from the team's supposed allies, who are actually working under section chief Gao (Ni Dahong). A battle of wits ensues with developments playing out on the labyrinthine streets of Harbin and inside the dilapidated mansion that serves as the base of operations. Simultaneously, Zhang and Wang endeavour to complete a more personal mission. Once residents of Harbin, the pair were forced to leave behind their children when they went away for training and are now determined to find them.
Cliff Walkers pays tribute to the heroes of the communist revolution ("Proletariat of the world unite!"), but it is equally a celebration of pure cinematic escapism, hence a movie theatre serving as the place for a crucial rendezvous. Quan Yongxian's precisely constructed screenplay gives Zhang copious opportunities to reference the pantheon of thriller practitioners from Alfred Hitchcock to Jean-Pierre Melville to Johnnie To. Strategically sacrificing team dynamics, the film puts its protagonists into individual tight spots that call for cunning, resolve and sheer luck, with viewing pleasure stemming from Zhang's meticulous, even illustrative approach to crafting textbook setpieces. Indeed, a brawl in a train sleeping compartment, a backstreets foot-chase and a risky embassy visit benefit as much from agonising build-ups and spatial awareness as they do from Jung Doo's on-point action choreography.
Such staples as coded exchanges, cyanide tablets and spiked beverages are also incorporated, yet any sense this is an elaborate checklist exercise is offset by the uniformly fine cast who imbue their roles with a palpable sense of duty.
As expected with Zhang, Cliff Walkers is a visual treat. Production designer Lin Mu provides impressive scale recreations of 1930s Harbin structures on location, while Zhao Xiaoding's cinematography creates a sense of lurking treachery through shadowy interiors. If period atmospherics are a tad undermined by digital crispness, freezing winter weather conditions ensure the proceedings boast a striking, noir-tinged palette. Largely clad in black coats, the cast is frequently engulfed by bright white snow, which settles fatalistically on the brims of their hats in critical moments. In-keeping with the reassuringly old-fashioned sensibility, some exterior sequences could almost pass for black-and-white were it not for splashes of the director's signature red from street lights or bleeding wounds.
He may not add anything new to the spy genre, but Zhang knows how to deliver a ripping yarn with the requisite panache.
Production companies: Emperor Motion Pictures, China Film Co., Shanghai Film Group, Hua Xia Film
International sales: Emperor Motion Pictures, enquiry.emp@emperorgroup.com
Producers: Pan Liwei, Luca Liang
Screenplay: Quan Yongxian
Editing: Li Yongyi
Cinematography: Zhao Xiaoding
Music: Cho Young Wuk
Main cast: Zhang Yi, Yu Hewei, Qin Hailu, Zhu Yawen, Yu Hewei, Liu Haocun, Ni Dahong