The Portugese financial crisis comes home to roost in Teresa Villaverde's mannered but original film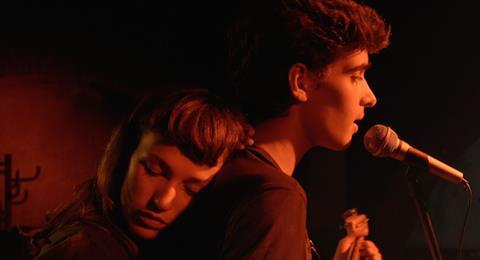 Dir/scr. Teresa Villlaverde. Portugal/France, 2015. 138 mins.
Portugal's enduring financial crisis is parlayed into a mannered but also original and intriguingly resonant family drama in Teresa Villaverde's seventh feature. The film shows a family of three dealing with the poverty that has engulfed their decent lower-middle-class existence: they belong, to use a recent political buzzword, to the JAM class, the just-about-managings, but they're on the verge of going under. There's hardly a second of humour in this lengthy film, and yet its measured pacing, undemonstrative performances and sometimes stiff dialogue could, with only a small push, veer into surreal comedy. What saves Colo from the irritations of the style exercise is its commitment to characters who have not lost their humanity despite the anomie that spreads like a poison through their lives.
The natural world offers little solace in Colo, but it does suggest a yearning for a simpler, easier state of things
At over two hours, it's a challenging watch nevertheless, but one that resilient arthouse audiences in search of fresh, thought-provoking cinema might respond to. Other strengths include a delicate, sparing, use of classical pieces by Schumann and Shostakovich – kept low in the mix, like ghost music – and an impressive visual control of mood through the staging of artifical and natural lighting.
Seventeen-year-old Marta (Alice Albergaria Borges) lives with her unemployed father (Joao Pedro Vaz) and working-overtime mother (Beatriz Batarda) in an apartment near the top of a tower block somewhere on the outskirts of Lisbon. We first see her crying in a cork forest, perhaps after being dumped by her boyfriend. Back at home, dad is fretting because mum's late coming home – he tells Marta that he's worried she has gone for good. He goes out to look for her, but is still out when his wife returns. At which point she goes out to look for him. It's a neat taster of what follows: continual exits and entrances from a home that seems, even before the cash-strapped family start packing boxes and preparing to leave, to have lost its power to anchor and unite.
Marta is a moody, self-harming punkette, but still at that age when the little girl she once was peeps through – when she's tending to her pet goldfinch, or chopping vegetables in a candlelit kitchen with her mother after the electricity is cut off. Her job-seeking father has reverted to a state of sad-eyed, pyjama-wearing desperation, while the mother is just tired, the whole time, from working long hours at a job that keeps her out of the house from early morning to late in the evening.
But Colo – a word that in Portuguese has associations with the womb, and cradling someone in your lap or arms – is no kitchen-sink drama. Shuttling between two main visual and narrative points of view – Marta's, and her father's – it spends as much time outdoors as inside the oppressive, airless flat with its matt pale orange and mustard walls and narrow corridors.
Marta goes walkabout for a whole night with bestie Julia – who has just discovered she's pregnant – ending up at early morning by an eel fisherman's hut on the banks of the Tagus. It's a drift echoed in her father's pathetic attempt at a carjacking a little later, when he gets into the car of an old schoolfriend who recently turned him down for a job and forces him, at knifepoint, to drive to the beach where they used to go in happier times.
The natural world offers little solace in Colo, but it does suggest a yearning for a simpler, easier state of things. One where you can reach out to pluck a pomegranate from a tree and eat it, as Marta does by the eel guy's hut – a moment echoed later when her father, finally home after two nights sleeping rough, asks for a large red tomato with salt, and his daughter feeds him. It's a reversal of roles, or a collapsing of generational levels, which will culminate in the film's surprising finale.
Production company: Alce Films
International sales: Films Boutique contact@filmsboutique.com
Producers: Teresa Villaverde, Cécile Vacheret
Cinematography: Acacio de Almeida
Editor: Rodolphe Molla
Production design: Maria José Branco
Main cast: Joao Pedro Vaz, Alice Albergaria Borges, Beatriz Batarda, Clara Jost, Tomas Gomes, Dinis Gomes, Ricardo Aibeo