Dir. Yuen Wo-ping. US/China, 2016, 96 mins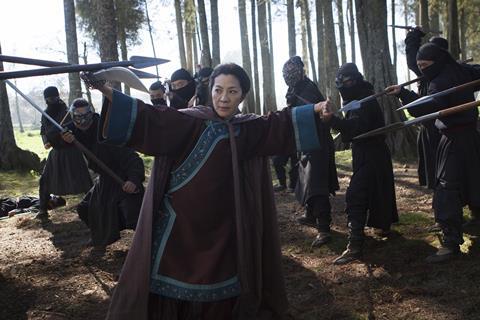 Michelle Yeoh reprises her role as lovelorn warrior Shu Lien this belated sequel to Ang Lee's worldwide smash hit wuxia drama, directed by Hong Kong action legend Yuen Wo-ping. An English-language co-production between The Weinstein Company and China Film Group, the film, which also stars Donnie Yen and Jason Scott Lee, always feels like a cash-in, arriving 15 years too late. Opening over the lunar new year holiday in Hong Kong and mainland China, Crouching Tiger, Hidden Dragon: Sword of Destiny (previously CTHD: The Green Legend) is set for a Netflix release on February 26, when it will also receive a select simultaneous IMAX showing in the US.
Throughout Sword of Destiny there is lingering evidence of a much longer version of the story, with numerous incidents going unexplained, while characters and motivations fall by the wayside
Yet Yuen's film recaptures none of the ravishing, operatic grace that helped its predecessor scale cultural and linguistic divides to take $213 million at the global box office, win four Academy Awards and reinvigorate the genre. John Fusco's screenplay makes scant reference to Wang Du Lu's source text Iron Knight, Silver Vase, opting instead to lazily rehash a number of story beats from the previous film.
Clocking in at just 96 minutes, Sword of Destiny feels heavily truncated, lacking in narrative substance. Scant characterisation and timid action choreography don't help matters, while an over-reliance on simple sets and CGI landscapes mean Grant Major's (The Lord of the Rings) production design lacks the resonance of the previous film.
18 years after the events of the first CTHD, renowned warrior Shu Lien (Michelle Yeoh) learns that the sword Green Destiny is under threat once again. A young thief, Wei Fang (Harry Shun Jr), attempts to steal the weapon for the evil Lord Hades (Jason Scott Lee), but is apprehended. The estate sends for reinforcements, who arrive under the leadership of Silent Wolf (Donnie Yen) - Shu Lien's former fiancé, whom she believed was killed by Hades years earlier.
Meanwhile, a young woman known as Snow Vase (Natasha Liu Bordizzo) seeks tuition from Shu Lien, but also catches Wei Fang's eye when he observes her training from his nearby cell. While all four warriors juggle their duties and romantic urges, Lord Hades and his Blind Enchantress (Eugenia Yuan) close in on the precious sword.
Throughout Sword of Destiny there is lingering evidence of a much longer version of the story, with numerous incidents going unexplained, while characters and motivations fall by the wayside. Curiously, the only narrative thread that does feature in Iron Knight, Silver Vase - the fifth and final chapter in Wang Du Lu's Crane Iron Pentalogy - remains mostly intact in the film. This relates directly to the personal histories of Snow Vase and Wei Fang, how they are intertwined and connect with Yu Jiaolong, Zhang Ziyi's character from the earlier film.
As a result, each scene either pushes the story forward through clunky exposition, or features some kind of generic wuxia action, be it a fight, training sequence or gravity-defying glide across rooftops. Sadly Yuen Wo-ping, who also serves as action director on the film, stages these sequences with a lack of visual or stylistic invention, and nothing comes close to his breakthrough work on Ang Lee's film.
Without such flourishes to distract or entertain audiences, it falls to the performers to carry the underwritten, cliche-heavy narrative. But in a story fuelled by burgeoning romance and long-lost love, precious few sparks fly between the icy leads. Michelle Yeoh reacts to the discovery that her betrothed is still alive with all the emotional outpouring of a terracotta warrior. Yen does little more than shrug his flimsy apology, while prospective lovers Wei Fang and Snow Vase share nothing more than a single fleeting smile.
Harry Shum, Jr (Revenge of the Green Dragons) and newcomer Natasha Liu Bordizzo struggle to make anything of their roles, with neither threatening to break out the way Zhang Ziyi did so impressively in Lee's film. Jason Scott Lee, perhaps best known for playing the lead in Rob Cohen's Dragon: The Bruce Lee Story, brings a notable physicality to his role as the villainous Hades.
Michelle Yeoh fares best here. Since 2000, her career has progressed in fits and starts, with none of her subsequent efforts in the genre proving as commercially or critically successful. A Crouching Tiger sequel must have seemed like a gift, and she acquits herself as best she can in the only role with anything approaching a dramatic arc or emotional pay-off.
Donnie Yen's career finally found a belated foothold in the wake of Crouching Tiger, Hidden Dragon's surprise success, and thanks to films like Zhang Yimou's Hero, Peter Chan's Wuxia (released in the West as Dragon) and Wilson Yip's Ip Man trilogy, he has become China's most bankable action hero. Sadly Silent Wolf is a minor role, demanding little from the actor. He does feature prominently in the film's two best fight sequences, one staged on a frozen lake, but even these pale in comparison to anything Yen or Yuen - whether in their past collaborations or separately - have produced in the past. Not even Yen's star power and current success in Ip Man 3 can save Sword of Destiny from being categorised as a wasted opportunity.
Production companies: China Film Co. Ltd, The Weinstein Company, Pegasus Pictures
International distribution: Netflix
Producers: Charlie Nguyen, Peter Berg
Executive Producers: Harvey Weinstein, Morten Tyldum, Ron Burkle, Ted Sarandos, Pauline Fischer, Sarah Bowen, Jay Sun, La Peikang, Bob Weinstein, Anthony W.F. Wong, David C. Glasser, Sarah Aubrey, Ralph Winter, David Thwaites, Jeff Batancourt
Screenplay: John Fusco, based on the Crane Iron Pentalogy by Wang Du Lu
Cinematography: Newton Thomas Sigel
Editor: Jeff Betancourt
Production Design: Grant Major
Composer: Shigeru Umebayashi, Lang Lang (featured piano soloist)
Main Cast: Donnie Yen, Michelle Yeoh, Harry Shum, Jr., Natasha Liu Bordizzo, Jason Scott Lee, Eugenia Yuan, Roger Yuan