Debut feature from Belarus opens Karlovy Vary's East of the West sidebar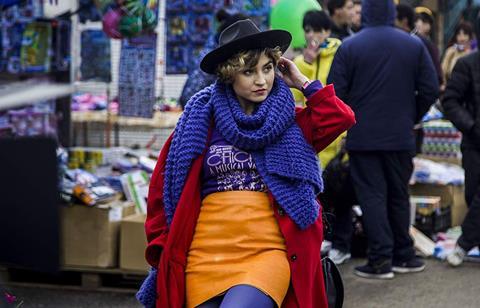 Dir: Darya Zhuk. Belarus/Germany/US/Russia. 2018. 95 mins
The debut feature by Belarus-born, US-educated Darya Zhuk may be set in the mid-90s, but with a plot founded on a young Belarussian's obsessive desire for an American visa, and a sting in the tale that chimes with the #metoo movement, it has a remarkably topical ring to it. Vividly lensed by Brazilian Carolina Costa and featuring an engagingly vital performance by Alina Nassibulina, who evokes Madonna circa Desperately Seeking Susan, this East of the West opener at Karlovy Vary may well have some arthouse legs.
Set in Belarus in the mid-90s, a place which is finding life difficult economically outside the Soviet Union, torn between old and new, East and West.
It opens in Minsk in 1996, just a few years after independence. One of those keen to fly the newly post-Soviet roost is 22-year-old Velya (Nassibulina). Despite a law degree, she's unemployed and with no interest in practicing ("where do you see the law here?" she asks at one point, not unreasonably). Rather, she's a DJ, intent on moving to Chicago, the birthplace of House music.
Velya is introduced as resplendently blue-wigged, first berated on a bus by men with personalities still mired in the dark ages, then in her element – dancing at her decks in a nightclub, as a statue of Lenin towers behind her. Though the archive footage in Zhuk's own mix could be more impactful, the director quickly establishes the cultural context: a country finding life difficult economically outside the Soviet Union, torn between old and new, East and West.
Those tensions also exist at home. Velya's mother (Svetlana Anikey), who works in a Belarus history museum, is one of the many who wouldn't dream of leaving "the motherland". There's no sign of her husband, Velya's father, and the two woman can't stand each other; lack of familial love quietly simmers beneath Velya's story.
She's clear about her own direction, a place where "I can be myself". But in the long queue at the American Embassy it becomes obvious that without an income and therefore proof that she would be able to leave the States, getting in won't be easy. A visa will take desperate measures. In a place where everything can be improvised, stolen or faked, Velya sets about inventing a work history as a manager at a crystal factory in the provinces. Unfortunately, those pesky Americans have the outrageous notion that they can follow up her references – sending our desperate heroine into the sticks, to intercept the call.
Having spent a good while establishing Velya's milieu in Minsk, complete with a house and techno backing and a vibrant palette of primary colours (which suits the character's personality but suggests a degree of historical licence), Zhuk now decamps her entire film to the backwater factory town. And so she adds another element of duality to her scenario – town and country; as ever in the small genre of such films, the townie doesn't go down well.
Of course, Velya brings her own bold expression with her – blonde locks, blue scarf, yellow top, red jacket – and more importantly a mountain of independent female attitude, which now stands out completely in the familiar Soviet grey of the town, actually named Crystal, which is misleadingly demure given the lawlessness, aimlessness and bad taste in evidence.
Velya has located the fake phone number she bought to a house led by matriarch Alya (Ludmila Razumova), who is deep in preparations for her son Stepan's wedding. No-one wants to help the city girl with the odd dilemma, until Stepan (Ivan Mulin), an ex-soldier who couldn't seem more uninterested in his impending nuptials, steps in. Velya is allowed to camp herself by the phone, waiting for the embassy to call.
Unfortunately, while the switch to the town adds some depth to the dichotomies explored in Helga Landauer's script, the film also starts to unravel here. Constant shots of the crystal factory workers have no evident purpose other than to fill gaps in Velya's movements; the business with the telephone becomes repetitive and incoherent, and the farce doesn't sit comfortably with the seriously unpleasant drama involving Stepan's true nature.
But the impetus isn't entirely lost as long as Nassibulina's wonderful creation is on screen – purposeful, lively, resourceful, a dreamer with her feet on the ground and a good heart. With Belarus's president Aleksander Lukoshenko exerting a Putin-like hold on office – he first came to power in 1994 and is often referred to as Europe's last dictator – this tale of a DJ's fate is definitely worthy of a spin.
Production company: Demarsh-Film
International sales: Loco Films, info@loco-films.com
Producers: Birgit Gernböck, Olga Goister, Debbie Vandermeulen, Valery Dmitrotchenko
Screenplay: Helga Landauer
Production design: Andrey Tolstik
Editing: Sergey Dmitrenko, Michal Leszczylowski
Cinematography: Carolina Costa
Main cast: Alina Nassibulina, Ivan Mulin, Yuri Borisov, Svetlana Anikey, Ludmila Razumova