School students uncover the mysteries of a creepy village in this Tunisian horror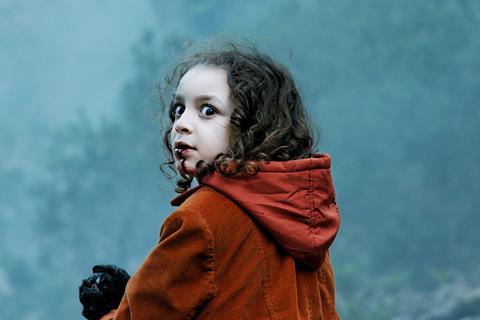 Dir/scr. Abdelhamid Bouchnak. Tunisia. 2018. 113mins
It might not completely cast a spell over audiences but, as Dachra follows three journalism students investigating a suspected case of witchcraft, the Tunisian horror effort still bubbles with eerie intrigue and bloody thrills. A composed debut feature from writer, director, producer and editor Abdelhamid Bouchnak, it's a visually rich and moodily atmospheric film with a keen sense for the unsettling, even if it boils together a mélange of somewhat familiar ingredients.
Bouchnak focuses not only on the macabre, grisly and savage, but on the primal and instinctive as well
Still, with the line between derivation and inspiration always razor-thin in fright-filled cinema, Dachra carves out its own ground somewhere in the middle. Indeed, commonalities with a number of both classic and recent standouts — The Texas Chainsaw Massacre, The Blair Witch Project and Fish & Cat, namely — could help the movie's prospects after it closes out Venice Critics Week, although further festival play and streaming platforms augur as its likely destinations.
While a gruesome evening ritual makes for an attention-grabbing opening, it's Bouchnak's aesthetic sensibilities that first strike a chord. Showcasing the versatility of cinematographer Hatem Nechi, the film intially follows the sinister ceremony with jerky handheld shots, then graduates to grey-hued wide-angled images that see the central characters dwarfed by their surroundings and then to skewed compositions that evoke an ever-shifting perspective. Whether filming a road trip from a car bonnet, a deadly slash by only showing the tip of the knife, or angling a face to jump in and out of the frame during an interview, each shot contributes to feature's uneasy, almost assaultive air. It's as if anything could accost those both on- and off-screen, be it narratively or visually, at any moment. That's more convincingly distressing and ominous than any jump-scare.
For Yasmine (debutant Yasmine Dimassi, steely as the movie's inquisitive, determined protagonist), all that arises at first is a class assignment to film an exclusive story within the next 15 days. The only thing that can't be covered: the Tunisian Revolution. That's the movie's sole overt nod to the country's highly politicised climate over the past decade, though Dachra's steady descent into primitive chaos could be viewed as a rebuff — or at the very least, a subversive toying with — the nation's more modern image within the broader Arab world.
Yasmine and her friend Bilel (Bilel Slatnia) are short on suggestions for their project, but classmate Walid (Aziz Jbali) offers up the type of prospect that might otherwise be whispered around a campfire. He tells of the institutionalised Mongia (Hela Ayed), who was found naked and mutilated two decades earlier, somehow managed to survive having her throat cut and has been considered a witch by the facility's staff ever since.
With his screenwriting cap on, Bouchnak can hardly be accused of hewing slavishly to the expected; however logic dictates that such stories always precipitate creepy, challenging, life-changing quests. First stop is the hospital in question; a suitably disquieting abode where officials deny that any such patient exists and bribery is the only way to get an audience with the would-be subject. The trio's next port of call is the woodland dachra (or village) where Mongia was attacked. Welcomed by the perturbingly friendly Saber (Hedi Majri) but ignored by his cabal of shawled, silent women, Yasmine and company are soon ensconced in a grimy compound where meat dries like washing on a line, goats run rampant and ghostly children lurk around menacingly the edges.
A title card proclaims Dachra's basis in reality, with the script inspired by true events, tale and crimes. That said, the film is also steeped in real-life stirrings and urges: the need to consume, to co-opt and to conquer the murky veil that separates the dead and the living. As its climax nears, those concepts may manifest in literal ways, but Bouchnak focuses not only on the macabre, grisly and savage, but on the primal and instinctive as well. The end result is all the more effective for it, and a further narrative strand involving Yasmine's grandfather (Bahri Rahali) adds a pertinent parallel, even if — as with much of the feature overall — it can sometimes smack as much of neatness as unnerving thrills and chills.
Production company: Shkoon Production
International sales: Celluloid Dreams, info@celluloid-dreams.com
Producers: Abdelhamid Bouchnak, Omar Ben Ali
Production design: Fatma Madani
Editing: Abdelhamid Bouchnak
Cinematography: Hatem Nechi
Music: Rached Hmaoui, Samy Ben Said
Main cast: Yasmine Dimassi, Aziz Jbali, Bilel Slatnia, Hela Ayed, Hedi Majri, Bahri Rahali