Dramatisation of the 1966 clash between 108 Australian and New Zealand troops and North Vietnamese soldiers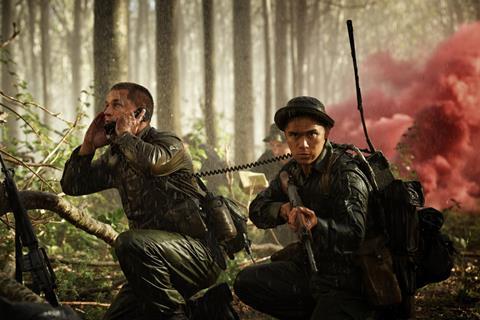 Dir. Kriv Stenders. Australia. 2019. 118mins
With a thick vein of relentlessness, Danger Close: The Battle of Long Tan chronicles one of the Vietnam War's lesser-known clashes: a 1966 confrontation pitting 108 largely inexperienced Australian and New Zealand troops against North Vietnamese forces approaching 20 times that number. Director Kriv Stenders (Red Dog and sequel Red Dog: True Blue) wrangles the film's extended battle scenes into a near ceaseless, bullet-slinging barrage.
Flitting between platoons, editor Veronika Jenet infuses the chaos and carnage with the necessary urgency
With screenwriter Stuart Beattie (Collateral, Australia), Stenders sprays on a patriotic stance as soupy as the South Vietnamese humidity. And, in the men populating the frenetic jungle frays and sporting the requisite dutiful attitude — Vikings' Travis Fimmel, as well as fellow locals Luke Bracey, Daniel Webber, Anthony Hayes and Richard Roxburgh — he fills his frames with stock-standard soldiers who mostly read like people second and symbols of heroism first.
Though impressively staged (with Queensland ably standing in for a Phước Tuy Province rubber plantation) and emotively acted, the result is a war movie both impassioned and generic; often, despite the film's palpable sense of importance at bringing such an under-sung skirmish to the screen, it feels impassioned about remaining generic. After its Sydney Film Festival premiere back in June and upcoming Australian release in August, perhaps Danger Close's broad, well-worn tenor will aid its fortunes internationally, with a US theatrical run slated via Saban Films. On home turf, the feature is undeniably one of the year's big local titles, even if shedding light on a significant military moment in such a template-like manner isn't an inherently winning formula.
Charting events between August 17–19 1966, particularly the three-and-a-half-hour eponymous battle, Danger Close offers initial slivers of sunshine amidst the swirling war. The Viet Cong threat is ever-present; however Delta Company has a distraction — an impending concert at the Nui Dat base by singers Little Pattie (Emmy Dougall) and Col Joye (Geoffrey Winter). While young privates Paul Large (Webber) and Noel Grimes (Nicholas Hamilton) want nothing more than a moment's relaxation, Major Harry Smith (Fimmel) is desperate to make a forceful contribution. Alas, his request to transfer away from overseeing fresh-faced conscripts, and back to the thick of the action, falls on Brigadier David Jackson's (Roxburgh) unsympathetic ears.
The similarly stern-faced and uncompromising Smith soon gets his wish, in a fashion, as Danger Close trudges into the mud and dense foliage to unfurl its visual and visceral assault. After an overnight attack, he leads a search patrol to expose the enemy, only to find himself and his separated charges outnumbered in monsoon conditions. Stenders gives names and faces to many of the ANZACs under fire, plus those arguing about reinforcements back at the base, including Bracey's seasoned Sergeant Bob Buick, Hayes' Lieutenant Colonel Colin Townsend and Myles Pollard's airforce chopper pilot Frank Riley. But, as captured in a hail of rain and mid-battle mayhem by DoP Ben Nott (Winchester, Jigsaw), it's the onslaught itself that swiftly proves the centre of attention.
Flitting between platoons, editor Veronika Jenet (an Oscar nominee for The Piano) infuses the chaos and carnage with the necessary urgency, although the unyielding fracas begins to lose its impact as the feature's 118 minutes tick by. When brief respites from the hellishness arrive, they're fodder for routine emotional beats — ones of growing camaraderie in the face of tragedy and sacrifice that might've better hit their marks if the characters weren't so thin.
Still, like Danger Close's immersive technical feats (Sam Hobbs' production design and Lizzy Gardiner's costuming among them), the cast drips enough gravitas to acquit themselves well. Fimmel, Webber and Bracey fare best, as amply assisted by the script's focus, as well as the journeys afforded their central soldiers. Another key component of Beattie's screenplay — the movie's blinkered nature, especially in reliving an event that claimed 18 Australian lives compared to 245 Vietnamese casualties, all in a controversial and unpopular war — is, unsurprisingly, a far less welcome or well-judged facet of the film.
Production companies: Red Dune Films, Deeper Water Films
International sales: Saboteur Media, info@saboteurmedia.com
Producers: Martin Walsh, John Schwarz, Michael Schwarz
Screenplay: Stuart Beattie
Cinematography: Ben Nott
Editing: Veronika Jenet
Music: Caitlin Yeo
Production design: Sam Hobbs
Main cast: Travis Fimmel, Luke Bracey, Daniel Webber, Richard Roxburgh, Anthony Hayes, Alexander England, Aaron Glenane, Nicholas Hamilton, Myles Pollard, Matt Doran, Emmy Dougall