Dir: Peter Mackie Burns. UK, 2017, 87 mins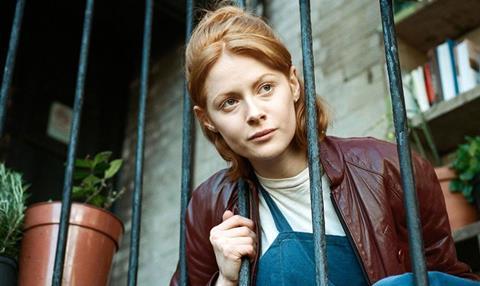 London drama Daphne is one of those films so tightly focused on its central performance that its impact will very much depend on your attitude to the screen presence of lead player Emily Beecham. Indeed, this debut fiction feature by Peter Mackie Burns (director of 2011 documentary Come Closer) takes considerable risks in making its central character so unapologetically abrasive. It's a challenge to which Beecham rises, while being alternately appealing and emotionally affecting; although, of course, that's all in the eye of the beholder.
This is a distinctive, mature piece of work
Overall, this is a compelling watch, although its emphasis on character rather than on its sparse, episodic narrative content will make it a tough sell theatrically. But Daphne's intelligence, tonal confidence and distinctive female-focused worldview will ensure that Beecham, Burns and writer Nico Mensinga all get noticed, and festival prominence is assured.
Beecham (seen in the Coens' Hail, Caesar! and TV's Into the Badlands) plays 31-year-old Daphne, a single woman working as a cook in a London restaurant. She's fiercely independent, focused on her job, likes to relax by reading hardcore philosopher Slavoj Zizek and has a breezy, no-nonsense attitude to sexual hook-ups. She's also somewhat isolated, and is often seen walking lost in thought round London, which makes for striking shots in which Beecham's Huppert-like red hair supplies a sharp visual leitmotif.
In addition, she has a continuing flirtation going on with married boss Joe (Tom Vaughan-Lawlor), finds herself tentatively open to romance with affable nightclub bouncer David (Nathaniel Martello-White) and has a tense relationship with her mother (Geraldine James, in tough, genial form), who is coping with her own health issues by looking to mindfulness, Buddhism and similar practices.
In the opening stretch, Daphne's pithy, no-bullshit dialogue and her wheeling through everyday travails seem to set up a how-women-live-now lifestyle film; echoes of 90s TV series This Life updated for the Girls generation (Lena Dunham-style frankness has definitely left its traces). The drama takes a left turn, however, when Daphne witnesses a stabbing and the trauma throws her emotional balance out of wack. She drinks ever more compulsively and behaves erratically yet, even as she seems to approach a personal brink, her self-conscious, cynical wit never seems to flag.
With its theme of a young woman brought into crisis by sudden shock, Daphne rather recalls Kenneth Lonergan's Margaret, one of the film-makers' avowed reference points. Like that New York drama, Daphne aims to evoke the complexity of the city around its heroine; hence snatches of overheard dialogue, and fresh use of unfamiliar city locations, notably Daphne's South London home patch of Elephant and Castle.
Daphne's milieu is as vividly evoked as her personality, which emerges strongly through the combination of crisp dialogue and Beecham's intelligent performance, which veers between boisterous alertness and hyper-cool detachment. Yet it sometimes feels as if we're getting a richly detailed profile rather than a fully realized, autonomous character: Daphne sometimes feels like the result of research into the problems facing independent young women in the city today.
Beecham's performance, strong and nuanced as it is, lacks a certain harsher edge which might fully suggest that Daphne had been chipped and scuffed by the pressures of life. As it is, the film's emphasis on her and Daphne's youthful spikiness mean that the character's darker psychological aspects don't quite get the weight they require to make her drama come fully alive.
Even so, this is a distinctive, mature piece of work, with a certain 60s flavor coming from Sam Beste's moody, piano-based score. DoP Adam Scarth proves a new name to watch with a relaxed, realist shooting style and an intensified palette that makes interiors and London locations alike vividly unfamiliar.
Production company: The Bureau
International sales: The Bureau Sales sales@lebureaufilms.com
Producers: Valentina Brazzini, Tristan Goligher
Screenplay: Nico Mensinga
Cinematography: Adam Scarth
Production designer: Miren Marañón Tejedor
Editor: Nick Emerson
Music: Sam Beste
Main cast: Emily Beecham, Geraldine James, Tom Vaughan-Lawlor, Nathaniel Martello-White