Dir. Alexandros Avranas. US/Poland, 2016, 95 mins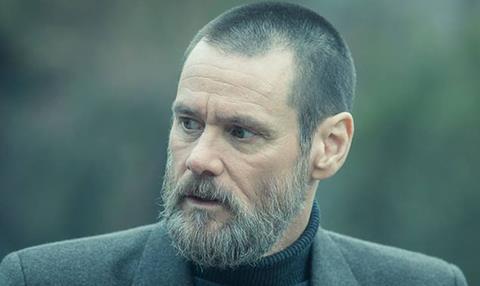 Jim Carrey plays a Polish detective trying to unravel a surprisingly uninvolving Krakow murder in Dark Crimes (formerly True Crimes), a film in which all the real offences seem to be perpetrated against the viewer. Few motion pictures these days are this drab; a grey-bearded, Eastern European-accented Carrey valiantly fights the porridge-coloured scenery but everybody here is a loser, even Charlotte Gainsbourg as a sado-masochistic drug addict hooker, revisiting territory she's previously explored with Lars Von Trier.
There's a marked lack of visual flair here
Dark Crime, passed over by other autumn festivals to bow at Warsaw, sees Greek director Alexandros Avranas (Miss Violence) draw on the Los Angeles Media Fund and Europudding-central-casting to set his story in Krakow, a place nobody on the credit sheet seems to have any real feeling for. As it's based – very loosely – on a New Yorker article written by David Grann about a real-life case, Polish audiences may well respond. Elsewhere, though, Dark Crimes will suffer from the fact that it's just too drab to be even cult-level fun, despite the promise of an OTT opening sequence set in a writhing underground bondage club.
The fault lies neither with Carrey nor Gainsbourg, nor even Vlad Ivanov as Carrey's policeforce pal or Marton Csokas as a writer convicted of the crime. Carrey throws himself into the role with a grim-faced dedication, sobbing and screwing and vomiting with an intensity and seriousness which has been absent in his previous work. Gainsbourg – the only actor here not using a Slavic accent to speak English – also nakedly commits, leading to the suspicion that True Crimes may have looked better on screenwriter Jeremy Brock's (The Last King of Scotland) pages. This dour film, however, is unevenly conceptualised and executed, with the score by Richard Patrick and Tobias Enhus proving to be one of the few lights in a murky-coloured stew.
Tadek (Carrey), dubbed the "last honest cop in Poland", becomes obsessed with a cold case – the murder of a man known to frequent the bondage club which is also used - and written about – by the writer Koslow (Csokas), whose battered on-off girlfriend Kasia (Gainsbourg) is a single mother and drug user. Tadek, who has an exceptionally glum family life, wants to use the case to implicate his corrupt superior (Robert Wieckiewicz). As his hostile wife (Ida's Agata Kulesza) glares at him from across the dinner table, Tadek sets his jaw against the world and carries on doggedly with his quest to find the murderer of a person who only exists in the film as a corpse fished out of the water in video footage.
In fairness, it would appear - from the version shown at Warsaw – that some expository dialogue may have been dubbed in to Dark Crimes. It is also very likely that the bulk of the budget was spent on the cast, a decision perhaps justified in the case of the always-compelling Gainsbourg. Even if she's working in familiar territory, her character delivers an interesting epilogue to those still around to watch it.
Even so, there's a marked lack of visual flair here: the staging is leaden; the sets are universally drab; lighting would be appropriate for a Soviet-era TV film, which this isn't – the events took place in 2003, when the real-life Jarek was aged 34. (Carrey is playing the detective as a much older man, but Dark Crimes takes many liberties with the original story). Director Avranas seems happier when shooting in an intimate register. Dark Crimes was once reported to be involved with Roman Polanski/Christoph Waltz, and it's hard not to wonder what they would have made of the case.
Carrey has taken a risk here, and, for him, Dark Crimes isn't a disaster: even when the film fades from memory, it is clear that this could be a solid bridge for the 54 year-old former comic actor – almost unrecognisable here – to move into more serious roles, should he so wish.
Production companies: Ratpac Entertainment, Gerson Films, Opus Films
International sales: WME Hollywood
Producers: Brett Ratner, David Gerson, John Cheng, Jeffrey Soros, Simon Horsman
Executive producers: Michael Aguilar, Patrick Murray, Kasia Nabialczyk, James Packer
Screenplay: Jeremy Brock, based on The New Yorker article 'True Crime, A Postmodern Murder Mystery' by David Grann
Cinematography: Michal Englert
Editor: Agnieszka Glinska
Production designer: Wojciech Zogala
Music: Richard Patrick, Tobias Enhus
Main Cast: Jim Carrey, Charlotte Gainsbourg, Vlad Ivanov, Marton Csokas, Kati Outinen, Agata Kulesza, Zbigniew Zamachowski, Robert Wieckiewicz