Dir: Tim Miller. US. 2016. 107mins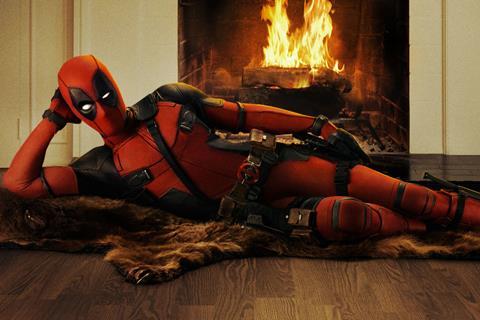 Smartass but not always smart — and with a comedic success rate perilously close to 50 percent — Deadpool represents the natural evolution of the Marvel brand toward cheeky self-parody, anticipating the backlash against the studio's super-popular superhero films by making fun of their familiar formula. And yet, in its foul-mouthed, aggressively violent way, Deadpool proves to be nasty fun, casting a snotty Ryan Reynolds as a vengeance-seeking jerk who may have mutant powers but never acquired the stoicism or valour of the X-Men. Proudly positioning itself as the crude, hip alternative to Iron Man and Captain America, Deadpool is a spiky, uneven palate cleanser.
Reynolds holds the film together through his rugged charisma and playful teasing of his own movie-star looks.
Opening across most of the planet by February 12, this Fox release joins last year's Ant-Man as an attempt to extend the Marvel money train by dipping into secondary characters who don't have the visibility of a Spider-Man or Thor. But considering that Deadpool is the first R-rated Marvel superhero movie, the chances of it reaching the $519 million worldwide of Ant-Man, let alone the $714 million of 2014's Captain America: The Winter Soldier, seems a tricky proposition. All eyes will be on Reynolds, whose stardom took a hit after his previous comic-book movie, 2011's Green Lantern ($220 million worldwide), was a critical and commercial bomb. The betting is that Deadpool fares better than that, but it seems destined for cult status rather than gaudy grosses.
Reynolds plays Wade Wilson, a former Special Forces operative who now dons a red-and-black full-body suit and calls himself Deadpool, in search of a shadowy villain named Ajax (Ed Skrein) for reasons that will eventually become clear. Told partly through flashbacks, Deadpool traces how Wilson fell in love with the dangerous beauty Vanessa (Morena Baccarin), only to be diagnosed with cancer and given just months to live. Desperate for a cure, Wilson came in contact with Ajax, who promised him a solution, albeit one with potentially deadly side effects.
Part of Deadpool's appeal is how it toys with the usual superhero-origin-story template, thrusting us initially into the middle of Deadpool's vengeance mission and then having the character speak directly to the audience, backtracking to explain how he got to this place. First-time feature filmmaker Tim Miller and screenwriters Rhett Reese and Paul Wernick have envisioned Deadpool (and its main character) as unapologetically brazen, practically thumbing its nose at the niceties of comic-book conventions.
To be sure, this film is very pleased with its impudent tone and uncouth main character — Deadpool's locker-room style of comedic putdowns comes distressingly close to homophobic — and there are long stretches where its knowing sense of humour can be irritatingly smug. But more often than not, Deadpool's bratty energy feels liberating, allowing for a sexier, dirtier, more hilarious superhero movie than the typical all-ages Marvel affair, which is so concerned with maximising profits that it risks offending no one.
Reynolds holds the film together through his rugged charisma and playful teasing of his own movie-star looks. Wilson can be obnoxious — he insists he's no hero — but Reynolds brings just enough empathy to the character so that we care about what he's gone through. On the way to transforming himself into Deadpool, Wilson will become a disfigured mutant who develops the ability to heal his own wounds, but Reynolds gives the character a quality that's always likeable even when the one-liners he's given are merely so-so.
A former visual effects artist and animator, Miller piles on the carnage, taking the opportunity provided by his film's R rating to deliver action sequences with far more swearing, stabbings and decapitations than usual. Working with composer Tom Holkenborg (also known as Junkie XL), Miller displays an aesthetic which is more closely attuned to the frenzy of videogames than the striking grandeur of graphic novels, but even when Deadpool is focused on comedy rather than action, he keeps the film moving at a steady pace.
Miller has surrounded Reynolds with actors who play types, albeit with a screw loose. Baccarin portrays Vanessa as a bad girl but displays a soft touch, revealing the character's sense of humour. As the movie's villain, Skrein is far more witty and appealing than he was in The Transporter Refueled, sneering evilly at all the right moments. And T.J. Miller plays Wilson's wisecracking buddy effortlessly, landing each punch line with a deadpan delivery. No matter how thrilling some of Marvel's films have been, there's often a sense that the studio is carefully hedging its bets so as not to kill its cash-cow franchises. Deadpool's rude, upstart spirit stands in defiance of that timidity. The change of pace has its kicks.
Production companies: Marvel Entertainment, Kinberg Genre, The Donners' Company
Worldwide distribution: Fox, www.foxmovies.com
Producers: Simon Kinberg, Ryan Reynolds, Lauren Shuler Donner
Executive producers: Stan Lee, John J. Kelly, Jonathon Komack Martin, Aditya Sood, Rhett Reese, Paul Wernick
Screenplay: Rhett Reese & Paul Wernick
Cinematography: Ken Seng
Production design: Sean Haworth
Editor: Julian Clarke
Music: Tom Holkenborg
Website: www.foxmovies.com/movies/deadpool
Main Cast: Ryan Reynolds, Morena Baccarin, Ed Skrein, T.J. Miller, Gina Carano, Leslie Uggams, Brianna Hildebrand, Karan Soni, Jed Rees, Stefan Kapicic, Randal Reeder, Isaac C. Singleton, Jr.