'Emotional manipulations that sometimes border on cruel': Ben Platt reprises his role for Universal's screen adaptation of the hit Broadway musical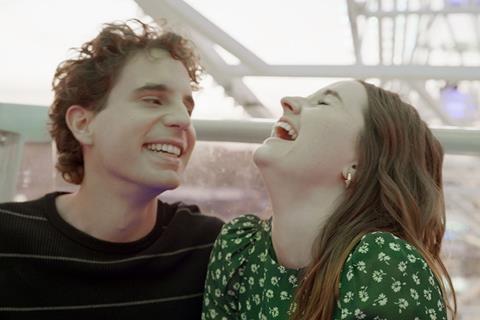 Dir: Stephen Chbosky. US. 2021. 137 mins.
A small lie grows into a big problem in Dear Evan Hansen, an adaptation of the hit musical that sees Ben Platt reprise his Tony-winning role as the titular teenager whose life becomes intertwined with that of a grieving family which has just lost a son to suicide. Tackling mental health, loneliness and loss, the film must navigate a tricky tonal balance, presenting us with a protagonist who lets this family — and eventually the world — believe that he was close with the dead boy, whose parents assumed he was froemd;ess. But director Stephen Chbosky badly mishandles the material, resulting in an increasingly frustrating experience in which Evan's inability to come clean leads to a string of emotional manipulations that sometimes border on cruel.
Dear Evan Hansen tends toward the saccharine, lacking the nuance the story so desperately needs
Opening in the US on September 24 and arriving in the UK a month later, this Universal release hopes to capitalise on the popularity of the stage musical. The songs by La La Land composers Benj Pasek and Justin Paul are often bright and catchy, and the film is bolstered by a starry supporting cast featuring Amy Adams and Julianne Moore.
Platt plays Evan, a teen struggling with anxiety and depression who feels invisible at his high school. His therapist advises he write letters to himself to bolster his self-confidence, and one day he drafts an especially despairing one in which he wonders what would happen if he disappeared. But the letter accidentally falls into the hands of classmate Connor (Colton Ryan), an angry loner who grabs it and takes off before Evan can stop him.
Terrified Connor will share the letter online, Evan is called to the principal's office, where he is introduced to Connor's parents Cynthia (Adams) and Larry Murphy (Danny Pino), who have shocking news: Connor has killed himself. Cynthia explains that he had Evan's letter with him, and she mistakenly believes that it's Connor's suicide note written to his close friend Evan. Because it's so apparent that Connor didn't have anyone in his life, Evan goes along with the Murphys' confusion to spare their feelings, concocting an elaborate lie about all the time he and Connor spent together.
Chbosky (Wonder) gives the musical numbers a natural air to make them feel grounded in the seriousness of the subject matter. Even so, Dear Evan Hansen is constructed around an irritating plot gimmick: if Evan simply told the truth, everything would be resolved. But because Evan doesn't want to disappoint Cynthia — and, perhaps also, because he's enjoying the attention, which his over-taxed nurse mother Heidi (Moore) doesn't have time to give him — he keeps the lie going.
A more incisive film would explore the guilt Evan feels, which is offset by his desperate need to connect with someone. But Dear Evan Hansen tends toward the saccharine, lacking the nuance the story so desperately needs. Not helping matters is that Evan has long had a crush on Connor's sister Zoe (Kaitlyn Dever), but has always been too nervous to talk to her. But as he spends more time with this family, Zoe warms up to him. The sweetness of their rapport is severely undercut by what's inherently creepy about Evan using his false connection to Zoe's dead brother as a way to get closer to her — a creepiness the picture rarely acknowledges.
There's a dark irony at the film's centre: Evan has spent his young life battling depression and isolation, feeling like he was alone in the world — only to discover that a classmate he never knew felt the same way, but worse. Dear Evan Hansen laments its young characters' fragile mental state — we'll learn that Evan and Connor aren't the only ones grappling with emotional issues — but it lacks perspective on precisely how hurtful Evan's lies are, treating him like the victim.
While Platt's singing voice is suitably affecting, he simply isn't convincing as an adolescent. (He turns 28 this month.) If anything, his age only makes Evan's initially well-meaning lies seem devious rather than an innocent mistake. Dever's warmth helps soften him a little, but there's a self-pitying quality to Evan that, despite his mental-health struggles, feels undeserved.
Adams has the difficult assignment of playing a grieving mother in denial about how troubled her beloved son was. The actress does what she can with an underwritten part, while Moore doesn't have much screen time to depict a harried single mother trying her best to help her child. There's genuine pain throughout Dear Evan Hansen, but the compassionD is too often focused on Evan, whose personal growth is privileged over the well-being of anyone else. The film preaches that no one is alone in their anguish, but it certainly decides whose anguish is more important than others.
Production company: Marc Platt Productions
Worldwide distribution: Universal Pictures
Producers: Marc Platt, Adam Siegel
Screenplay: Steven Levenson, based on the musical stage play with book by Steven Levenson and music and lyrics by Benj Pasek & Justin Paul
Production design: Beth Mickle
Editing: Anne McCabe
Cinematography: Brandon Trust
Music: Dan Romer and Justin Paul
Main cast: Ben Platt, Kaitlyn Dever, Amandla Stenberg, Nik Dodani, Colton Ryan, Danny Pino, Julianne Moore, Amy Adams