Adam Wingard helms a solid American adaptation of the hit Japanese manga property.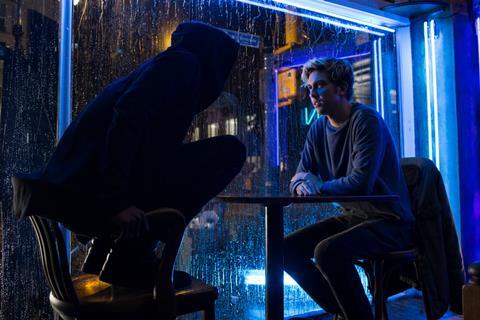 Dir Adam Wingard. US. 2017. 101 mins.
Premiering at FrightFest before making its bow on Netflix, Adam Wingard's Death Note represents another significant scalp for the streaming service. An American adaptation of Tsugumi Ohba and Takeshi Obata's manga serial — already the source for a Japanese anime series, five live-action Japanese films, and a TV series — has long been in development, and Netflix picked up the project, with Wingard already attached, after Warner Bros put it in turnaround.
As with many westernised takes on established Japanese franchises, this will play best to those who haven't yet encountered the material
Having established a reputation with small-scale genre fare (A Horrible Way to Die, The Guest, You're Next), Wingard has also been tapped for franchise items like the Blair Witch remake and forthcoming fellow Japanese property Godzilla vs Kong. Like Blair Witch, Death Note feels like a melding of Wingard's own sensibilities with a pre-sold franchise. It's still an open question as to whether Netflix can deliver a franchise without the pop culture exposure of wider theatrical release but, in the event that this clicks, there is still a great deal of the Death Note world left to explore.
Moving the action to Seattle, the film sees smart but broody high school student Light Turner (Nat Wolff) pick up a leather-bound book — the eponymous Death Note — and starts to glimpse spiky demon Ryuk (voiced by Willem Dafoe) who gives him instructions on how to use the magical item. By writing a name in the book, optionally describing a means of death, Light can kill anyone whose name (and face) he knows. After causing the decapitation of a bullying jock in an Omen-like freak accident, Light strikes down the 'teflon' gangster who got away with killing his mother in a hit-and-run incident.
Abetted by his odd girlfriend Mia (Margaret Qualley), Light then becomes a vigilante hero, taking the name 'Kira' and wiping out evildoers around the world. Light's cop father James Turner (Shea Whigham, however, is committed to bringing Kira to justice. The authorities call in L (Keith Stanfield), a bizarre genius detective who conceals his real name and face, to pursue Kira, and he traces the origins of the phenomenon to Seattle — further deducing that the culprit is most likely close to the police department.
The original manga series runs to twelve volumes, and the Japanese adaptations are all on a much bigger scale than this concise, focused feature. Here, characters are combined; most interestingly in the case of Mia, who mashes up a sweet innocent voice of conscience and a serial killer fangirl, giving Qualley an interesting teen antiheroine role. Many plot complications are tidied away, with the ironically-named protagonist holding back from the darker sides of his personality, and L – who has had his own spinoff film – diminished into a crazier, less engaging antagonist.
The basic setup is still instantly gripping, however, and horror fans will respond to the increasingly strange methods of death as Light gets trickier his use of the Death Note and its many rules. (Added here is a happy ending get-out clause, which also serves as a sequel hook). As with many westernised takes on established Japanese franchises, such as the Ring series, this will play best to those who haven't yet encountered the material – much of the fascination comes from learning the intricate, urban legend-like rules of the curse.
Production companies: Lin Pictures, Vertigo Entertainment, Netflix
International sales: Netflix mbrodlie@netflix.com
Producers: Jason Hoffs. Roy Lee, Dan Lin, Masi Oka
Executive producers: Jonathan Eirich, Brendan Ferguson, John Powers Middleton, Miri Yoon
Screenplay: Charley Parlapinides, Vlas Parlapanides, Jeremy Slater, based on the manga series by Tsugumi Oba and Takeshi Obata
Cinematography: David Tattersall
Production Design: Thomas S. Hammock
Editor: Louis Cioffi
Music: Atticus Ross, Leopold Ross
Main Cast: Nat Wolff, Margaret Qualley, Keith Stanfield, Willem Dafoe, Shea Whigham