Mahesh Narayanan's Netflix pick-up plays out in Delhi as a couple deals with the fallout from a sex tape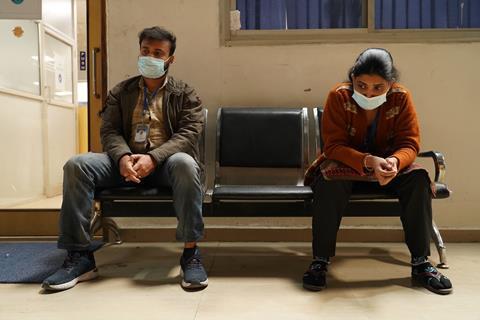 Dir/scr: Mahesh Narayanan. India. 2022. 107mins
Malayalam filmmaker Mahesh Narayanan's fourth feature film Declaration (Ariyippu) follows young couple Hareesh (Kunchacko Boban) and Reshmi (Divya Prabha) as they work in a medical glove manufacturing factory while waiting for visas that will allow them to move abroad for a better future. Their plans hit a rough patch when a doctored porn video featuring Reshmi is released on a WhatsApp group. From this distressing situation, Narayanan branches out to explore a range of interlaced social, economic and moral issues — working-class reality, immigration, patriarchy, misogyny—in an unwavering, engaging manner.
Narayanan builds the film like a languid thriller, allowing the pieces of the jigsaw to come together slowly
Declaration premiered in August at the Locarno International Film Festival, the first Indian film in 17 years to feature in its international competition section. It was snagged mid-October by Netflix, where it premieres on December 16, in one of the quickest recent direct-to-digital acquisitions for a festival-bound Indian film which landed just as Declaration had its Asian premiere at Busan.
It comes hot on the heels of Narayanan's second and third films, C U Soon and Malik, that were released directly to Amazon Prime in September 2020 and July 2021 respectively. C U Soon is regarded as India's first lockdown film, playing out entirely on computer and mobile screens aand filmed in the homes of its cast and crew. Similarly, Declaration was shot in and around Delhi during the third wave of Covid-19; in the film, the pandemic delays Hareeh and Reshmi's move abroad.
And like C U Soon, Declaration also dwells on the virtual world; how the digital footprint is permanent and can come back to haunt and destroy people and relationships. This happens with the innocent Reshmi whose visa application video gets mixed with up a clip from a sex video shot with another woman in the same factory some years before. The burden of shared fears, worries, anxieties, anger and humiliation aside, the cracks deepen when Hareesh begins doubting Reshmi, and she feels betrayed by his lack of trust and support. Things come to a head when an offer is made to the two to cover up the past. They have to choose between fulfilling their dreams and ambitions, or taking the harder road of ethics and integrity.
The film marks some firsts for Narayanan. With his protagonists hailing from the southern state of Kerala, but stuck in the alien northern city of Delhi, the filmmaker gets an opportunity to showcase two separate Indian cultures. He also gets to work with a mix of languages — the film has dialogue in Malayalam and Hindi — and a terrific ensemble of actors from the north and south Indian film industries. In her first lead role, Prabha brings alive the inner strife of Reshmi, communicating a medley of emotions, resilience and strength through her eyes and body language. Boban, a popular star of Malayalam cinema and also one of the producers of the film, stands in contrast with his ineffectual aggression and ethical inanity as Hareesh.
Working with his cast, Narayanan builds the film like a languid thriller, allowing the pieces of the jigsaw to come together slowly. Sanu John Varughese's camera lingers on grubby factories, tiny homes, miserable living and working conditions, banal chores; the mechanical loading of goods, the testing and washing of gloves. It also captures the Indian capital's winter season; characteristically grey and hazy with pollution.
Declaration is an examination of a marriage, society and economy, but works best as a character study and morality tale with the woman at the core of the essential conflict; the upholder of truth and conscience and defender of her own dignity.
Production company: Kunchacko Boban Productions, Shebin Backer Productions, Moving Narratives
Worldwide distribution: Netflix
Producers: Mahesh Narayanan, Kunchacko Boban, Shebin Backer
Cinematography: Sanu John Varughese
Production design: Jothish Shankar
Editing: Mahesh Narayanan with Rahul Radhakrishnan
Music: Sushin Shyam
Main cast: Divya Prabha, Kunchacko Boban, Lovleen Misra, Danish Husain, Kannan Arunasalam