Dir. Peter Berg. US, 2016, 107 mins.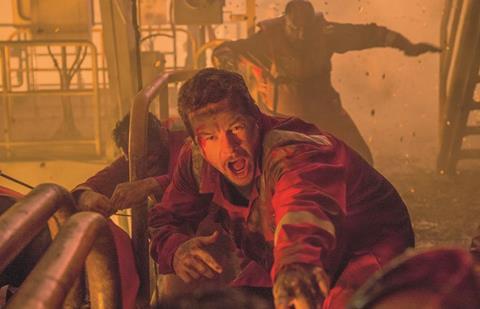 Many elements of the Deepwater Horizon disaster were profoundly shocking. The explosion on the oil rig and loss of 11 souls; the fact the blowout lasted for 87 days, swathing Louisiana in 4.9 million gallons of oil; the staggering extent of BP's corporate irresponsibility. Director Peter Berg has opted to fashion a solid, old-fashioned disaster movie out of the events of the night of April 20, 2010, and the result is nail-bitingly tense, even if it's frustratingly superficial.
If nothing else, Deepwater Horizon makes a case for going back to basics with action films
Deepwater Horizon is expertly put-together – from the classically-structured narrative which leads up to the big blowout, to the blistering execution of the explosion itself. Despite repeated expository dialogue about the blast's technical causes, however, the nuts and bolts of the rig's operation are muddy. A wider perspective on events isn't attempted, ensuring Deepwater Horizon will play well to the disaster movie crowd – those who responded to 2015's Everest, or A Perfect Storm in 2000 - when it rolls out globally through Lionsgate from September 29.
Such is the complex nature of the platform – the Horizon was an ultra-deepwater drilling rig, owned by Transocean and leased to BP - Berg and screenwriters Matthew Michael Carnahan and Matthew Sand find themselves repeatedly having to tell the viewer exactly what it is. They start by having the young daughter of the rig's chief electronics engineer Mike Williams (Wahlberg) explain her daddy's job for a class project. Mike is a devoted family man, and who wouldn't be, with a sexy wife like Felicia (Kate Hudson).
Mike returns to the rig after shore leave along with its offshore installation manager, the respected Mr Jimmy (Kurt Russell), deputy dynamic positioning officer Andrea Fleytas (Gina Rodriguez) and some members of BP's cost-conscious management team. Things aren't going well when they get out to sea, 41 miles off the Louisiana coast, and it would seem that BP is making too many safety shortcuts, concerned that the operation is 47 days behind schedule.
Berg captures his cast in a naturalistic and appealing fashion, but the resulting dialogue is heavily-accented and indistinct – which doesn't help when it comes to following technical conversations. The bottom line – all the viewer really needs to know - is that there's dangerous methane in the pipes and when Deepwater Horizon, the "well from Hell" blows, Berg and his technical team are really going to deliver.
Berg's production team including DP Enrique Chediak and production designer Chris Seagers made the call to reduce CGI work in favour of sets, built to 85 percent scale. Shooting these sets in 360 degrees, the difference shows; the action here looks real, boosted by smart editing and fantastic sound work. If nothing else, Deepwater Horizon makes a case for going back to basics with action films. It's classically framed, executed, and feels like the real deal, and while it clearly boasts some fine effects work, it manages to lose the cartoonish aspect of so many recent tentpoles.
Reuniting with Berg after Lone Survivor– they're about to team again on the Boston marathon bombing drama Patriot's Day – star Mark Wahlberg grounds the film in his own brand of everyman reality, backed by the gravitas of Kurt Russell and John Malkovich. (Wahlberg was advised by the real-life Williams, who acted as consultant on-set). It's always clear that Deepwater Horizon is no fantastical tale, and the team have made efforts to ground its action in documented reality. By confining itself to those few couple of hours, however, it steers clear of the wider politics surrounding America's largest-ever oil spill until its credit sequence, and that does seem like a wasted opportunity.
Production companies: Closest to the Hole, Leverage Entertainment
International sales: Lionsgate
Producers: Lorenzo di Bonaventura, Mark Vahradian, Mark Wahlberg, Stephen Levinson, David Womark
Screenplay: Matthew Michael Carnahan, Matthew Sand, based upon a New York Times article by David Barstow, David Rohde, and Stephanie Saul
Cinematography: Enrique Chediak
Production design: Chris Seagers
Editors: Gabriel Fleming, Colby Parker Jr
Music: Steve Jablonsky
Main cast: Mark Wahlberg, Kurt Russell, John Malkovich, Gina Rodriguez, Dylan O'Brien and Kate Hudson