Dir. Jun Robles Lana. The Philippines, 2016, 120 mins.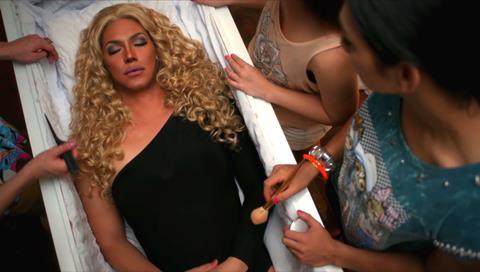 It's in the shadow of Pedro Almodóvar that Die Beautiful explores the life and death of a transgender Filipino woman, with filmmaker Jun Robles Lana (Bwakaw, Barber's Tales) making that comparison count. Vibrant colours, thoughtfully drawn characters, a thoroughly lived-in world and a carefully cultivated — yet never too precious — tone of sensitivity all refer to the Spanish auteur, and should help modest international interest following the feature's Tokyo premiere where it won Best Actor for Paolo Ballesteros and the festival's audience award.
Paolo Ballesteros imparts a balance of optimism and realism to Trisha's many struggles.
Die Beautiful might not start subtly, opening with home video-like footage of a child playing a beauty queen, then cuting to a dead body being made up to look like Angelina Jolie; however such blatancy doesn't prevail throughout. Thankfully, nor does any broad comedy that could have sprung from a narrative about stealing the corpse in question and dressing it up as different celebrities.
Quickly, it becomes apparent that the smiling child practicing acceptance speeches, and the deceased woman are one and the same. Once a boy called Patrick who yearned to be a girl despite the staunch disapproval of his conservative father (Joel Torre), and then a professional pageant contestant by the name of Trisha Echevarria (Paolo Ballesteros), she's now the source of grief for her teenage daughter Shirley Mae (Inah de Belen), best friend Barbs (Christian Bables) and the local transgender community.
Working with a story conceived by Lana and turned into a screenplay by one-time Lav Diaz collaborator Rody Vera (Norte, the End of History), the film details the troubles and achievements of Trisha's life in flashbacks, while also intertwining the aftermath of her collapse after winning the country's major gay beauty queen gong, including her post-mortem makeovers. Styled as Lady Gaga as per her last wish, the pageant dreams she spent her life pursuing are given a week-long final hurrah.
On her way, Trisha navigates prejudice at home and on the street; bears the brunt of verbal, physical and sexual brutality; struggles with matters of the heart several times over amid a parade of deftly staged pageant sequences that counteract the movie's more serious, but always earnest, developments. Die Beautiful proves an intimate work, examining Trisha's many changing roles as well as both the hurt and hope inherent in the wider world in which she strives to find her place.
It's also a strong showcase for star Ballesteros, an actor, model and TV host in his homeland — and renowned for his immaculate celebrity impersonations outside of the film. In his second performance for Lana in swift succession following recent Filipino release Bakit lahat ng guwapo may boyfriend?!, he brings liveliness and fortitude to Die Beautiful's multi-faceted protagonist. Whether rebelling against his father, offering advice to Shirley Mae regarding coping with bigots, or sharing his worst moment with Barbs, Ballesteros imparts a balance of optimism and realism to Trisha's many struggles. In any given scene, he movingly conveys both determination in his shoulders and vulnerability in his eyes.
Lana fills the screen with aesthetics rippling with authenticity, spanning larger-than-life pageantry, bleak moments in grimy rooms, and everything in between. The end result is vivid but delicate, as assisted by the clear-eyed glow imparted by cinematographer Carlo Mendoza, Richard Gonzales' never over-wrought score, and editor Benjamin Gonzales Tolentino's astute timing, with all three creatives reteaming with their director.
Production company: The Idea First Company, October Train Films
Contact: Perci Intalan, percinotpercy@gmail.com
Producers: Jun Robles Lana, Ferdinand Lapuz
Executive producer: Perci Intalan
Screenwriter: Rody Vera
Cinematographer: Carlo Mendoza
Editor: Ben Tolentino
Music: Richard Gonzales
Production Designer : Angel Diesta
Cast: Paolo Ballesteros, Christian Bables, Gladys Reyes, Joel Torre