Four sibings butt heads over their father's will in Park Hyunyong's twisting thriller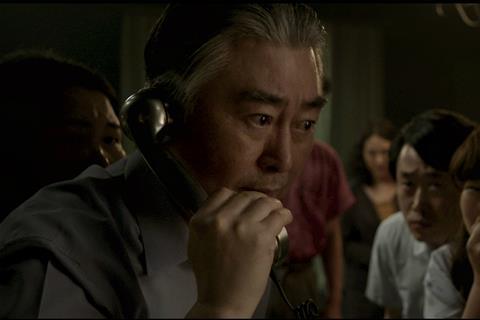 Dir. Park Hyunyong. South Korea. 2018. 77mins
Four siblings come together to hear their father's will. Their mother is already dead. Dad has left two billion won, the majority split between the children, with a handout to the church. The usual quibbles about the division of the cash quickly reveal that there's no love lost between any of them. But there's much worse to come. The phone rings: the oldest brother's son has been kidnapped. The ransom demand? Two billion, of course.
Displays a narrative trickery reminiscent of Mamet, Tarantino and South Korea's own Park Chan-wook
Park Hyunyong's twisting, tricksy first film has a veritable 'calling card' feel to it. A thriller infused with some delicious social satire, for the majority of its brisk running time it plays as a chamber piece that makes virtue of minimal staging. Instead, Park focuses on dialogue and performance, and displays a narrative trickery reminiscent of Mamet, Tarantino and South Korea's own Park Chan-wook.
Every one of the Jung family – three brothers, a sister and their respective partners – is a piece of work, fuelled by greed. While a ransom demand may bring some families together, this drives the Jungs further apart; none willing to give up his or her share to save a nephew – or is it niece? The fact that they're mistaken about which child has been kidnapped says it all.
As they bicker, voices rising in waves of histrionics, their ostensibly different characters – the bad apple who beats his wife, the oldest son who assumes everyone will do as he asks, the sister who has been outnumbered all her life, the shunned in-law – are made indistinguishable by self-interest. "We can't all die because of one child," says one. By 'die', they mean become a little hard up.
Though the meeting occurs in one of their homes, furniture and décor is to a minimum, characterless, with doors floating in blackness, merely symbolic of an ordinary living space. It's basically a stage set, and the theatricality adds to the initial sense that the grasping clan are trapped in some form of purgatory and doomed to argue their cut in circles. In fact, they're very much alive, just deeply flawed, and there is genuine skulduggery, nay betrayal in the works.
It would be wrong to reveal a single one of the twists. Suffice to say there are many, some courtesy of temporal reveals and most standing up well under scrutiny. It would be worth returning to the ripely over-the-top acting knowing what lies behind some of it. And there's a very off-kilter nuttiness to it all, typified by the helium-fuelled cursing of the kidnapper on the phone, and the jaunty Mexican music that plays over the chapter intertitles.
It's only in the final reel, with Park moving the action outside the house for a fairly straightforward chase scene, that the film loses its originality and smarts. But even here there's room for a concluding, killer twist.
Production company/international sales: Panoramaent, panoramaent1@naver.com
Producers: Kang Kijun, Jung Euntaek
Screenplay: Park Hyunyong
Production design: Kim Guena
Editing: Son Yeonji
Cinematography: Koo Doohwan
Music: Crazy Fingers
Main cast: Son Byungho, Son Jinhoan, Park Myungsin, Lee Kyungsung, Choi Jaesup, Lee Sunhee, Kang Taeyoung, Jang Sungic, Lee Doyeop, Ji Daehan