Savvy Irish suspense/body horror leaves room open for a – not unwelcome – sequel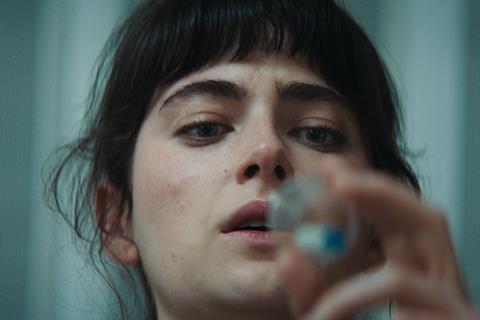 Dir: Ian Hunt-Duffy. Ireland. 2023. 90 mins
To sleep, perchance to die. That is the rub in Double Blind, a savvy fusion of Agatha Christie suspense and David Cronenberg body horror that marks a promising feature debut for director Ian Hunt-Duffy and screenwriter Darach McGarrigle. Genre fans should appreciate the balancing act between the cerebral and the visceral in this pacy, entertaining hokum that could translate festival appreciation into some theatrical play. Following screenings at Neuchatel and Galway, Wildcard will handle theatrical distribution in Ireland.
Pacy, entertaining hokum
Like the experiment at the centre of the story, Hunt-Duffy and McGarrigle have cleverly provided themselves with a controlled environment. There is a single, locked down location, a handful of characters and a premise that lends itself to ever increasing waves of angst. Claire (Millie Brady) has volunteered as a human guinea pig for the mysterious Blackwood Pharmaceuticals, a generic face of ruthless capitalism. The company's motto is "a brighter future through better medicines". She is one of seven healthy young participants undergoing clinical trials in a decidedly underpopulated facility. The brusque Dr. Burke (Pollyanna McIntosh) appears to be the only representative of Blackwood on site.
As Claire meets her fellow lab rats, Hunt-Duffy prowls through a spartan, sterile facility that is all piercing white lights, steel doors and a warren of corridors containing countless doors. A central atrium has a tree that serves as the only reminder of the real world. Claire's fellow participants include the nervous, annoyingly gabby Alison (Abby Fitz), the sullen anti-social Vanessa (Shonagh Marie) and medical student Amir (Akshay Kumar). The trial is set to last five days. There is no wi-fi and no contact allowed with the wider world. Table tennis and chess provide some distraction but the group's biggest challenge might be coping with the boredom.
A double blind trial means that nobody is receiving a placebo. The unexpected side-effects are visited on all of them, and the wiring in their brains starts to overheat. Soon, the facility is placed in a twenty-four hour lockdown and the trapped, wired participants learn that if they fall asleep they will likely die.
There are enough twists and turns, confessions and revelations to keep everything nicely on the boil as the dwindling, strung-out group struggle to stay awake and figure out a way to remain alive until the 24-hour lockdown ends. They maintain a touching belief that the end of lockdown will bring the prospect of rescue. Laidback, mild-mannered Marcus (Frank Blake) and aggressive, short-tempered Ray (Diarmuid Noyes) represent the extremes of the reactions to their plight.
We learn a little more of Claire's backstory and sketchy details about the others who seem to have been chosen for their perilous finances, social isolation and general expendability. A small undercurrent of social commentary pulses beneath the genre trappings as paranoia poisons the bond between the survivors. Hallucinations cloud already altered states of mind and the body count rises. The grinding, pulsing score by avant-garde musician Die Hexen serves to amplify the sense of oppression and growing panic.
Double Blind has the kind of plot that is best not to scrutinise in any great detail but in the moment it is credible and intriguing with a strong cast helping to sell the emotional toll of what is unfolding. Millie Brady makes for a resolute, relatable heroine and Akshay Kumar makes his mark as someone whose self-interest may have jeopardised the group's safety. Confidently executed, it also provides an ending that doesn't frustrate but cannily leaves open the not-unwelcome possibility of a sequel.
Production company: Failsafe Films
International sales: Epic Pictures Group sales@epic-pictures.com
Producer: Simon James Doyle
Screenplay: Darach McGarrigle
Cinematography: Narayan Van Maele
Production design: Steve Kingston
Editing: Colin Campbell
Music: Die Hexen
Main cast: Millie Brady, Akshay Kumar, Diarmaid Noyes, Pollyanna McIntosh.