Dir: Ernest Dickerson. 2017, US/Curaçao, 130 mins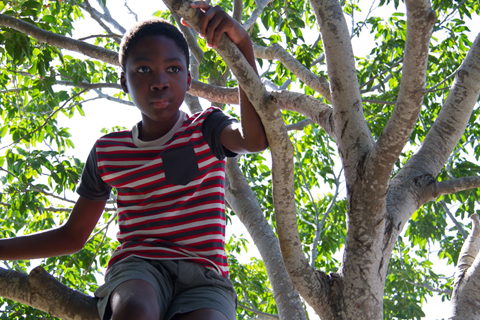 The last place you might expect an internationally known director to turn up is in the Curaçaoan film industry, but that's where versatile veteran Ernest Dickerson can be found with Double Play, a production from the Caribbean nation that in many ways pitches itself as an advert for the cultural vibrancy - and filming opportunities - of the island. Based on a novel by Kurasoleño writer Frank Martinus Arion, the film is clearly steeped in the spirit of place, has a strong international cast and is very handsomely mounted.
Although the acting is somewhat mixed, there are some standout performance
Yet, it also comes across as an over-extended, dramatically awkward, sometimes painfully on-the-nose piece that - despite its attempt at politically-edged realism - can't avoid touristic prettification. A strong cast and Dickerson's eminence should provide some festival clout, but too visible shortcomings will limit its prospects.
The film certainly comes across as one of the more idiosyncratic projects for former star DoP and Spike Lee associate Dickerson, whose directing career started with 1992 urban drama Juice, then diversified into such material as action thriller Surviving the Game and high-profile TV shows like The Wire, Dexter and Treme. Double Play is, by contrast, is essentially a low-key ensemble piece set against a background of the Caribbean former colonies and their past, the closest comparison perhaps being Euzhan Palcy's 1983 Martiniquais drama Rue Cases-Nègres.
The film - in English, with occasional touches of Spanish and the local papiamento - begins with a voice-over welcoming us to "the living paradox that is Curaçao"; the first clue that the script will be a little prone to overstatement and insistent exposition. The voice belongs to Ostrik (Colin Salmon), a middle-aged doctor returning to his birthplace after time spent living in the Netherlands. He's here to come to terms with his past, as witnessed by his 11-year-old self (Dani Dare).
Flashbacks introduce us to Ostrik's irresponsible taxi driver dad Bubu (Alexander Karim), whose constantly dallying with the local whores is wearing out the patience of Ostrik's devoted mother Nora (Saycon Sengbloh). We also meet Bubu's partners at a running domino game - rich man Manchi (Mustafa Shakir), the abusive husband of politically progressive teacher and local beauty Solema (Melanie Liburd); self-made exploitative landlord Chamon (Lennie James); and simpatico beach boy Ernesto (Isaach de Bankolé).
Gradually, things build to an inevitably dark climax at a crucial domino showdown, which coincides with the meeting at which Bubu is to be appointed leader of the local taxi drivers' union. In the meantime, Nora starts a financially motivated affair with Chamon, while Solema finds her soulmate in Ernesto. In between glimpses of the past, stiff-necked Ostrik reunites with his sister Vera (Barbara Eve Harris) and rediscovers the island, and his joie de vivre, with the help of wry cab-driving sage Coco (a quietly ebullient Louis Gossett, Jr).
While Double Play is to be commended for attempting to capture the specificity of its locale, and the ramifications of its history as a Dutch colony, it is fatally flawed by cluttered construction and an often theatrical, not to say histrionic tone. The script is often painfully overstated, especially in Ostrik's voice-over, which is called on to do far too much work: Solema, we learn, "believed in Curaçao, its people and their ability to develop a purely Kurasoleño vision."
This detracts from the actors' work in carrying the drama and the characterization and, although the acting is somewhat mixed, there are some standout performances, notably from James, Gossett, an affecting Liburd and Swedish actor Karim as charismatic playboy Bubu.
Patrick Murguia's photography boosts vivid colours for the flashbacks, but all too often the upbeat aestheticisation undermines the film's political thrust just as an insistently cheerful Latin-flavoured score softens the harder edge of the drama.
Production companies: Cortés Films, Fundashon Bon Intenshon
International sales: Double Play Production, LLC doubleplayproduction@gmail.com
Producers: Lisa Cortés, Gregory Elias
Screenplay: Evan Jones, Alaric Smeets
From the book Dubbelspel by Frank Martinus Arion
Cinematography: Patrick Murguia
Production designer: Felix de Rooy
Editor: Stephen Lovejoy
Music: Jay Wadley
Main cast: Colin Salmon, Alexander Karim, Issach de Bankolé, Melanie Liburd, Saycon Sengbloh, Lennie James