Bill Pohlad follows up Love & Mercy with the dramatised tale of real-life musicians Donnie and Joe Emerson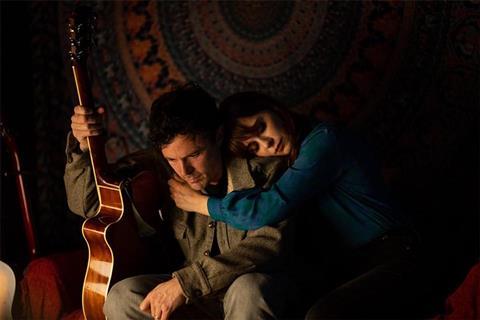 Dir: Bill Pohlad. USA. 2022. 110mins
It's one of those true stories that just screams out 'film rights!'. In 1979, two teenage brothers from a rural village in Washington State recorded an album called 'Dreamin' Wild' in a studio their father had built for them on their family farm. It was a flop; they couldn't even give away most of the copies they'd had pressed. The father was forced to sell most of his land to cover the loan he had taken out. Fast forward to 2008, when a record collector takes a gamble on an LP he finds in a junk shop. It's 'Dreamin' Wild'. He's blown away, and begins to put out the word. In 2012, the record is re-released, its standout track, 'Baby', starts getting serious airplay, and the New York Times sends a reporter out to the village of Fruitland to cover the story.
The film's meander through this touching true-life story has a quiet charm
Until 2014, when he directed Love & Mercy, Bill Pohlad was best known for the films he had produced (among them Into the Wild, The Tree of Life and 12 Years a Slave). Then came that Brian Wilson biopic – a loose-limbed journey into the dark side of pop stardom. His latest directorial outing looks on the surface to be a very different beast, promising a happy tale of a deferred dream that finally came true; one of those 'late recognition' music world stories we associate with Sixto Rodriguez, the subject of Malik Bendjelloul's Oscar-winning 2012 documentary Waiting for Sugar Man. Dreamin' Wild wants to be an edgier ride, while at the same time delivering a heartwarming tale of rock redemption. If it doesn't ever quite work out how to negotiate the interface between those two moods, it still has the warmth to capture audiences.
There's so much dramatic material to work with here, and a solid cast to deliver it – one dominated by Casey Affleck's intense take on Donnie Emerson, the more musically gifted of those two brothers. Affleck's Donnie is a conflicted almost-50-year-old who is profoundly sceptical about the world's sudden rediscovery of a 17-year-old self he has moved on from. The set pieces built into the story are dutifully ticked off, one by one. Two brothers who have drifted apart are forced back together to play roles they have long discarded. Donnie – who carried on being a musician – wants people to know his career didn't stop back then. Drummer Joe (Walton Goggins), the one who didn't, feels sidelined. And both of them – especially Donnie – are racked by guilt for having cost their family so much.
Too often, however, those dramas feel like they've been bolted onto messy facts that don't have the arc Hollywood requires, or haven't been allowed to achieve it. Nothing in Dreamin' Wild is quite as authentically affecting as the true story recounted by Steven Kurutz in the article 'Fruitland'. Sure, Pohlad's evident respect for the real-live Emerson family at the heart of the tale is to be admired. But faithfulness can create blind spots. It's curious, for example, that the script delves into Donnie's guilt about his role in reducing the family's estate from 1700 acres to just 65 after his father literally "bet the farm" on his career, yet has nothing to say about the emotional pressure that gamble would put on a sensitive 17-year-old boy.
Yet the film's meander through this touching true-life story has a quiet charm, especially in its interleaving of scenes featuring the teenage Donnie (Noah Jupe) and Joe (Jack Dylan Grazer) with their adult selves. The flashback scenes, many of them set in the brothers' shagpile-muffled barn rehearsal room – which feels like an insulated time capsule – have a warm Super 8 feel. This osmotic mingling of present and past is effective in pushing the film's central message, that our past selves are both familiar and strange.
Pervading the film, the music from the original 'Dreamin Wild' album contributes to this – dreamy soul ballad 'Baby', in particular, feels like it comes from some place out of time; parallel musical universe detached from the 1979 one that was immersed in post-punk and disco. Set in the wide forested landscapes of eastern Washington, Dreamin' Wild also flies a romantic flag for a simple rural life based on solid family values in montage scenes that, at times, recall the impressionistic tableaux of Pohlad's friend and colleague, Terrence Malick.
Production companies: River Road Entertainment, Innisfree Pictures
International sales: CAA, Roeg Sutherland, rsutherland@caa.com
Producers: Bill Pohlad, Kim Roth, Christa Workman, Jim Burke, Steven Snyder
Screenplay: Bill Pohlad, based on the article 'Fruitland' by Steven Kurutz
Production design: Jona Tochet
Editing: Annette Davey
Cinematography: Arnaud Potier
Music: Donnie Emerson, Leopold Ross
Cast: Casey Affleck, Noah Jupe, Zooey Deschanel, Chris Messina, Jack Dylan Grazer, Walton Goggins, Beau Bridges