Jeremie Reinier plays a Normandy policeman who buckles under the pressure of a mid-film mistake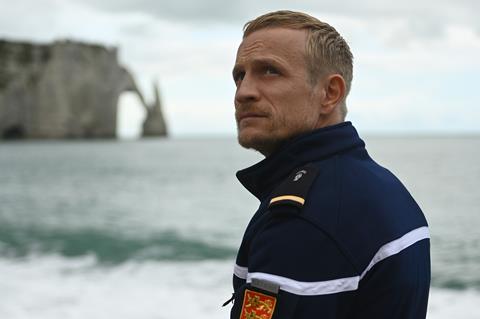 Dir: Xavier Beauvois. France. 2021. 115 mins.
Almost eleven years after Of Gods And Men debuted in competition at Cannes, and four since The Guardians took its bow in Toronto, French actor-director Xavier Beauvois returns with another tale about human resilience and frailty set in a small, close-knit community. But this story of a policeman in a Normandy port town who goes into meltdown when an error of judgement leads to a fatal accident is a lesser film than either of those formally rigorous works. Starting sedately but promisingly, it sails (literally, in one respect) into a perfect storm of heavy-handed symbolism and sentimentality.
Heavy-handed symbolism and sentimentality
It's also a film that, in certain of its themes and preoccupations, feels more local than universal. There's reference to a January 2020 clash in Paris between gendarmes and striking firefighters that fed into an ongoing national debate about police violence, and much is made too of the difficulties faced by French farmers, a powerful lobby that has often found itself on a collision course with the government of Emmanuel Macron. It feels like Beauvois and his co-writers were keen to say something profound about a country which is in the midst of an existential, social and economic crisis, but the breadcrumb trail of references never quite connects with the personal drama at the heart of the story. That's one reason, along with its often unjustifiably glacial pace, why Drift Away seems unlikely to achieve a similar international arthouse to Of Gods And Men or The Guardians.
It's in the procedural details of life as a small-town policeman, rather than its state-of-the-nation nods, that Beauvois' latest drama is most engaging and intriguing. Working for the first time with the director, Jeremie Renier puts in an admirably intense, simmering performance as Laurent, a keen young police sergeant in France's militarised gendarmerie force. The small town he serves is Fecamp, a Normandy port whose once florid cod fishing fleet survives today only in a local museum and the memories of older people like Laurent's worldly-wise grandmother (owner of a model vintage fishing boat that gives the film its French title but otherwise remains something of a red herring, its symbolism never made clear). The beaches below the town's tall cliffs, as painted by Claude Monet, are now more likely to offer a haul of suicides – who travel all the way from Paris for the privilege of ending their lives here – and unexploded Second World War bombs, both of which Laurent and his colleagues are required to mop up or defuse, alongside child abuse and other daily erosions of faith in humanity.
Beauvois sets up an uneasy rhythm in the film's first half, cutting between the grind of the policeman's life Laurent shares with his supportive but equally work-stressed fellow cops and the family he comes home to in a house provided by the Gendarmerie, just doors away from the station. The film's co-screenwriter and co-editor and the director's wife Marie-Julie Maille plays Laurent's partner Marie, a calm, grounded foil to his nervous tension, while Beauvois and Maille's daughter Madeleine makes her screen debut here as Poulette, Laurent and Marie's sweet but serious only child. Placid and deep where her man is a volatile worrier, Marie is content to be Laurent's common-law partner but equally happy when he proposes to her – more for his sake, we feel, than her own. Shuttling that short distance between workplace and home, misery and healing, blurring any sense of how many days have passed since this all started, Drift Away's first hour suggests how easy it is for a sensitive soul like Laurent to drift away from what anchors him.
The game-changing break of the dam of tension that is building up within Laurent comes one night when he confronts Julien (Geoffrey Sery), a dreadlocked farmer and almost-friend whose farm risks going under because of what are portrayed as over-zealous checks by Agriculture Ministry inspectors. Never giving a clear message on whether we should read this as state oppression or 'shit happens', the film then slows down, noticeably, to chart the effect of the heat-of-the-moment error of judgement Laurent makes that night on himself, his colleagues and his family.
Renier keeps a tight hold on the anguish and bewilderment that follows for his character, but, despite his efforts, Drift Away becomes becalmed. The abrupt arrival of the elegiac strains of Pergolesi's Stabat Mater in what until then has been a soundtrack-less ride is such a jolt that at first we wonder if the music is coming from some diegetic source within the world of the film. The other is a ghostly apparition at the stern of a sailboat that would have had any real, non-virtual audience shouting a collective "No!". By the time that sailboat docks, a further helping of sentimental melodrama involving Laurent and Marie seals the film's drift away from its tough, understated, observant opening chapters.
Production company: Les Films du Worso
International sales: Pathe International, sales@patheinternational.com
Producers: Sylvie Pialat, Benoit Quainon, Ardavan Safaee
Screenplay: Xavier Beauvois, Frederique Moreau, Marie-Julie Maille
Production design: Yann Megard
Editing: Marie-Julie Maille, Julie Duclaux
Cinematography: Julien Hirsch
Main cast: Jérémie Renier, Marie-Julie Maille, Victor Belmondo, Iris Bry, Geoffrey Sery, Olivier Pequery, Madeleine Beauvois