An ageing former pop star attempts to bring some passion back into her life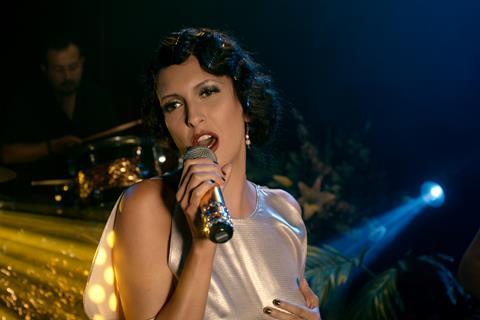 Dir. Che Sandoval. Chile-Argentina. 2018. 95mins
A languid character study about a former wild child pop-star whose glory days are behind her, this third feature from writer/director Che Sandoval represents a change in tone and a leap in ambition, after the talky, low budget comedies Much Better Than You and You Think You're The Prettiest, But You Are The Sluttiest. Like the strong-minded but somewhat petulant Martina herself, the film delivers plenty of heady sensuality but is mainly skin deep and, ultimately fails to satisfy.
As befitting a film about a fading pop star, music is central to the story
Dry Martina shares both a cinematographer and an unconventional, self-determined female protagonist with Sebastián Lelio's A Fantastic Woman. Yet, mired in aimless plotting and mixed messages about female sexuality, this picture is unlikely to achieve anything near the arthouse impact of Lelio's Oscar-winner. It should, however, generate some further interest on the festival circuit following its play in Tribeca's International Narrative Competition.
Former child star Martina (Antonella Costa) complains that all desire has deserted her. She aborts a come-back performance midway through a song, walking out of the club and into a waiting cab. She dismisses the fumbling sexual attempts of her long-suffering manager, curtly telling him that "You're doing it wrong". Then Fran (Geraldine Neary) turns up on her doorstep with the far-fetched theory that they are long lost sisters. More important however is Fran's boyfriend, César (Pedro Campos). Martina decides that he is the one to reignite her dormant libido and follows him back to Chile from Argentina.
Although the film touches on the link between female self-worth and sexual currency, and although it approaches the erotic scenes with uninhibited candour, there is a hint of disapproval and distaste which attaches itself to Martina's drive for gratification. This comes partly through the recurring motif of a cat on heat – hardly the most celebratory image to associate with female sexuality – and partly through César's shell-shocked reaction to Martina's admittedly exhaustive – and exhausting –account of her past romantic encounters.
Martina's relationship with her parents is no less complicated. Her mother, also a singer, left a shadow that Martina could never quite escape. And her father lies in a coma. Martina visits him to update him on the current status of her vagina and its activities; she chooses not to turn off his life support, she quips, because it would deny her the opportunity to kill him with her bare hands.
Her journey to Chile, tracking César to his rudimentary apartment in Santiago, fails to bring her the physical release she craves, but does offer an alternative family in the form of Fran and her abrasive father Nacho (Patricio Contreras). With her erratic love life and suicidal impulses, Fran offers a cracked kinship with Martina, whether or not they turn out to be related. And after a sticky start, Nacho and Martina strike up a friendship. It is to them, this ad hoc family unit, that Martina turns when she has been disappointed, yet again, by men.
As befitting a film about a fading pop star, music is central to the story. Her hit songs are, initially, an annoyance to Martina – a painful reminder of the success she no longer enjoys. But she comes to accept the fact that the music has a life beyond being a vehicle for her celebrity. It's a pity however that the film's soundtrack – leaning heavily on soggy ballads and torch songs – fails to drive the story as efficiently as it might.
Production companies: Forastero, Rizoma
International sales: Manon Barat, Film Factory manon@filmfactory.es
Producers: Florencia Larrea, Gregorio González, Hernán Musaluppi, Natacha Cervi
Screenplay: Che Sandoval
Production design: Nicolas Oyarce
Editing: César Custodio
Cinematography: Benjamín Echazarreta
Music: Gabriel Chwojnik
Cast: Antonella Costa, Patricio Contreras, Geraldine Neary, Pedro Campos, Héctor Morales