Dir: Safy Nebbou. France. 2010. 105 mins.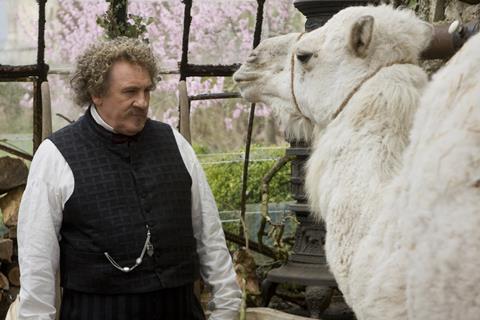 Despite a refreshing comic touch and a quintet of fine performances, Dumas is a minor period piece of the type that France churns out all too regularly. A fictionalised story about the relationship between the great French novelist and his ghost writer, it is deeoply rooted in French literary culture and history and Dumas is a character unlikely to interest overseas audiences in the same way as Coco Chanel or Edith Piaf.
The drama of the piece is ultimately flat, lacking a dash of Dumas style.
In France, Dumas opened through UGC at tenth in the marketplace on 281 screens last week for a so-so screen average of under $3,000; subsequent theatrical prospects at home and overseas are not rosy, although it will sit well on French television and could make arthouse sales outside France based on the talent involved.
The film is freely adapted by director Safy Nebbou (Mark of an Angel) with Gilles Taurand from the latter's own stage play. Here they have created a new story in which the ghost writer Auguste Maquet impersonates his patron to win over a young woman.
The drama opens with Dumas (Gerard Depardieu) and Maquet (Benoit Poelvoorde) arriving by boat at the coastal town of Trouville where the two intend to continue work on Dumas' latest novel The Vicomte De Bragelonne. While Dumas proceeds to bed every serving wench in sight, Maquet sets to work. But when young revolutionary Charlotte Desrives (Melanie Thierry) comes to his room to ask for help in liberating her imprisoned father, Maquet is taken by her beauty and does not correct her impression that he is actually Dumas.
Once back in Paris at the Dumas estate, Maquet connives with Dumas' mistress Celeste (Dominique Blanc) to bring Charlotte to Paris and sets out to have her father released. He plots an affair even while he is happily married to his wife Caroline (Catherine Mouchet).
But things do not go according to plan and Charlotte finds out at a costume ball that he is an impostor.
All the while, the tension mounts between Dumas and Maquet, both as men competing for a woman's affection and as workmates who cannot thrive without each other. But whereas Dumas is graced by real talent and storytelling brilliance, Maquet must content himself with being a diligent writer whose lot is to remain always in the shadows.
The relationship between the two men is a compelling one and both actors fit their roles well, Depardieu as the flamboyant showman, Poelvoorde his quiet right hand. Dominique Blanc is delightful as the suspicious Celeste and Thierry and Mouchet both fill substantial roles with relish.
This is Nebbou's third feature and he tries to downplay the period aspects, shooting handheld and avoiding ostentatious costume or set design. But the director also loses some of the tragedy of Maquet's position in the midst of this fanciful story and lowkey comic tone. As a result, the drama of the piece is ultimately flat and lacking a dash of Dumas style.
To sign up for Screen's weekly Reviews Newsletter with all the week's new releases, international openings and full festival reviewsdelivered free to your mailbox every Friday, please click HERE
Production companies
Film Oblige
UGC
International sales
TF1 International
+ 33 1 41 41 21 68
Producers
Frank Le Wita
Marc de Bayser
Screenplay
Safy Nebbou
Gilles Taurand
From the play Signe Dumas by Cyril Gely & Eric Rouquette
Cinematography
Stephane Fontaine
Production design
Cyril Gomez-Mathieu
Editor
Bernard Sasia
Music
Hugues Tabar-Nouval
Main cast
Gerard Depardieu
Benoit Poelvoorde
Dominique Blanc
Melanie Thierry
Catherine Mouchet
Michael Duchaussoy