The story of Cyrano de Bergerac continues to delight in Alexis Michalik's delightful 'origins' story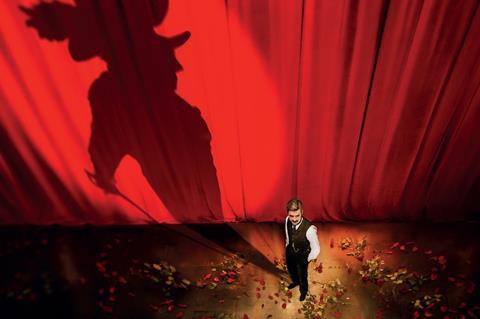 Dir-scr: Alexis Michalik. France. 2019. 112mins.
Screenwriter and director Alexis Michalik's peppy, funny and marvelously designed Edmond started out as his extremely successful play — half a million tickets sold, Moliere awards in five top categories in 2017 and still running — that takes the liberty of exploring how the creative process might have unfolded had Edmond Rostand been obliged to conjure his verse-play Cyrano de Bergerac from scratch in just three weeks. Michalik admits that he took inspiration from "Shakespeare in Love" and there are certainly worse templates. Of course the experience will be richest for viewers already conversant with the 1897 play but that's in no way a pre-requisite for enjoying the frantic let's-put-on-a-show antics. (Steve Martin trusted in audiences rising to the occasion with his screenplay to 1987's Roxanne.)
A splendid film that should mint cash/That's told with verve and yes — panache/The acting's grand/The premise great/See 'Edmond'/Do not hesitate
The film gets underway with the opening night in late 1895 of the young Rostand's (Thomas Soliveres) play in verse La Princesse Lointaine starring Sarah Bernhardt (Clémentine Célarié). It's a flop. Madly in love with his supportive wife Rosemonde (Alice De Lencquesaing) and already a father, he consoles himself by taking in a showing of the new-fangled Cinematograph and comes home to tell his wife that in 10 years there will be no theatre — projected images will have taken over.
Two years later, celebrated actor Constant Coquelin (Olivier Gourmet, fully in his element), will lose his lease on Paris' 1500-seat Porte Saint Martin Theatre unless he mounts a hit before the end of the year. It's early December of 1897.
Rostand hasn't written anything of note in the past two years but Coquelin — who liked the verses others found hopelessly old-fashioned — summons the struggling poet to commission a comedy. His backers are impatient and borderline thuggish in their demeanor. They also have some specific casting demands, however impractical. Coquelin needs a hit because he broke his contract at the Comedie Francaise whose management is out to blackball him from all stages in Paris.
Where does a classic masterwork originate? In this telling shy, monogamous Edmond's best friend, handsome but none too bright actor Leo Volny (Tom Leeb) wishes to seduce costume dresser Jeanne (Lucie Boujenah), a smart, pretty young woman working on Feydeau's latest hit. Edmond, in the shadows, makes up romantic verses on the spot and feeds them to Leo who declaims them to Jeanne who happens to be on a balcony. Jeanne swoons over the witty rhymes and Edmond, who has been plagued with self-doubt and written nothing yet, suddenly has the inspiration for his first act — Coquelin asked for three, there will eventually be five. A brilliant, possibly disfigured soldier — hey, how about an enormous nose? — feeds a handsome but dumb friend the lines to conquer a heroine named Roxanne.
The clock is ticking — the curtain must rise on December 27 — and additional inspiration emerges at unlikely places, including a chance meeting with Anton Chekov in a brothel.
Not unlike the time travel component of Woody Allen's Midnight In Paris, we are treated to any number of genuine Belle Epoque settings (the Moulin Rouge with the Can-can in progress) and personages (Bernhart, Feydeau, Melies). As befits a mile-a-minute farce, it's all played for laughs (stage manager Dominique Pinon warns people not to step on the unreliable trap door for a reason) but the manner in which Edmond woos Jeanne via letters she assumes were penned by Leo establishes Jeanne as Edmond's secret platonic muse and creates an understandably touchy and touching situation with Edmond's wife.
Casting, production design and musical score are all top notch. Michalik, best known as a stage director, knows just what to do with a camera. Special praise goes to Jean-Michel Martial as Monsieur Honore, the owner of a cafe that here proves absolutely crucial to Rostand's eventual triumph. The closing credits include excerpts of nearly a century's worth of Cyranos captured on film — starting in 1900 with Coquelin himself and ending in 1990 with Gerard Depardieu by way of Jean Marais and Jose Ferrar. This isn't strictly how the most widely performed French play of all time came to be, but filmgoers should be happy to buy into this fast-paced fantasy.
To wit:
A splendid film that should mint cash
That's told with verve and yes — panache
The acting's grand
The premise great
See 'Edmond'
Do not hesitate
Production companies: Legende Films, Gaumont, France2 Cinema, Ezra, Rosemonde Films, C2M Productions, Nexus Factory, Umedia
International sales: Gaumont
Producer: Alain Goldman
Production design: Franck Shwarz
Editors: Anny Danche, Marie Silvi
Cinematography: Giovanni Fiore Cotelacci
Music: Romain Trouillet
Main cast: Thomas Solivérès, Olivier Gourmet, Mathilde Seigner, Tom Leeb, Lucie Boujenah, Alice de Lencquesaing, Clémentine Célarié, Jean-Michel Martial, Alexis Michalik, Dominique Pinon