Propulsive crime drama from Argentina features a breakthrough performance from newcomer Lorenzo Ferro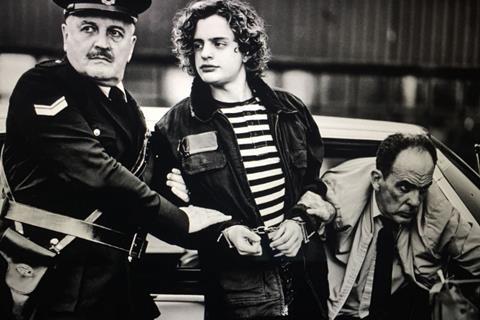 Dir Luis Ortega. Argentina/Spain. 2018. 118 mins
Luis Ortega transforms the story of Argentine killer Carlitos Robledo Puch into a brash, vibrant, Scorsese-flavoured true crime drama in El Angel. The subject's notoriety, Ortega's bravura storytelling and a breakthrough performance from eye-catching newcomer Lorenzo Ferro provide all the necessary ingredients to draw domestic and international audiences who have supported recent Argentine titles from The Clan to Neruda.
Ortega creates baroque, propulsive storytelling set to a brassy soundtrack
Ferro is the spitting image of the merciless, baby-faced teenager who eventually confessed to 11 murders and 42 robberies and became Argentina's longest serving prisoner. Smirking from beneath a unruly frizz of blonde curls, he has the sulky, puckish air of someone whose bad boy presence spells trouble. The film begins in the Buenos Aires of 1971 and our first glimpses of Carlitos confirms his physical swagger and devil-may-care attitude. He emerges as a blithe spirit who sees no point in adhering to the laws or morality that govern others. If you leave your keys in the ignition he will steal your car. If is a window is open or a door ajar, he will break into your home. If you stand in his way, he may shoot you dead and never give it a second thought.
Ferro's performance convincingly embodies the reasons why Carlitos was dubbed 'The Angel Of Death' but there is such a spark of vitality to him, such an appetite for risk that there is also a niggling charm. No matter how shocking his actions he remains a strangely endearing outlaw. Perhaps it is his disregard for the rules that is so disarming or the fact that he was operating in an Argentina that feels lawless.
Ortega doesn't try to psychoanalyse Carlitos. His naive, trusting parents Aurora (Cecilia Roth) and Hector (Luis Gnecco) are decent, hard-working and honest. Carlitos is polite and well-mannered in their company but simply sees no need to play by the rules. He finds a kindred spirit in darkly handsome schoolmate Ramon (Chino Darin) and his criminal family.
The robberies grow bigger, the consequences more lethal and his appetites more complex. Introduced to Ramon's father Jose (Daniel Fanego), he casts a lingering, lascivious look at the older man's crumpled boxers and the dangling testicles on public view.
In the manner of a Scorsese or a Sorrentino, Ortega creates baroque, propulsive storytelling set to a brassy soundtrack. The film is a production designer's dream assignment as it veers between the shabby (dingy clubs, seedy hotels, peeling wallpaper) and the enticingly chic (wealthy apartments filled with thick maroon carpets, valuable trinkets, bold patterned wallpapers and lush fabrics). Carlitos is largely contained within bell-bottom jeans, studded denim and t-shirts but the fame-hungry Ramon goes for a more dandified look that runs to some natty, eye-popping suits.
El Angel slightly runs out of energy in its later stages as the dazzle of the filmmaking can't quite distract from the inevitability of Carlitos fate or the similarities with other intense crime dramas (Roberto Succo, Tony Manero, Snowtown etc). Still, this is stylish, commercial storytelling that marks a big leap forward for Ortega and should put Lorenzo Ferro on the map.
Production companies: K & S Films, El Deseo, Underground Producciones
International sales: Film Factory info@filmfactory.es
Producers: Hugo Sigman, Sebastian Ortega, Pedro Almodovar, Augustin Almodovar, Matias Mosteirin, Esther Garcia, Leticia Cristi, Axel Kuschevatzky, Pablo Culell
Screenplay: Luis Ortega, Rodolfo Palacios, Sergio Olguin
Production design: Julia Freid
Editing: Guille Galti
CInematography: Julian Apezteguia
Music: Moonstone
Main cast: Lorenzo Ferro, Chino Darin, Cecilia Roth, Luis Gnecco