Matt Dillon drums up a hugely entertaining tale of a lost Cuban musician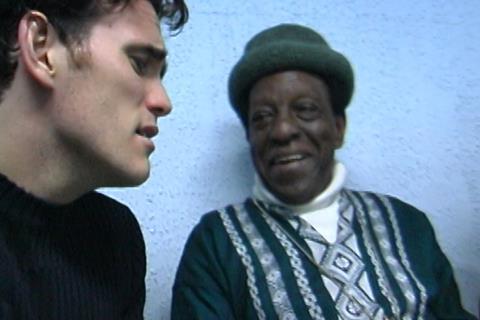 Dir. Matt Dillon. US/Mexico. 2020. 91 mins.
Everyone loves a 'lost legend' story, and actor Matt Dillon tells an especially juicy, joyous one in El Gran Fellove, premiering in San Sebastián. The documentary – Dillon's first, although he previously directed 2002 drama City Of Ghosts - introduces Cuban scat singer Francisco Fellove Valdez, who left his country in the 1950s, started a flourishing career in Mexico, but then was forgotten for years, finally returning to the studio in 1999 at the age of 77. The resulting music will finally emerge as an album next year – and the film should drum up plenty of interest, as well as engaging audiences in its own right.
A briskly enjoyable and highly informative film
This zippy chronicle of exile, reunion and rediscovery is a little head-spinningly crammed with info to fully sustain itself narratively, but otherwise tells a winning tale of musical survival, in a Searching For Sugar Man vein, which will be irresistible to music aficionados and Latin-leaning outlets.
Telling a somewhat different story to Wim Wenders's Buena Vista Social Club, which fuelled a revival for Cuban retro styles back in 1999, Dillon concentrates here on a musician who left the island in the 1950s and established himself as an idiosyncratic stylist in Mexico. The film starts with Dillon enthusing about congas and talking about his passion for musical crate digging, having discovered Cuban vinyl on a 1993 visit to Havana. The real story starts in 1999, though, when Dillon's LA friend, bass player and bandleader Joey Altruda, decided it was time to track down the long-lost singer 'El Gran Fellove'. They found him living in Mexico City, still sprightly at the age of 77.
Fellove hadn't recorded for 20 years, but eagerly took the bait of working in a studio with a young group. The sessions, which run through the film, by all accounts took some time to warm up, but the genial veteran eventually got into the groove – and enjoyed a lively interaction with a contemporary, New York-based trumpeter Alfredo 'Chocolate' Armenteros, whose boisterous presence seemed to put him on his mettle.
Fellove in 1999 – sporting a knitted pork-pie hat - is a little fragile, but still dynamic and an irrepressible character, introducing one musician, Osmany Paredes, as "Osmany and his bionic nuclear piano". The period footage of Fellove in his Mexican 1950s prime reveals a full-on showman, machine-gunning his scat lines – based, in his distinctive style, on Afro-Cuban drum patterns – and demonstrating a wild line in sharp-suited fancy footwork. In fact, photographer Jacobo Braun says that even at 77, Fellove was hard to shoot because he was constantly moving.
Dillon's film, expertly edited by Jason Cacioppo, comprises a dense assemblage of material from the Mexican visit, together with archive footage from film and TV showing musicians of Fellove's generation, key moments of the island's modern history, and such sequences as a TV appearance from the singer's one return trip to Cuba in 1979. On that show, this entirely forgotten veteran won a whole new audience, as viewers twigged that this was the man behind the song 'Mango Mangue', covered by the eminent likes of Tito Puente and Celia Cruz.
The film plays like a chronicle of vintage Cuban music, with musicians interviewed including pianist Chucho Valdez and singers Dandy Beltrán and Sylvia Cuesta, who talks about the exodus of black Cuban musicians to Mexico. There's some political history involved too, notably in terms of black musicians' departure in the 50s because of their feeling of exclusion: Fellove played on one of the influential Cuban Jam Session LPs, but left uncredited. It's not all hagiography: there are some discordant comments from Fellove's singing rival Melón, and some rueful comments made about how the performer's jazzy showmanship detracted from his skills as a singer.
The story has a happy ending in that the Joey Altruda sessions inspired Fellove to restart his career and pursue it into his 80s, with his dentist as his manager (he even did club dates with electronics and DJs – and is that really a Cubanised version of the Police's 'Walking on the Moon' we briefly hear?).
Dillon's own presence will help sell the film, although apart from his intro, he largely remains an enthusiastic background presence (it's amusing to learn that Fellove had no idea who Altruda's sidekick 'Mateo' was). Overall, El Gran Fellove is a briskly enjoyable and highly informative film – although the sheer torrent of names, faces and musical fragments might have been more coolly paced, to help the viewer absorb it all. When Fellove's Mexico City sessions are at last released next year, aficionados might opt for the vinyl edition – to take a pause when flipping sides in what promises to be a breathless set.
Production companies: Pregon Productions, Viento del Norte Cine, Paloma Negra Films, Radical Media, Insurgent Media
International sales: UTA, Shumaker_N@unitedtalent.com
Producers: Matt Dillon, Carlos Sosa, Cristina Velasco, Jonathan Gray, Zara Duffy, Fisher Stevens, Demet Öger
Cinematography: John Pirozzi, Carlos Rossini
Editor: Jason Cacioppo
Featuring: Francisco Fellove Valdez, Alfredo 'Chocolate' Armenteros, Joey Altruda, Matt Dillon