Rotterdam's Big Screen winner takes place on Iran's remote and troubled border with Afghanistan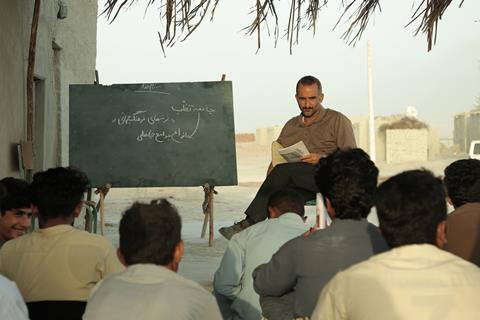 Dir: Abbas Amini. Iran/Germany/Czech Republic. 2023. 111mins
The latest in an admirable line of Iranian dramas to subtly probe ethical dilemmas against a keenly-observed political backdrop, Endless Borders is a confident and absorbing fifth feature from director/co-writer Abbas Amini. Working again with screenwriter Hossein Farokzhad, with whom he has collaborated on all four of his previous works including I am here! and The Slaughterhouse (both 2020), Amini concentrates on sympathetic protagonist Ahmad (Pouri Rahimi Sam), a skilled schoolteacher sentenced to two years of internal exile far away from his native Tehran. He is now teaching in a tiny, windblown village with primitive infrastructure, within sight of the heavily fortified Afghan border.
The latest in an admirable line of Iranian dramas to subtly probe ethical dilemmas against a keenly-observed political backdrop
Premiering in the audience-oriented Big Screen Competition at Rotterdam, Endless Borders won the section's top prize and looks a safe bet for extensive further festival play. The ongoing global focus on repression and injustice within Iran could even pave the way to theatrical distribution in receptive territories — by happy coincidence the country's leading auteur Jafar Panahi was released from jail mere hours after the picture (dedicated 'to imprisoned filmmakers') scooped the Rotterdam award.
Despite the hazards and obstacles of this frontier, refugees regularly arrive in the area, most of them fleeing the Taliban — hardline Islamists who, as we hear via a radio broadcast, are now rapidly advancing on Afghanistan's capital, Kabul (the story's time-frame is thus fixed as summer 2021). Ahmad gets to know one extended family of Hazara ethnicity, and as a result becomes embroiled in an illicit romantic intrigue involving 16-year-old Haseeba (Behafarid Ghaffarian), most unhappily married to an ailing elder, and one of his pupils, spirited 18-year-old local Balaj (Hamed Alipour).
Audiences with prior knowledge of the ethnic and cultural background of this particular area — Balochistan, which straddles Pakistan as well as Iran and Afghanistan — will be at an advantage, as Endless Borders is deliberately parsimonious with detail and exposition. Ahmad is present in every scene; we effectively see through his eyes and hear through his ears and, even though he is an attentively observant fellow, there is much which eludes him, especially concerning the traditional cultural codes of Balochs and Hazaras ("I can't tell bad from good sometimes," he admits at one stage.)
His connection with Haseeba and Balaj draws him from unflappable reserve towards decisive commitment. It also helps him to better understand and address his own complex situation, specifically barely-suppressed guilt concerning his wife Niloofah (Mino Sharifi). She received a two-year prison sentence for the same crime as her husband, this higher penalty the direct result of his confessions. One elegant match-cut in the latter stages underlines the parallels between the two couples — Ahmad and Niloofah, Balaj and Haseeba — and helps clarify Ahmad's sometimes puzzling motivation.
Unfolding mainly in short, to-the-point scenes (editing is by Asghar Farhadi's regular collaborator Hayedeh Safiyari, also responsible for Ali Abbasi's Holy Spider), the film increases steadily in tension in the latter third as the two couples unite in a desperate flight to freedom. The smoothly-handled shift towards thriller-like terrain is underlined by the escalation in volume and prominence of Atena Eshtiaghi's score; dominated by woodwinds and strings, her music often organically blends with background noises of blustery weather and thrumming machinery to unnervingly ominous effect.
Shot in widescreen by Saman Lotfian, Endless Borders excels at capturing the wide-open expanses of this hilly terrain in pastel shades of pink, grey and blue — human figures sometimes dwarfed by their environment when seen in the distance, during the moments Ahmad is forced to witness developments from afar. A compelling performer who makes the most of his ample screen-time, Rahimi Sam is front and centre in a mostly strong ensemble; only the relatively inexperienced Ghaffarian sometimes seems in need of firmer directorial guidance — unfortunate, given the extent to which plot pivots on Haseeba and her plight.
Production companies: Europe Media Nest, PakFilm, Filminiran
International sales: Europe Media Nest, info@medianest.net
Producers: Kaveh Farnam, Farzad Pak
Screenplay: Abbas Amini, Hossein Farokhzad
Cinematography: Saman Lotfian
Production design: Maziar Mirhadizadeh
Editing: Hayedeh Safiyari
Music: Atena Eshtiaghi
Main cast: Pouria Rahimi Sam, Hamed Alipour, Behafarid Ghaffarian, Mino Sharifi, Naser Sajjadi Hosseini, Ghalem Sakhi Nazari, Latife Zousefi, Houtak Balouch