At 84, Jerzy Skolimowski continues his career resurgence: his life story of a donkey 'sizzles with strangeness'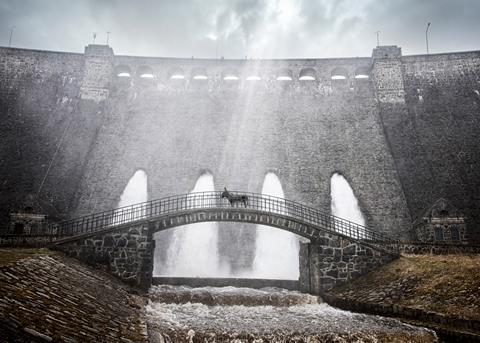 Dir. Jerzy Skolimowski. Poland/Italy. 2022. 87 mins
Films that see the world through animal eyes are currently a species on the rise, as witnessed by Andrea Arnold's recent Cow and Victor Kossakovsky's pig-centric Gunda. EO is a new addition to that strain, but a far more elaborate and fanciful one, depicting the existential odyssey of a donkey. Cinema has of course been here before with Robert Bresson's classic Au Hasard Baltazar; but while Jerzy Skolimowski's new film has been conceived as a homage to the French maestro, the only thing the films really have in common are their protagonists, whose vagaries are treated here with a flamboyantly visionary flourish diametrically opposed to Bresson's austerity. A potent emotional charge, very contemporary eco-consciousness, and film-making that at its best fairly sizzles in its strangeness mark out EO as an animal film that stands defiantly on its own hooves.
A well-travelled, very 21st-century quadruped.
With a wildly varied feature career covering seven decades, Polish director Skolimowski, now 84, might have been expected to settle into a comfortable mode of low-key late-period creation. Instead, since relaunching his film-making career this century, he has been exploring new off-beat themes and formal challenges with swashbuckling verve, as in manhunt drama Essential Killing (2010) and the house-of-cards narrative construction of 2015's 11 Minutes. EO takes a simple premise – as in Bresson's film, the travails of a single donkey – to unexpected places that are sometimes surreal, sometimes operatic, and in the film's stylistic dynamism, sometimes downright Kubrickian.
The film's protagonist is a donkey of undefined gender known as 'EO' – as in 'Hee-haw', or indeed 'Eeyore' – first seen working at a circus in Poland with a young performer called Magda, stage name Kasandra (Sandra Drzymalska). The donkey's Pinocchio-like wanderings begin when, following a demonstration by campaigners against the use of circus animals, the bailiffs move in and repossess its menagerie. EO is soon seen attending an event presided over by pompous functionaries, and getting to enjoy a necklace of carrots. Next, EO has a sojourn at a stable, where two horses work themselves up to a sexual frenzy – an episode that EO, and editor Agnieszka Glinska, neatly deflate with the sight gag of an abrupt visual punchline.
A spell on a donkey sanctuary bodes well, but EO constantly suffers separation pangs for Kasandra and gallops off in search of her one night – a recurring wanderlust that repeatedly puts the beast back in harm's way whenever things are looking rosy. This leads EO into a strange nightmare sequence, lost in deep woods among wolves, foxes and hunters with lasers – an eerie echo of The Night Of The Hunter. Other episodes involve being caught up in the ill-fated revelries of a local football team, then being left to the tender mercies of a heavy metal trucker (Mateusz Kosciukiewicz) driving a consignment of horses destined for the salami trade.
The strangest episode – which seems to have trotted in from another cinematic pasture entirely – sees EO befriended by a young Italian priest in crisis (Lorenzo Zurzolo), the stepson of a palazzo-dwelling Contessa (Isabelle Huppert). Huppert's sudden entry into the proceedings changes the register a little startlingly: partly because, for the first time, this generally taciturn film suddenly has a major influx of dialogue, partly because Huppert's coolly soigné smashing of crockery gestures at a bigger human drama that the film can't really accommodate, and that barely involves EO in any case.
Six different donkeys (Hola, Tako, Marietta, Ettore, Rocco and Mela) share the title role altogether seamlessly, wandering through the proceedings with what appears to be a mixture of curiosity, ironic aloofness and zen placidity. One can only say 'appears' because it would be facile anthropomorphism to ascribe quasi-human emotions – yet the film unobtrusively nudges us towards such assumptions by the time-honoured method of cutting together its images in a certain way (the Kuleshov effect, or should that be the Mule-shov effect?). EO's emotional expressivity is further expanded by the recordings of the animal's breath and braying, and by a hyper-dramatic, inventively textured neo-modernist score from Pawel Mykietyn.
Who can say whether a donkey might really experience the world through the radically strange, often hallucinatory optic conjured up by Michal Dymek's cinematography (augmented by contributions from Roman Polanski regular Pawel Edelman, and Michal Englert, known for his collaborations with Malgorzata Szumowska). But EO only very occasionally aims for straight realism, and that realism tends to have a heightened, even cartoonish edge. Instead, Skolimowski opts for a dream-like, episodically fragmented approach that evokes not just Kubrick but the panoramic style of the Koyaanisqatsi school, or the stark poetics of Denis Côté's 2012 documentary Bestiaire. A recurring effect is a blood-red filter, used in the strobing circus sequence at the start, and in some apocalyptically charged drone swoops though a forest. EO also occasionally takes things down to a near-microscopic level, as in its close-ups of spiders, a frog carried down a stream, a line of ants on a wooden bar.
Quite how a scuttling four-legged robot creature comes into the picture is never explained, but it makes a hell of an impression on its brief appearance. EO's life may not be entirely happy - it's not entirely unhappy, either – but it certainly packs in a lot more event than Baltazar's existence, which makes this a well-travelled, very 21st-century quadruped.
Production company: Skopia Film
International sales: Hanway Films, info@hanwayfilms.com
Producers: Ewa Piaskowska, Jerzy Skolimowski
Screenplay: Ewa Piaskowska, Jerzy Skolimowski
Cinematography: Michal Dymek
Editor: Agnieszka Glinska
Production design: Miroslaw Koncewicz
Music: Pawel Mykietyn
Main cast: Sandra Drzymalska, Tomasz Organek, Mateusz Kosciukiewicz, Isabelle Huppert