A woman attempts to outrun her inner demons in this charming comedy from Céline Devaux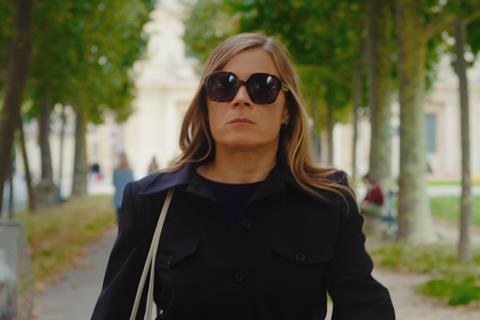 Dir/scr: Céline Devaux. France/Portugal. 2022. 97 mins
Jeanne (Blanche Gardin) is a woman barely holding it together as she teeters on the brink of bankruptcy. Her frazzled nerves take on a sentient form as line-drawn animated troll-like creatures burst out of her subconscious to mock and goad her. Occasionally they improvise entire song-and-dance routines, based around her insecurities or recent public humiliations. In other hands, this device might have proved to be a little wearing, but writer, director and animator Céline Devaux has an engagingly anarchic visual style and a sense of mischief which proves to be irresistible. Her hairy animated inner voices, together with top notch performances from Gardin and Laurent Lafitte, elevate this sparky romantic comedy into something rather special.
It further confirms Devaux as a talent to watch.
It's a return to Cannes for Devaux, whose animated short Sunday Lunch was selected to play in Official Competition and won the César for Best Animated Short Film in 2016. She subsequently won the Venice Golden Lion for Best Short Film in 2017 for You Will Be Fine, and her feature debut builds on the promise of that previous work. In the combination of live action and hand drawn animation, plus the erratic female lead at the end of her tether, there is a kinship with Yngvild Sve Flikke's festival success Ninjababy, and the two films also share a bracingly irreverent approach to humour. It should be a title of interest for arthouse distributors looking for films which hit the sweet spot between credibility and upbeat, crowd-pleasing content. And it further confirms Devaux as a talent to watch.
We meet Jeanne, who heads up a company which has developed a device that harvests microplastics from the ocean, just at the point when her dreams are effectively sunk, along with her reputation and a hugely expensive prototype. She belatedly realises that she is the sole guarantor of massive loans which she can never hope to repay. Her inner voices suggest that chucking herself under a bus might be the best solution. Instead, she heads to Lisbon to sell the home where she and her brother experienced a fractious relationship with their late mother.
In death, as in life, the mother made things difficult – she chose to commit suicide by jumping off a bridge the year before, a fact which does little to improve Jeanne's already fragile mental health. But in the airport on the way there, Jeanne spots Jean (Lafitte) as he shoplifts a deeply unflattering pair of sunglasses. He recognises her as a former fellow student at the French High School in Lisbon, the girl that everyone loved. Jeanne's trolling Greek chorus of self-hatred greets him with derision. But Jeanne, who is at the stage in her depressive spiral where she finds herself googling "very big dog being very nice to baby" just to get a brief shot of happiness, is intrigued despite herself.
The animated gonk commentary adds to the comedy but in fact much of the film's humour comes from Gardin's expressive reactions to the men around her. Her appalled mortification not quite masked by polite appreciation when her ex-boyfriend Vitor (Nuno Lopes) plays her a post-coital song on his acoustic guitar is a masterclass in reaction shot acting. Music is cleverly deployed elsewhere: when a romantic spark ignites in the audience for a performance by children's choir, the sweetness of the voices cuts through the cynicism of the film's humour and delivers a charmer of a feel-good ending.
Production Company: Les Films Du Worso
International sales: Elle Driver sales@elledriver.eu
Producers: Sylvie Pialat, Benoît Quainon
Cinematography: Olivier Boonjing
Editing: Gabrielle Stemmer
Production design: Artur Pinheiro
Music: Flavien Berger
Main cast: Blanche Gardin, Laurent Lafitte, Maxence Tual, Nuno Lopes, Marthe Keller