Dir: Kirk Jones. US. 2009. 99 mins.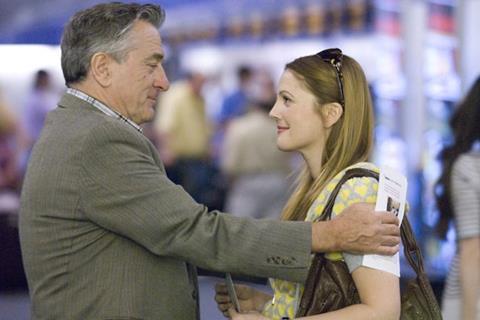 A retired widower decides to reconnect with his distant, grown children, leading to predictable emotional epiphanies in Everybody's Fine, a sincere but soft comedy-drama. Anchored by Robert De Niro's reserved performance, the third film from writer-director Kirk Jones (Waking Ned, Nanny McPhee) offers heartfelt observations about family, loss and the difficulty in finding lasting happiness, but this remake of Giuseppe Tornatore's 1990 film Stanno Tutti Bene ends up feeling too pat to be truly illuminating.
De Niro turns in some of his best work in years (although that's not the praise it might once have been).
Everybody's Fine opens domestically December 4, targeting older audiences looking for heartfelt entertainment for the holiday season. A cast which includes De Niro, Drew Barrymore and Kate Beckinsale should be a strong draw, although this Miramax release will be relying on word-of-mouth to gain traction in a crowded marketplace.
Still coping with his wife's recent death, Frank (De Niro) is disappointed when his four grown children cancel their plans to come and visit him. Feeling detached from their lives, he decides to travel across the country and see them.
Frank's first trip takes him to New York City and his artist son David, who never turns up at his apartment. Frank then goes to see his other children – Amy (Beckinsale), Robert (Sam Rockwell) and Rosie (Barrymore) – but it's clear they're hiding something about David's whereabouts.
Because it focuses on the secrets and regrets hidden underneath the surface of a typical family, Everybody's Fine can't avoid a certain amount of sentimentality. But Jones tries to make the film emotional without succumbing to manipulative tricks, mostly avoiding tacky plot twists or easy tear-jerking moments for a story about a father who finds out too late that he never really knew his children.
As the only actor who appears throughout, De Niro, in the role first taken by Marcello Mastroianni, becomes the audience's ambassador through this episodic narrative, and he turns in some of his best work in years (although that's not the praise it might once have been). Without overdoing Frank's doddering feebleness, De Niro convincingly portrays an older man who has been profoundly unmoored by the death of his wife, who connected him to the outside world as well as being the emotional core of the family.
Frank's separate interactions with his children give small hints about his different relationship with each of them, but from an artistic standpoint it also demonstrates the varying quality of his co-stars' performances. In the Chicago section, Beckinsale fails to leave much of an impression, while Barrymore is slightly stronger as a dancer whose sleek Las Vegas lifestyle isn't quite what it appears. But Rockwell really shines as Frank's musician son, living in Denver, who bristles at his father's nagging frustration that he failed to live up to his potential.
For a while, it appears as if Everybody's Fine will sidestep emotional histrionics for a subdued, albeit familiar, exploration of life's small disappointments. Unfortunately, the mystery concerning David's situation eventually becomes a pivotal plot point, and the revelation is both obvious and anticlimactic. In addition, Frank's discovery of the half-truths his children have told him about their seemingly happy lives is handled clumsily through a dream sequence. Once Frank's journey (both physical and spiritual) nears its end, Everybody's Fine tries to arrive at a grand, poignant summation about what he's learned, but the film's finale is so generically feel-good that it's hard to feel much of anything watching it.
To sign up for Screen's weekly Reviews Newsletter with all the week's new releases, international openings and full festival reviews delivered free to your mailbox every Friday, please click HERE
Production companies
Radar Pictures
HollywoodGang Productions
Domestic distribution
Miramax Films
International distribution
Walt Disney Pictures
Medusa (Italy)
Producers
Gianni Nunnari
Ted Field
Vittorio Cecchi Gori
Glynis Murray
Screenplay
Kirk Jones
Cinematography
Henry Braham
Production designer
Andrew Jackness
Editor
Andrew Mondschein
Music
Dario Marianelli
Main cast:
Robert De Niro
Drew Barrymore
Kate Beckinsale
Sam Rockwell
Melissa Leo
Lucian Maisel
Damian Young
James Frain