SXSW opens with Michelle Yeoh's poignant performance as an ordinary laundry owner mixed up in a martial-arts multiverse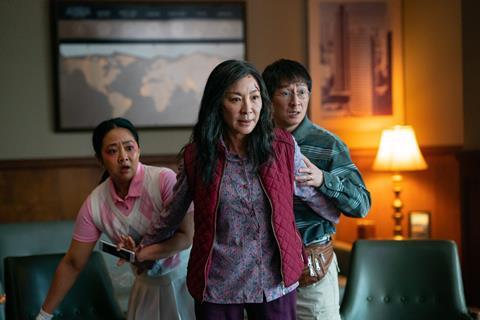 Dirs/scrs: Daniel Kwan, Daniel Scheinert. US. 2021. 140 mins.
No tax audit has ever been as violent or emotional as the one that jumpstarts Everything Everywhere All At Once, a martial-arts mash-up that makes room for family drama, multiverse intrigue, quirky comedy and a heavy dose of whimsy. Opening 2022's South by Southwest festival, this second feature from writer-directors Daniel Kwan and Daniel Scheinert is, much like their debut Swiss Army Man, a bold mixture of irreverence and sincerity, pitting Michelle Yeoh's laundromat owner against the forces of evil, which may include her own distant daughter.
Michelle Yeoh's seemingly ordinary laundromat owner is the chosen one destined to rid the universe of evil
This kung-fu odyssey can be terribly self-indulgent and cutesy, testing the audience's patience before eventually getting at something heartfelt about the dangers of regret. Ultimately, though, Everything Everywhere is best appreciated for its grandiose ambitions, bombarding the viewer with its frenetic style while telling a poignant story about an older woman trying to make peace with her not-so-wonderful life. Perfectly suited for South by Southwest, this A24 release arrives in US theatres March 25. Genre fans will relish the opportunity to see action icon Yeoh kicking and punching like old times, and certainly the picture's more-is-more approach should resonate with adventurous indie viewers.
Yeoh plays Evelyn, a conservative Chinese-American woman who runs a laundromat with her soft-spoken husband Waymond (Ke Huy Quan). She finds it hard to connect with her daughter Joy (Stephanie Hsu), who is gay and dating a white woman, Becky (Tallie Medel). When her business is audited, Evelyn goes to the office of charmless IRS agent Deirdre (Jamie Lee Curtis), where Waymond starts acting strangely — in fact, he informs Evelyn that she is needed to stop a sinister villain traveling across dimensions. Stunned, Evelyn quickly learns that she is living several parallel lives, and that she must step into those other realms in order to save the day.
As they did with Swiss Army Man, Kwan and Scheinert (known professionally as Daniels) combine supernatural/sci-fi elements with bawdy humour, creating arresting visuals while flirting with surrealist touches. Riffing on 2001 and Ratatouille, and cribbing from Michel Gondry's handmade aesthetic, this martial-arts action-comedy bases many of its jokes on the fact that this seemingly ordinary laundromat owner is the chosen one destined to rid the universe of evil. Much to Evelyn's surprise, she is suddenly able to execute elite kung-fu moves, squaring off with Deirdre and, eventually, the sinister Jobu Tupaki, who takes the form of Evelyn's daughter.
These days there is no shortage of multiverse films, and Everything Everywhere is not especially novel in its presentation of separate timelines and Evelyn's multiple lives. The jumping around from reality to reality can start to feel tedious over a two-hour film, yet the filmmakers slowly reveal a deeper motive: Evelyn will discover how things might have worked out in other scenarios — and also how her seemingly mundane existence stacks up against those other timelines.
Yeoh has lost none of her grace, and while it is certainly enjoyable watching her navigate the elaborately orchestrated, sometimes comedic fight scenes, the performance's real strength comes from her portrayal of Evelyn's disillusionment. Wearily trying to keep the laundromat afloat, floored by her husband's request for a divorce and frustrated that she will never please her grumpy father (an affably cantankerous James Hong), Evelyn is not just battling the forces of darkness but, also, her deep-seated concerns that she does not have much to show for herself. The jokes are often strained and the proceedings over-caffeinated, but Yeoh lends poignancy to the narrative.
Kwan and Scheinert restlessly switch between aspect ratios, sometimes shift to animation, and generally treat the frame like a playground for endless experimentation. (When Evelyn's multiple timelines begin wreaking havoc on her psyche, the image fractures like a broken mirror, showing multiple Evelyn reflections.) But for all the visual flourishes and bizarre gags — a bagel proves critical to the plot — Everything Everywhere, much like Turning Red, hinges on the dysfunctional relationship between a mother and daughter. The more that Evelyn and Joy/Jobu square off, the more the film becomes a pointed metaphor for the generational in-fighting that drives wedges between parents and their children.
It is a long way to go to arrive at the film's final act, which proves to be a surprisingly touching salute to appreciating the life we have and the people who make it special. That such a sentiment should dwell in the same picture as characters who put a cylindrical object into their rectum to obtain superpowers suggests what's intriguing but also tonally erratic about Everything Everywhere. Indeed, this whirling cinematic dervish does a little bit of everything all at once — not always satisfyingly but never with any hesitation.
Production companies: Gozie AGBO, Year Of The Rat
International sales: A24, sales@a24films.com
Producers: Joe Russo, Anthony Russo, Mike Larocca, Daniel Kwan, Daniel Scheinert, Jonathan Wang
Production design: Jason Kisvarday
Editing: Paul Rogers
Cinematography: Larkin Seiple
Music: Son Lux
Main cast: Michelle Yeoh, Stephanie Hsu, Ke Huy Quan, Jenny Slate, Harry Shum Jr., James Hong, Jamie Lee Curtis