The 20th century's most notorious leaders reunite in Alexander Sokurov's experimental deepfake feature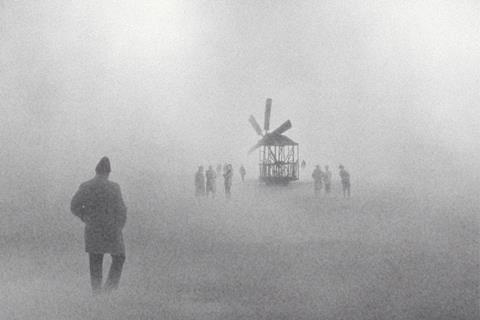 Dir/scr: Alexander Sokurov. Russia/Belgium. 2022. 78 mins.
It sounds like the set-up for a joke: Hitler, Stalin, Mussolini and Churchill rock up at the gates of heaven… In fact, it is the premise for the first film in seven years from one of Russia's (and indeed Europe's) pre-eminent art-cinema auteurs, Alexander Sokurov. His eerily discombobulating experimental feature Fairytale (Skazka) "stars" the quartet of 20th-century leaders via archive footage, manipulated through the very 21st-century magic of deepfaking.


There is a beguilingly anything-goes feel to this larkish enterprise
Any new work by the 71-year-old, far-from-prolific Sokurov — who scored an international arthouse hit with Russian Ark (2002) and won Venice's Golden Lion with Faust in 2011, but has since then mainly devoted his time to teaching — counts as a significant cinematic event. Premiering in the main competition at Locarno, this Russian-Belgian co-production is a logical if belated follow-up to Sokurov's 2015 Francofonia — a brainily left-field speculation on history, art and philosophy in which the spectre of Napoleon wandered the Louvre (Bonaparte returns for a shadowy cameo here). 


While the global exposure of Russian culture in every field has been a very hot potato since Putin's invasion of Ukraine in February, Fairytale will doubtless find plentiful further festival bookings. Indeed, given Sokurov's ambiguous and volatile relations with the Kremlin in recent years, it will function as a handy litmus test of intercultural tolerance in the midst of a devastating war. Theatrical exposure in receptive territories such as France and Italy might even be in the cards for a film of uncompromising and assertive idiosyncrasy which is — for good and ill — quite unlike anything else audiences will experience in cinemas this year.
Sokurov sets out his stylistic and thematic stall immediately: in misty monochrome, clouds billow and we glimpse a sleeping individual who appears to be a young boy. Everything which follows can thus be interpreted as this sleeper's dream; perhaps the dreamer is even the young Sokurov himself, born just six years after the end of World War II.
Stalin (voiced by Vakhtang Kuchava) stirs in what appears to be his mausoleum, grouching and kvetching from his very first lines. His interlocutor turns out to be none other than Jesus Christ (voice-performer uncredited), the pair apparently waiting in a kind of purgatorial limbo before being allowed access to Heaven (or perhaps relegation to a hotter destination).

 This very world-weary Christ only pops up occasionally afterwards, the bulk of the running time consisting of Stalin ambling slowly through dizzyingly vast and high Piranesi-style semi-ruined buildings while Hitler (Lothar Deeg and Tim Ettelt), Mussolini (Fabio Mastrangelo) and Churchill (Alexander Sagabashi and Michael Gibson) do the same.
The definition of purgatory is that nothing actually happens there: the four limbo-dwellers, sometimes represented by multiple avatars at the same time, do little other than cool their heels, exchange barbed witticisms and sometimes direct insults (many of them smell-related), muse over their own greatness — such hubris undercut by the banality of their chat — and cavil at the fickle perfidy of history.
It all plays out in a kind of subaqueous slowish motion, a monochrome miasma with the sludgy urgency familiar from dreams. Sokurov's visual team execute his celestial conception in gauzy grays with only very occasional irruptions of vivid colour: a sepia-toned tableaux of the limbo-space at the start, an apocalyptic streak of deep vermilion that cracks the firmament during the sole sequence that can be called in any way dramatic.


The latter occurs just after the 45-minute mark, when the quartet emerge onto a high tribune that looks like a gargantuan version of the Red Square parade-viewing platform crossed with a marble quarry. Here they survey a colossal mass of humanity surging across the flatland towards them, a truly biblical spectacle that yields Fairytale's most remarkable visuals as the faceless crowd becomes a swaying, oceanic immensity.
This near-20-minute segment foregrounds Sokurov's erudite and sensitive engagement with great paintings; his habitual intellectualism is leavened by a streak of humour that combines sophomoric silliness with Monty Python-esque absurdity. "Young man, who does your hair?" asks Napoleon (Pascal Slivansky) of Stalin as he peeks out from inside the gates of Heaven ("the angels spilled the beans", someone remarks, "he's in Paradise already!") after the impatient Soviet dictator seeks to gain access. "Don't get sassy, fatty" is how the (blocky Cyrillic-looking) English subtitles somewhat anachronistically translate one wrist-slapping rebuke from Hitler to Churchill. The latter, meanwhile, is frequently shown making field-telephone calls to his beloved queen — who is, of course, still very much on the terrestrial plane — at one point praising her headgear: "lovely bonnets, we like them even here!"
It matters little that the computer-assisted distortions of the archive footage can sometimes be a little crude. Verisimilitude is not a high priority: the gruff Churchill voices, for example, diverge significantly from the real individual's highly distinctive and still-familiar tones. There is a beguilingly anything-goes feel to this larkish enterprise, whose only internal logic is dream logic.
Throughout, Sokurov exudes an Olympian disdain for his puffed-up protagonists; operating as a revered artist rather than a theoretician, he airily toys with historical-political concepts rather than deigning to explore them in any depth. 

And while Fairytale stretches the viewer's indulgent patience even at a relatively brief 78 minutes, surrendering to its odd, oneiric flow can often prove an experience more pleasurable than purgatorial.
Production company: Intonations

International sales: Intonations, info@sokurov.fund

Producer: Nikolay Yankin

Music: Murat Kabardokov

Main cast: Alexander Sagabashi, Michael Gibson, Vakhtang Kuchava, Fabio Mastrangelo, Lothar Deeg, Tim Ettelt, Pascal Slivansky