Dir. Maneesh Sharma. India. 2016. 142 mins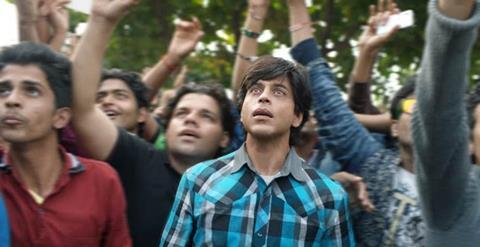 For the Hindi cinema audience, which has long held leading man Shah Rukh Khan in pole position as one of the industry's top stars, the fact that he appears here in two antagonistic roles should confer must-see status to Maneesh Sharma's boisterous thriller. For the non-Bollywood audience, the dual casting of Khan as both a movie mega star in his late forties and a look-alike obsessive fan in his early twenties might not necessarily make for a better film, but it certainly brings an unsettling oddness to the movie which is undeniably intriguing.
The Indian domestic and diaspora audiences will no doubt flock to a highly entertaining film in which SRK gently mocks his own precisely branded identity.
The fact that Khan, age 50, is so convincing not just as Aryan Khanna, the Bollywood actor, but also as Gaurav Chandna, the gauche fan and Aryan impersonator, is largely thanks to the top tier special effects work from world-renowned makeup artist and nine-time Academy Award nominee Greg Cannom (The Curious Case Of Benjamin Button, Mrs Doubtfire). In addition to make up, the production employed 3D scanning technology to achieve Khan's younger self. The effect is subtly convincing in a way that Khan's spirited but broad performance sometimes isn't.
Despite the interesting theme – the symbiotic relationship between celebrity and fan is explored in a way which is not overly sympathetic towards either side of the equation – it is unlikely that the film will cross over to non-Hindi audiences in any sizeable numbers. The special effects investment in Khan's de-aging is not matched by that in the action sequences. While a precarious chase sequence down the front of a dilapidated Mumbai apartment building and a later rooftop dash across the terracotta tiles of Dubrovnik's old city have a gung ho energy, they lack the slick polish to which the Hollywood audience is accustomed. The lack of crossover potential hardly matters however, as the Indian domestic and diaspora audiences will no doubt flock to a highly entertaining film in which SRK gently mocks his own precisely branded identity.
Gaurav, a lifelong devotee of all things Aryan, has channeled his obsession into a tribute act which regularly wins top prize at the local talent show. By day, however, he runs an internet cafe and moons hopelessly after "Miss Call Centre" (Shriya Pilgaonkar). He decides to present his latest talent show trophy to his hero as a birthday present. Thwarted by Aryan's security, he decides to curry favour by beating and threatening Aryan's younger rival, Sid Kapoor. Aryan reports him to the police and belittles his fan's loyalty. Thus he creates an enemy who, with his uncanny physical resemblance to Aryan, is uniquely qualified to wreck his life.
The action jumps from Delhi to Mumbai, London to Croatia, Madame Tussauds to the O2 Arena in a plot that barely makes more logical sense than it does geographical. And Shah Rukh Khan, in his two different guises, repeatedly beats himself up in various increasingly unlikely locations. The sound design is punchy, although the mixing is of the kind that conveys tension by trying to make the audience's ears bleed. But despite the slapdash plotting, the film – taken from the point of view of the star – gives an uneasy insight into the celebrity's co-dependent relationship with the people who make him, and can destroy him.
Production company: Yash Raj Films
International sales: Yash Raj Films helpdesk@yashrajfilms.com
Producer: Aditya Chopra
Screenplay: Habib Faisal
Cinematography: Manu Anand
Editor: Namrata Rao
Production designer: Abid T. P.
Main cast: Shah Rukh Khan, Deepika Amin, Yogendra Tiku, Waluscha de Sousa, Sayani Gupta, Shriya Pilgaonkar