Amanda Fuller makes the most of an astonishing showcase role in Simon Rumley's latest genre-blurring project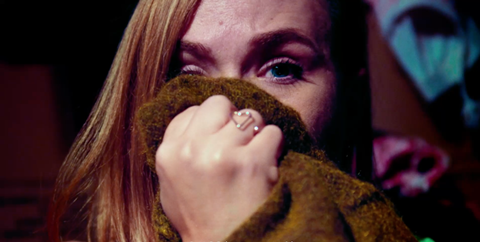 Dir/scr: Simon Rumley. US, 2017, 110 mins.
Since his 2006 British debut The Living and the Dead, writer-director Simon Rumley has worked most often in the US and made features (Red White & Blue, Johnny Frank Garrett's Last Word) which blur the edges between hardboiled crime, gothic horror and studies of extreme psychological states. Fashionista – shot and set in Austin, Texas – is amongst his strongest, most ambitious films, though it demands the sort of close attention festival crowds are more likely to give than general release audiences.
In a film about clothes the most startling sequence is a long-take, shot-from-above scene of characters undressing before an orgy
Amanda Fuller gets an astonishing showcase (and a remarkable wardrobe) in the lead role of April, a clothes-obsessive whose fashion sense is as acute as Spider-Man's awareness of danger but who is apparently blinkered to almost everything else in her life. When, late in the film, she loses her ability to pick the right clothes and wanders the streets in mix-and-match outfits and ineptly-applied make-up whining 'won't you take me to the ball?' at startled passersby, her identity itself fragments – as conveyed by dazzling, jaggedly-edited montages and a daring device which makes the final scenes, when some sort of normalcy returns to April's life, almost as disorienting as the freak-out sequences.
April and her tattooed husband Eric (Ethan Embry, from Cheap Thrills) co-own a funky fashion boutique which seems to have a thriving customer base. However, Eric is distracted by apparent business woes which April suspects are a cover for his having an affair with one of the staff. She confides in her friend Theresa (Jemma Evans), who remains in an abusive relationship, that she suspects young, slender Sherry (Alexandria DeBerry) of husband-snatching … but cracks up when she follows Eric to a supposed work meeting and discovers he's really cheating on her with the frequently-bruised Theresa.
This makes April question her own instincts, put on a succession of outfits which alter her personality, and gravitate to a mystery man Randall (Eric Balfour) with a 50 Shades vibe who draws her into extreme sexual roleplay and perhaps criminal shenanigans.
In a film about clothes the most startling sequence is a long-take, shot-from-above scene of characters undressing before an orgy. The straightforward plot is obscured by jumps back and forth in time – a closing credit thanks Nicolas Roeg for inspiration, and it's a fair bet that Bad Timing is Rumley's favourite Roeg film – and conceits like the opening montage which shows a succession of April's outfits from a fixed behind-one-shoulder view with snatches of music for each and strobing changes of background.
Throughout the film, cutaways follow a seemingly unrelated character, a woman in a mental institution (Alex Essoe, of Starry Eyes) – a thread only woven into the tapestry in the last reel.
Rumley is known for getting leading players to submerge themselves in roles, and also for blurring identities (in The Living and the Dead, two actors play the lead character). Bringing back Fuller from Red White & Blue, Rumley builds a whole film around her and she's a remarkable presence, running the gamut from vulnerable to terrifying but never losing audience sympathy.
Fuller – whose mainstream career includes the star role in cable TV schlock biopic The Brittany Murphy Story and gigs like 'Spa Employee' in Beverly Hills Chihuaha 3 – does awards-quality work as a unique protagonist. She's glamorous in a range of outfits, though several sizes larger than the waifs who usually get fashion-plate roles. While she models a cool, distinctive hairstyle, she also works hard to explore the interior life of a woman obsessed with the external. Rumley's regular cinematographer Milton Kam does his best work to date, creating a world as highly-coloured, varied and manufactured as the heroine's wardrobe.
Production Companies: Rumleyvision, Alliance Media Partners, Fantastic Fest
International Sales: AMP International, james@amp-film.com
Producers: Bob Portal, Simon Rumley
Cinematography: Milton Kam
Editor: Tom Sainty
Production Design: John Parker
Music: Richard Chester
Main cast: Amanda Fuller, Ethan Embry, Eric Balfour, Alex Essoe
Kim Newman