Dir. James Wan. US, 2015. 137 mins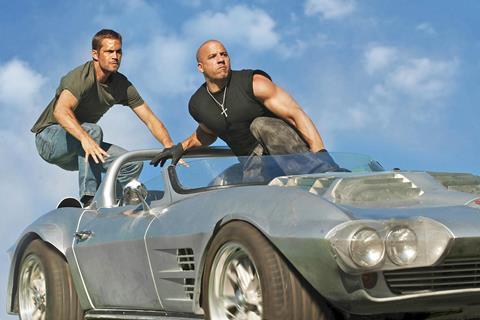 Screeching incomprehensibly from one stunt-filled set piece to the next, Fast And Furious 7 is an exuberantly high-octane ride across a ridiculously elaborate plot. It's joyous, it's crazy – cars skydive out of aircraft in Azerbaijan, no less - it's exhaustively long, and, still, it's clunkily lovable. Vin Diesel, Michelle Rodriguez, Paul Walker, Tyrese Gibson, Ludacris, even Dwayne Johnson – they're old friends now, and saying goodbye to Walker, who died mid-way through shooting, gives this instalment a particular poignancy (the actor's two brothers worked to help complete the piece).
This frenetic editing doesn't always aid the logic of a sequence, and it can be easy for the viewer to lose perspective, particularly during the film's lengthy climax
Jaw-dropping stunts aside, the biggest surprise of the Fast and Furious franchise has always been how much money it makes for parent company Universal – over $2.4bn worldwide from its modest beginning 15 years ago when the first instalment took $207m. Fast and Furious 7 (aka Furious 7) could, in that sense, be the biggest shock of all. Drafting in Jason Statham from the Transporter series as a murderous "British badass", Fast and Furious 7 is, as ever, a petrol-head's delight and its heightened emotional notes should see increased revenues in all markets when it opens on April 3, even over the well-received 6th instalment.
Australian director James Wan, known for horror (Saw, The Conjuring, Insidious) joins franchise HoD old hands including second unit and stunt director Spiro Razatos for a film which would have been a challenge even before the death of Walker in a car crash in November 2013, mid-way through shooting. After a decision was made to carry on, the script for Fast and Furious 7 was re-worked by series regular Chris Morgan and Wan found unused footage of Walker from previous Furious instalments to add to the material he had already shot. Walker's brothers Cody and Caleb stood in for some sequences, with Peter Jackson's Weta Digital responsible for compositing the actor's face onto their bodies.
The result is eerily realistic, with only a few moments not standing up to close scrutiny. The film also plays with this knowledge and viewer expectations, constantly threatening Walker's character Brian O'Connor with peril, or, at least, more than usual. The late actor certainly gets the best of the – even by Furious standards – over-the-top action sequences and it's hard to think of a better stunt than an early show-stopper in which he clambers out of a teetering bus in the Caucasus. Walker also stars in Furious 7's piece de resistance set in Abu Dhabi, when a one-of-a-kind luxury vehicle is driven out of one of the Ethiad tower's penthouses through the window, sails into a neighbouring skyscraper, and, yes, through that and on to a third, without even touching the ground. As ever, Furious does not acknowledge the word 'excessive'.
The film's plot is both skimpy and unnecessarily complicated, all at the same time. By now, everyone in this effortlessly multi-ethnic cast has a complicated back-story, and previous Furious plot-strands are acknowledged. Han is dead. Letty (Rodriguez) is still suffering from amnesia, giving her relationship with Dom (Vin Diesel) a little frisson, if not quite credibility. Brian O'Connor (Walker) is trying his hand at being a domesticated father with wife Mia (Jordana Brewster). Crashing into this comes Statham as Deckard Shaw, brother of Furious 6's vanquished hard-guy (Luke Evans), now hanging on to his life in a hospital bed in London. Deckard vows to avenge his brother, and is next seen in Los Angeles threatening the existence of the ridiculously muscular DSS agent Hobbs (Dwayne Johnson), and vowing to take out Dom's entire crew.
Elsewhere, there's a mysterious agent called Mr Nobody (Kurt Russell), who promises Dom access to a new surveillance programme called God's Eye, if he goes to Azerbaijan and rescues its inventor (British actress Nathalie Emmanuel) from the evil clutches of a seemingly-random terrorist played by Djimon Hounsow. Everywhere they go, however, they're followed by Jason Statham, looking and sounding like a Mitchell brother from British TV soap EastEnders. It doesn't make too much sense, but, of course, the entire plot of Furious 7 is an excuse for the next crazy car chase, and that's why the franchise's die-hard fans love it so.
Four editors worked on Fast and Furious 7, possibly as a result of Paul Walker's death, and the cutting is incredibly fast-paced throughout, working up to a crescendo. This frenetic pace doesn't always aid the logic of a sequence, and it can be easy for the viewer to lose perspective, particularly in the film's lengthy climax .
With a new production designer on board (Bill Brzeski), Fast And Furious 7 delivers on its late-series promise of exotic locations, from London (with scant exteriors) to Los Angeles, Azerbaijan and Abu Dhabi, where, surprisingly, Wan still manages to pack his sequences with the bare bottoms of bikini-clad babes. Quite an achievement indeed, although one wonders whether they'll survive the Emirates airline cut
Production companies: Original Film, One Race Films
Contact: Universal
Producers: Neal Moritz, Vin Diesel, Michael Fottrell
Executive producers: Samantha Vincent, Amanda Lewis, Chris Morgan
Screenplay: Chris Morgan
Cinematography: Stephen F Windon, Marc Spicer
Editors: Leigh Folsom Boyd, Dylan Highsmith, Kirk M Morri, Christian Wagner
Production designer: Bill Brzeski
Second unit director/stunt co-ordinator, Spiro Razatos
Music: Bryan Tyler
Main cast: Vin Diesel, Paul Walker, Jason Statham, Michelle Rodriguez, Jordana Brewster, Kurt Russell, Chris 'Ludacris' Bridges, Dwayne Johnson, Elsa Pataky, Tyrese Gibson, Luke Evans, Djimon Hounslow, Nathalie Emmanuel