A father undertakes an odyssey across Serbia to be reuinted with his children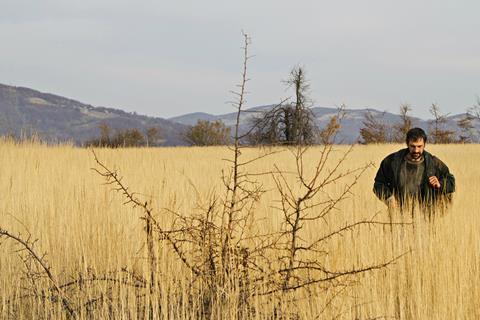 Dir: Srdan Golubovic. Serbia/France/Germany/Croatia/Slovenia/Bosnia Herzegovina. 2020. 120 mins
A father's epic quest to regain custody of his children is the basis of a gripping, nuanced drama in Father (Otac). The latest feature from Srdan Golubovic (The Trap, Circles) combines the social realism of a Dardenne brothers heartbreaker with a Capra-like fanfare for the ordinary man. Golubovic's accessible, emotional storytelling should be welcomed by festivals and audiences alike and is all the more compelling for being inspired by true events.
Father shakes off the constraints of social realism and morphs into a road movie
Golubovic uses the story of Nikola (Goran Bogdan) as a means to celebrate the heroic in the everyday actions of one individual. Over the course of the film, personal hardship also serves to reflect wider issues in a Serbia scarred by poverty and corruption.
Father begins in arresting fashion as a woman grabs her children and marches towards a factory. She threatens desperate action unless her husband is paid the outstanding wages and severance package that have been owed to him for two years. Consequently, the woman is placed in hospital, the children are taken into care and husband Nikola is left to pick up the pieces.
Seemingly well-intentioned members of the local social services determine that Nikola is not a good father and that the children will remain in foster care. The trio of bureaucrats are framed against a beige wall. The blandness of the surroundings making their casual, life-changing decisions all the more chilling. There is something of Corneliu Porumboiu's style in Golubovic's unflinching gaze and approach to this aspect of the story.
It seems that Nikola is being punished for his economic circumstances rather than his lack of love or devotion. The lack of full-time employment and a home without electricity or water render him unfit to be a parent. There is also a hidden agenda being pursued by lead bureaucrat Vasiljevic, played as smugly implacable by Boris Isakovic.
Powerless to fight his cause at a local level, Nikola sets out on a 300km walk to Belgrade determined to present his case to a national ministry.
Father then shakes off the constraints of social realism and morphs into a road movie. A dogged Nikola passes through landscapes marked with empty factories, abandoned petrol stations, dirt roads and crumbling apartment blocks festooned with grafitti. The sense of poverty is everywhere. There are animals along the way who seem to welcome and guide Nikola, although the possibility of a canine companion to share his journey is a sentimental notion cut brutally short.
In fact, sentimentality is eschewed throughout, especially in Goran Bogdan's impressive performance. There is a palpable physicality in his dead-eyed exhaustion and grim resolve. We believe that this is a reasonable man driven by pure instinct to do the one thing he believes will return his children to their rightful place in his arms. He never rages against the world or resorts to violence that would be entirely justifiable. Instead, it is the viewer who feels the injustice and outrage on his behalf, deepening the emotional connection to events.
The villains in Father are bureaucrats devoid of compassion and motivated by self-interest. Poverty tempts others into behaviour that would shame them in other circumstances. There are also random acts of kindness that help Nikola on his way, building up a picture of a country where the people are (mostly) good, circumstances are desperate and the system is rotten.
Production companies: Bas Celik, ASAP Film, Neue Mediopolis Filmproduktion, Vertigo, Propeler Film
International sales: The Match Factory info@matchfactory.de
Producers: Jelena Mitrovic, Cedomir Kolar, Alexander Ris, Marc Baschet, Danis Tanovic, Boris T. Matic, Lana Matic, Danijel Hocevar, Amra Baksic Camo, Adis Djapo
Screenplay: Srdan Golubovic, Ognjen Svilicic
Editing: Petar Markovic
Production design: Goran Joksimovic, Predrag Petrovic
Cinematography: Aleksandar Ilic
Music: Mario Schneider
Main cast: Goran Bogdan, Boris Isakovic, Nada Sargin