Dir. Gabriele Muccino. Italy-US. 2015. 116mins.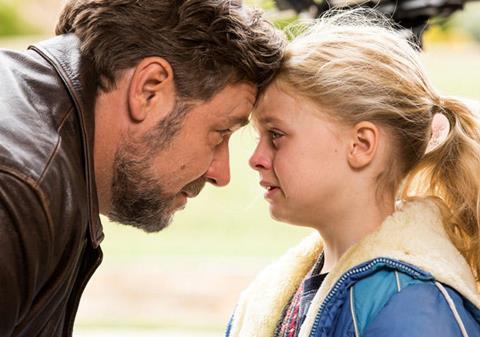 Daddy issues abound in Gabriele Muccino's soapy melodrama about a widowed novelist with mental health issues, his seven-year-old daughter and the damaged adult that she grows up to be.
A starry cast will contribute to the film's theatrical prospects, although the awards notice that the film is clearly angling for is less likely.
There are echoes here of Muccino's other tale of father-child travails, the Will Smith starrer The Pursuit Of Happyness. But while it is likely that Fathers And Daughters will broadly appeal to the same audience that embraced Happyness, this film lacks both the feel good triumphant underdog trajectory and the double-pronged charm assault of father and son Will and Jaden Smith.
A starry cast will contribute to the film's theatrical prospects, although the awards notice that the film is clearly angling for is less likely.
Jake Davis (Russell Crowe) is a serious writer. We know this because he hammers away at an archaic manual typewriter while listening to classical music on vinyl. Admittedly, the setting is 1989, but even in the technological dark ages of the late '80s, a Pulitzer prize-winning novelist could probably have splashed out on a word processor and a few CDs.
Muccino's use of this hackneyed cinematic shorthand – a typewriter or a record player is tantamount to writing 'maverick free-thinker' on a character's forehead – it just one example of a weakness for cliches which undermines this drama.
The film unfolds in two parallel time lines which occasionally intersect. We're introduced to Jake and his daughter Katie (impressive newcomer Kylie Rogers plays her as a child) in the immediate aftermath of the death of his wife and her mother. Jake is distraught and racked with guilt. But it becomes increasingly clear that something more fundamental is amiss, following the head injury he sustained in the accident that killed his wife.
A consultant warns of manic depressive psychosis, seizures and psychotic breaks, and recommends an extended stay at a mental health unit. Katie is sent to live with her Uncle (Bruce Greenwood) and Aunt Elizabeth (Diane Kruger, going full Dallas with a performance accessorised with a white knuckle grasp on a clinking glass of whisky at all times). It's a rarefied world of toxic privilege. Jake chafes against them, particularly when they suggest adopting Katie.
Meanwhile, in the present day, Katie (Amanda Seyfried) is a newly qualified psychologist who is working on the case of a profoundly damaged child (Quvenzhané Wallis). However, her own personal life is a wreckage of self-destructive drinking and one night stands. Something clearly went very wrong in her childhood.
A chance at redemption comes in the shape of aspiring writer Cameron (Aaron Paul), who doesn't seem to mind Katie's abandonment issues. Seyfried is impressive in the role, mercurial and fragile, but with a flinty coldness deep within.
The screenplay, by first-time writer Brad Desch, is not the kind of script to shy away from cheesy moments. A father-daughter duet to Richard Clayderman's easy-listening version of Close To You becomes a motif that is repeated when Katie hits rock bottom. In a shot that is bathed in a warm glow that looks as though the film has been dipped in syrup, seven-year-old Katie forces her father to 'pinky promise' that he isn't going to die, thus sealing his likely fate.
Muccino's polished, if obvious direction will connect with the film's intended audience. However, the curious lack of emotional depth in this tale of bereavement means that it misses out on the weepy tearjerker status that might have generated word of mouth.
Production company: Voltage Pictures, Andrea Leone Films, Busted Shark Productions, Fear Of God Films
International sales: Voltage Pictures office@voltagepictures.com
Producers: Russell Crowe, Keith Rodger, Richard Middleton, Romilda de Luca, Nicolas Chartier, Craig J. Flores, Sheryl Clark, Dominic Rustam, Babacar Diene
Screenplay: Brad Desch
Cinematography: Shane Hurlbut
Editor: Alex Rodriguez
Production design: Daniel B. Clancy
Main cast: Russell Crowe, Amanda Seyfried, Kylie Rogers, Aaron Paul, Diane Kruger, Jane Fonda