Set in Kinshasa, Alain Gomis' fourth feature is a music-infused reverie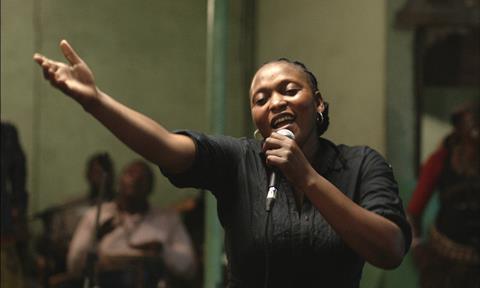 Dir. Alain Gomis. France/Senegal/Belgium/Germany/Lebanon, 2017. 123 mins.
A gritty, music-infused drama about a Kinshasa bar singer who comes out of her emotional shell after a brush with misfortune gradually morphs into a dreamlike mood piece and, eventually, a tentative romance in French-Senegalese director Alain Gomis' fourth feature. Undemonstrative but at the same time oddly compelling - rather like its eponymous main character - Felicité is a challenging, perhaps overlong, but also quietly resonant slice of new African cinema.
….a dirty, hardscrabble, lawless but irrepressibly energetic city where narrative neatness feels foreign…
Characters are its main weakness; other than the proud, self-sufficient single mother whose point of view is so fused with the film's that others occasionally look into the camera at her, we're given few incentives to invest. But as Gomis' layered audiovisual Kinshasa builds, frustration at the total lack of backstory or scripted emotional connection in, say, Felicité's almost wordless rapport with the injured son she goes through hell and high water to help, gives way to an alternative kind of authority, one that is more about communities than individuals.
There's still a little too much in the director's auteur bag of tricks – including a magical realist animal moment featuring an okapi – to makeFelicité more than a restless, intriguing work, but that should be enough to attract other festivals and a few cineaste distributors following the film's Berlin Competition debut.
Played by newcomer Véro Tshanda Beya with a touch of emotional reticence that suits her character, tough, touch-me-not Félicité is first seen preparing to sing in a Kinshasa dive bar whose denizens include the hard-drinking, womanising Tabu (Mpaka). Homing in on faces, catching fragments of argument and lewd chat-up lines, the camera and microphone are gradually drawn to Félicité herself, who starts singing awkwardly but gradually holds the room's attention as the beat builds and she enters a trance-like state.
This is just the first of a series of impressionistic, music-channelled run-ins with the Congolese spirit world. As well as Félicité's backing band – real-life combo the Kasai Allstars, with their infectious 'Congotronic' sound – we see, interleaved without explanation, a handful of warehouse performances by the classical musicians and choir of the Orchestre Symphonique Kimbanguiste of Arvo Part pieces such as 'My Heart is in the Highlands' (also tapped by Paolo Sorrentino in The Great Beauty). These leech into a repeated dream sequence, in which Félicité imagines herself (or is imagined?) walking at night through a dark-forest.
What happens in the here-and-now is quickly summarised: when her teenage son Samo (Claudia) is hospitalised with serious leg injuries following a motorbike accident, single mother Félicité is forced to go on a begging, cajoling, borrowing mission in the urban jungle of Africa's third-largest conurbation to raise the money to pay for an operation. At the same time, she warily begins to let Tabu into her life – initially to repair her fridge, a long-drawn-out affair that brings the film as close as it dares to comedy.
Mysteries persist at the end, some of them a little irritating: why does the injured Samo initially refuse to speak to his mother or eat? Who is the equally taciturn young girl who sits by his hospital bed? Why does the proud Félicité really see, aside from boyish charm, in a drunkard who leaves the bar with a different woman each night? But these are, at least partly, answered by the story's setting – a dirty, hardscrabble, lawless but irrepressibly energetic city where narrative neatness feels as foreign as the DRC-built traffic robot that stands, incongruously, at one of Kinshasa's busiest intersections, waving its high-tech limbs amidst the fumes and dust.
Production companies: Andolfi, Granit Films, Cinekap
International sales: Jour2Fête, sales@jour2fete.com
Producers: Arnaud Dommerc, Oumar Sall, Alain Gomis
Screenplay: Alain Gomis, Delphine Zingg, Olivier Loustau
Cinematography: Céline Bozon
Editors: Fabrice Rouaud, Alain Gomis
Production design: Oumar Sall
Music: Kasai Allstars
Main cast: Véro Tshanda Beya, Papi Mpaka, Gaetan Claudia