A standout second film from Ireland's Carmel Winters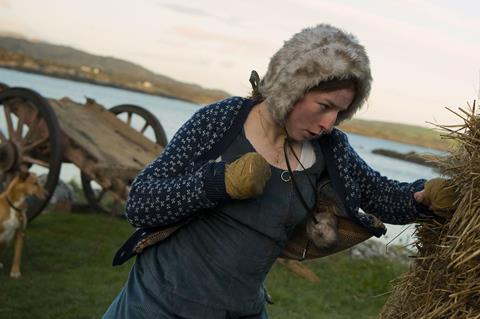 Dir. Carmel Winters. Republic of Ireland. 2018. 101 Mins
"No matter what shade of gold you paint it, it's still a cage." Michael (Dara Devaney) is gesturing dismissively at the four suburban walls which house a traveller cousin who has traded in his caravan for a settled life. But he might as well be talking about the tightly proscribed future faced by his daughter Frances (the remarkable Hazel Doupe), in this exuberant 1970s-set coming of age picture.
A film which is as triumphant as an air punch and as inclusive as a group hug
A gifted fighter, Frances idolises Muhammad Ali and deliberately starts fires in haystacks just so that she can punch them out again. But according the the traditions of her traveller community, at fifteen, she is ready to be married, handing over control of her life and finances to a man who "will give you a few bob if you behave." The second feature from Carmel Winters (Snap) is a gloriously unruly collision of vivid romanticism and tough, unsentimental truths about the hardscrabble lives and casual discrimination faced by Irish travellers.
With its crowdpleasing combination of girl power and heart-swellingly lovely Irish traditional songs (the film shares producers with the similarly music-powered Once and Sing Street), this is a picture with considerable potential for word-of-mouth, break out success. It arrives in Busan having carried off the FIPRESCI prize at the Toronto Film Festival, and looks set to charm audiences wherever else its festival journey takes it – the crowded early-morning public screening in Busan had the audience spontaneously clapping along with the closing titles.
The film takes a few minutes to settle into its stride. It opens with a traumatic flashback which shows the young Frances losing both her pregnant mother, who dies of an injury sustained in a tussle with a policeman, and her father, who is arrested in the violent aftermath. It's a little heavy-handed in execution compared with the rest of the film, which soon relaxes into a less strident tone.
The main body of the picture rejoins Frances, her brother and their family eight years later. With her cornflower blue eyes and steady gaze, Frances looks more than equipped to knock seven shades out of the patriarchy. But her loyalty to her handsome, feckless, recently released father – both a free spirit and a dogmatic traditionalist – is a source of conflict. And conflict with Michael is frequently resolved by a slap. Michael is troubled by what he perceives as a gender role reversal between his two children. While Frances will tackle any challenge, from skinning a rabbit to punching out a bully, chin aloft, her younger brother Patrick (Johnny Collins), has a gentle, nurturing soul and a love of animals.
The tricky, complex dynamic between father and daughter is satisfyingly mined, with terrific performances from both but Doupe especially. With her magnetic screen presence and instinctive physicality, she is clearly a name to watch.
There's something of the riotous onslaught of life and livestock which characterises the films of Emir Kusturica, but with the crackling machismo replaced by an emotional articulacy and a resolutely female perspective. The reeling, weaving hand held camera throws us into the midst of this warm, cluttered world, with its appropriately wayward colour palette. The result is a film which is as triumphant as an air punch and as inclusive as a group hug.
Production companies: Samson Films, Port Pictures Ltd
International sales: WestEnd films, info@westendfilms.com
Producer: Martina Niland, David Collins
Screenplay: Carmel Winters
Editing: Julian Ulrichs
Cinematography: Michael Lavelle
Production Design: Toma McCullim
Music: Stephen Warbeck
Main cast: Hazel Doupe, Dara Devaney, Johnny Collins, Hilda Fay, Lalor Roddy