Meditative documentary charting the Ganges and Biobio rivers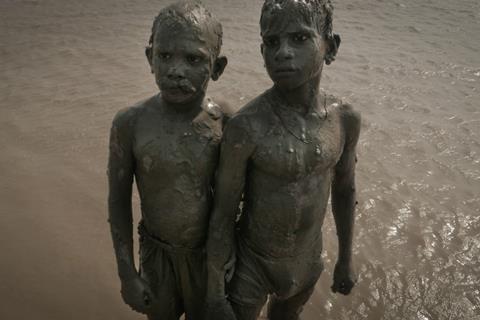 Dir Nicolás Molina. Chile. 2018. 82 mins
If individuals can feel a spiritual connection, then why not landscapes or rivers? In the slow-moving, contemplative second feature from director Nicolás Molina (Beaverland, 2014), the similarities and connectivity between the Ganges river in India and the Biobio in Chile are explored through a succession of images and vignettes that build into a modest, pleasantly entrancing feature without every delivering anything earth shattering. A festival future seems the most realistic prospect for a film that should attract lovers of slow cinema and the work of directors like Carlos Reygadas or Michelangelo Frammartino.
Molina seems content to merely follow the course of his river, and doesn't seek to arrive at some meaningful conclusion
Aside from opening titles on the importance of both rivers to their respective countries, Flow unfolds without commentary or identification of particular locations. Constantly shifting between India and Chile, Molina attempts to create the illusion of a single river. The focus throughout is on people and animals and the way the river sustains life from high up in snowy mountain ranges to the moment it flows into the ocean.
There are some beguiling moments as we witness the contrast between traditional lives and encroaching technological change. Bread is baked in hot ash, pine nuts are collected by hand in the forest, a cricket match is played out in barren mountain terrain. At the same time, someone grapples to position a satellite dish to improve their television transmission and a farmer is chastised for wasting his time playing games on his mobile phone.
Indeed, Flow is very much a film about people. Molina focuses on everyday lives and the toil of fishermen casting their nets on unproductive waters, farmers tending to their livestock. The human touches make the biggest impression whether it is an encounter between two old friends in Chile, the serenity of a solitary old woman at peace with her pigs or the sight of two Indian boys smearing themselves in mud in an attempt to appear more deserving of charity from travellers as they disembark from a ferry.
There are some beautiful shots of rows of trees festooned with rust and gold leaves in an autumnal forest or majestic mountain peaks shrouded in mist and dusted with snow. The sound design is particularly acute, the water at different stages along the river as quietly lapping or building into a roaring torrent.
The film is not without humour, especially in conversations that feel universal in their love of gossip or throwaway remarks. One Chilean observes that "mate with marihuana tastes better". One little boy has no fear of crocodiles because he knows they would never want to eat him.
Molina, however, seems content to merely follow the course of his river from small remote rural communities to the city and the sea. He doesn't seek to draw everything together or arrive at some meaningful conclusion. Instead, he offers gentle observations and random moments that when placed together underline that most of the things that truly matter in life are exactly the same the world over.
Production company: Fantasma Producciones
International sales: Marcela Santibanez Productions, marcesanti@gmail.com
Producer: Marcela Santibanez
Editing: Camila Mercadal
Cinematography: Nicolás Molina
Music: Manuel Ortuzar, Max Ferrer