Compelling documentary shot under al-Assad's bombing of Aleppo is also heading to Cannes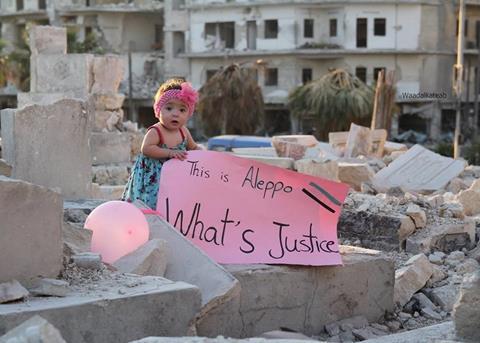 Dirs. Waad al-Kateab, Edward Watts. UK/US. 2019. 93 mins.
Hardcore current affairs reporting and intimate personal testimony merge to compelling effect in For Sama, a documentary about one family's experience of the Syrian conflict. Directed by Waad al-Kateab and UK-based documentarist Edward Watts (2015's Escape From Isis), the film comprises al-Kateab's own footage recording the bombardment of Aleppo in 2016, and is presented as a personal testimony addressed to her young daughter Sama, born in the course of the events described. Set to be shown in the Special Screenings section in Cannes, the film – produced by the UK's Channel 4 News and ITN Productions - premiered in the US at SxSW, winning prizes, followed by a Canadian outing at Hot Docs.
Filming on camcorder as well as phone, al-Kataeb captures the anxious urgency of daily life under fire
Al-Kateab, previously a student at the University of Aleppo, became a documentarist by necessity, learning her trade to help spread awareness of the effects of the Syrian government's campaign of attrition against its opponents, and notably the population of East Aleppo – resulting in her reports for Channel 4 News, which won an International Emmy for breaking news coverage.
The film begins with a nerve-racking piece of footage as the hospital where al-Kateab lives is bombed, and she temporarily loses sight of her baby Sama in the confusion. As al-Kateab ruefully addresses her child ("What a life I've brought you into"), we see the context: East Aleppo under attack from the forces of Syrian president Bashar al-Assad and his allies, including Russian warplanes.
The film then jumps back to 2012 to show Aleppo students in jubilant protest against al-Assad, the euphoria ending when bodies of tortured civilians are found in the river, to be buried in mass graves. As the regime's violence continues, many leave the city, but al-Kateab is determined to stay on, as is her friend – soon to be husband – Hamza, one of several doctors who set up a volunteer hospital to tend the wounded of their neighborhood. He and al-Kateab move into the hospital, where Sama is later born – and the fact that this is the only home the child has known makes it all the more distressing when the hospital faces devastation.
Following the siege month by month through 2016, the film has a gripping narrative drive, with many sequences that work to variously harrowing and cathartic effect – notably, when the hospital's doctors restore to life a child seemingly stillborn in a Caesarian delivery. Filming on camcorder as well as phone, al-Kataeb captures the anxious urgency of daily life under fire, as well as moments when even this most beleaguered community can hold onto privacy and humanity amid the chaos – for example, when al-Kataeb, Hamza and fellow parents Afraa and Salem consider the moral complications of their decision to stay in Aleppo despite the danger to themselves and their children. But these moments are small oases amid the violence, and coverage of daily life at the hospital is often graphic – "Every time I close my eyes, I see the colour red," comments al-Kataeb in voice-over, as she scans blood-soaked walls and floors.
Punctuated by brief, presumably drone-shot vistas of the increasingly devastated Aleppo, the film arguably suffers from a sometimes confusing zig-zag chronology, while Nainita Desai's score, spare though it is, feels superfluous as al-Kataeb's images more than eloquently speak for themselves. None of this, however, lessens the integrity and immediacy of a committed piece of reportage that can be described in a very literal sense as intrepid, not to say heroic.
Production companies: Channel 4 News, ITN Productions, Channel 4, Frontline PBS
International sales: Autlook Filmsales, welcome@autlookfilms.com
Producer: Waad al-Kateab
Cinematography: Waad al-Kateab
Editors: Chloe Lambourne, Simon McMahon
Music: Nainita Desai