Spain's premiere festival signs out its 2020 edition with a sentimental drama from Fernando Trueba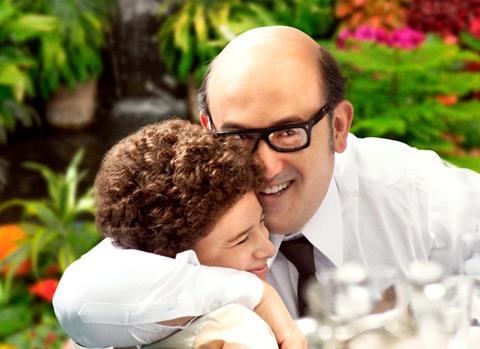 Dir. Fernando Trueba. Colombia. 2020. 136 mins
Forgotten the new film by Fernando Trueba may not be, but it seems likely to be tactfully passed over when it comes to reviewing the achievements of this stalwart but uneven leading light of Spanish cinema. The Oscar-winning director of 1994's Belle Epoque returns to the Latin American terrain of 2000 music documentary Calle 54 and 2010 animation Chico and Rita with Forgotten We'll Be, a Colombian-set and -produced drama based on the 2006 memoir of novelist Hector Abad Faciolince, published in English as Oblivion. This artless, faux-naïf celebration of Abad's medic father, the late Hector Abad Gómez, closed out Sebastián, having also been included in the 2020 Cannes Official Selection. While it seems certain to garner some international exposure, not least on the strength of a likeable lead from much-loved Spanish star and Almodóvar regular Javier Cámara, it won't resonate as a high point in Trueba's career.
Visually over-sugared and narratively banal
Scripted by the director's brother (and prominent director in his own right) David Trueba, the oddly structured narrative begins in Turin in 1983, where Colombian student Hector (Juan Pablo Urrego) gets a call from an ex-student of his father, also named Hector, telling him that the old man – a revered medical doctor and university professor – is retiring, and that it's time to come home and celebrate his career. Back in Medellín, a glimpse of smiling Papa (Cámara) triggers a shift from black and white (somewhat in the cleanly-shot manner of Alfonso Cuarón's Roma) to colour, of a glaringly artificial set of candy hues, and the 1970s, as we see the boyhood of Hector, known as Quinin and played in younger years by Nicolás Reyes.
Much of the film offers a set of fond reminiscences of boyhood in a middle-class Medellín home, with Quinín as the only boy alongside four sisters, one of them younger. There is a strong Catholic flavour to their upbringing, and even a resident nun living with the family – but with Hector Sr imparting a distinctly sceptical humanist and atheistic colour to his kids' education. A committed humanitarian, Hector Sr is first seen discussing the improvement of water quality in the region, along with an American visitor (played, in a likeably dry cameo, by US director Whit Stillman). Later, Hector tries out an innovative polio vaccine on his own son – although the film barely engages with any sense of this being problematic, either medically or parentally.
Much of the action passes by in a strangely inconsequential drift. As a boy, Quiín andn a friend throw a stone through the window of a Jewish family, anti-Semitism being in the air, but Hector simply takes the lad to apologise, with absolutely no sense of a troubling social topic being addressed. Later too, young adult Hector has a brief spell in a mental hospital, as an alternative to prison after running over a woman in his car; the only real consequence of a potentially shocking incident is that he ends up having a hot date with a young female health worker. A tragic episode in his youth, the death of an older sister from cancer, is wrapped up in the most mawkish way possible, in a sequence shot as a faded pastiche of 70s home movies, as the girl sings a valedictory cover of the Stones' 'Ruby Tuesday'.
Things take a harder edge in the 80s, after Hector Jr's return home. After a long period of political troubles – dismissed from his university, and disparaged as a Communist by the right but a conservative by his left-wing students – Hector Sr decides to stand as a liberal candidate for the post of mayor in Medellín, announcing himself as a humanist and a doctor above all things. This leads to a predictably tragic outcome – which the film tackles in lamentably sappy style, with an upbeat ceremonial payoff.
Steeped in a laboriously poignant Zbigniew Preisner score, the film is low on real revelation, either about character, family dynamics or about socio-political tensions in 70s/80s Colombia – although one thing that comes as a surprise is the nostalgic depiction of a comfortable, even idyllic childhood in a Medellín that is a very far cry from the violence-ridden hell the city is most often depicted as in cinema. Visually over-sugared and narratively banal – and arguably aiming a little too hard to channel the period-perfect memoiristic buzz of Roma - the film has its strongest suit in the acting.
Above all, there is the generous, often mischievous performance by Cámara, with a promisingly vivid juvenile lead from Nicolas Reyes as young Quinín, and a nice ensemble buzz from other family members, including Patricia Tamayo as mother Cecilia; otherwise it all comes across as a fondly soft-focus blur.
Production companies: Dago García Producciones, Caracol Televisión
International sales: Film Factory Entertainment, info@filmfactory.es
Producers: Dago García, Cristina Huete
Screenplay: David Trueba
Based on the book by Héctor Abad Faciolince
Cinematography: Sergio Iván Castaño
Editor: Marta Velasco Díaz
Production design: Diego López Mesa
Music: Zbigniev Preisner
Main cast: Javier Cámara, Juan Pablo Urrego, Nicolás Reyes, Patricia Tamayo