Dir. Jon Cassar, Canada, 2015, 90 minutes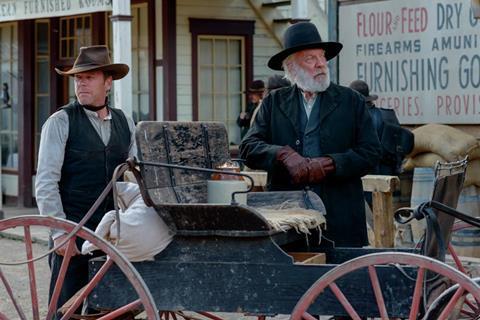 In the rocky Mountain West, an armed gang working for land speculators is seizing farms at gunpoint. All that's left between the farmers and the gunslingers are a father and son, played by Donald and Kiefer Sutherland. And they're busy fighting a lifetime of quarrels with each other.
Finding a public for this western will still be a tough ride
Forsaken is a showdown between thugs of the frontier and men of peace — a pastor father and a disheartened son who's just returned from the Civil War. The film gallops dutifully through scene after scene from the western playbook, but it's not clear that there's an audience for the Sutherlands on the range. For Kiefer's fans from 24 (which was directed and produced for seven seasons by Forsaken's Jon Cassar), this outpost might be seen another place without morals, which will eventually justify extreme tactics of a violent nature. Even with the father-son novelty and with Canada as a captive audience, finding a public for this western will still be a tough ride.
In a valley of vaguely familiar landmarks, John Henry Clayton, a son who turns out to be prodigal (Kiefer Sutherland), rides back into town. Rev. William Clayton is ashamed of the young man who violated church doctrine and fought in the Civil War. We learn that John Henry, known to be deadly with a six-shooter, has other sins to be ashamed of.
The most feared evil-doers, however, are hired guns who are seizing land for the local crime boss (Brian Cox).
Almost every theme of the western genre collides in Forsaken – an errant son can't please his moralist father; toiling farmers are pitted against greedy land-grabbers; cowboy thugs are preying on pacifists; Civil War veterans with wounded souls are fleeing the recent past; the girl whom John Henry left behind is still drawn to him (played by Demi Moore in an Annie Hall hat); peace-seeking folk explode at the breaking point.
Westerns tend to share the same dramatic and visual vocabulary. Here DoP Rene Ohashi tries to vary the mix with tactile close-ups of Sutherland the patriarch. The make-up department gave the actor's white beard more luxuriant curls than a baroque portrait of Neptune, and the camera cuts to that shot enough times for you to count them.
When the conflict devolves into the inevitable extended gunfight, that battle takes the form of dueling close-ups of colossal size on the big screen. It's a new approach, but a clumsy one.
Donald Sutherland, still tall and loud of voice, finds thunderous echoes of James Coburn when admonishing his son. It scares you the first five times that he does it. Kiefer, playing the humble John Henry who returns to the family homestead, is best when he finds a revengeful groove and the gunplay explodes. Demi Moore here is gaunt and without many lines. Her bond with John Henry is best expressed with glances rather than words, and restraint helps make Moore's acting worth watching.
The period drama in a breathtaking landscape (Alberta) gets its details right, down to the shabby clothes of a remote town. Yet with all the talk of peace, Forsaken ends up taking you to something closer to Clint Eastwood the avenger or to the by-any-means-necessary feel of 24. In a world with an imperious pastor, but without morals, power still comes from the barrel of a gun.
Production companies: Minds Eye Entertainment, Panacea Entertainment, Rollercoaster Entertainment, Vortex Words + Pictures, Moving Pictures Media
International sales: Minds Eye Entertainment mindseye@mindseyepictures.com
Producers: Kevin DeWalt, Josh Miller, Bill Marks, Gary Howsam, Isabella Marchese Ragona
Screenplay: Brad Mirman
Cinematographer: Rene Ohashi
Editor: Susan Shipton
Production designer: Ken Rempel
Music: Jonathan Goldsmith
Main cast: Kiefer Sutherland, Donald Sutherland, Demi Moore, Brian Cox, Michael Wincott, Aaron Poole, Greg Ellis
Executive producers: Lisa Byrne, Jon Cassar, Kenny Cheung, Trish Cook, Wilson Da Silva, Gerard Demaer, Doug Falconer, Harry F. Gabel, Dan Galang, Richard Goldstein, Jessica Martins, Kathy McCoy, Patrick Roy, Ivan Sabourin, Jeff Sackman, Mark Slone, Lisa Sohn, Paul Tan, Barbara Voynovich, Trevor Wilson, Ted Yew, Craig Yu